TRAINING BEST PRACTICES INTEGRATED SUPPLY CHAIN MANAGEMENT (Plus Kunjungan Lapangan)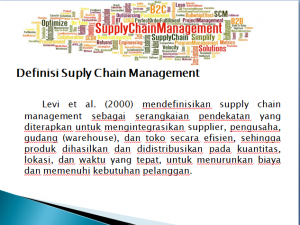 Manajemen Rantai Suplai (Supply chain management) adalah sebuah proses terpadu perencanaan dan pengelolaan barang dan jasa dari hulu ke hilir, mulai dari produksi itu direncanakan, pembelian bahan baku, penyimpanan bahan baku, diproduksi, disimpan, hingga akhirnya didistribusikan ke end customer atau end user.
Tujuan yang hendak dicapai dari setiap rantai suplai adalah untuk memaksimalkan nilai yang dihasilkan secara keseluruhan. Rantai suplai yang terintegrasi akan meningkatkan keseluruhan nilai yang dihasilkan oleh rantai suplai tersebut.
Kondisi tersebut di atas membuat setiap orang atau team yang terlibat dalam proses supply chain perusahaan harus memiliki kompetensi yang memadai dan integritas yang tinggi.
Tujuan PELATIHAN BEST PRACTICES INTEGRATED SUPPLY CHAIN MANAGEMENT (Plus Kunjungan Lapangan)
Dalam pelatihan ini peserta akan mempelajari Supply Chain Management secara menyeluruh mulai dari strategy, warehouse, transportasi, ERP, evaluasi kinerja, dan audit SCM berdasarkan aplikasi dan best practices, sehingga pasca pelatihan peserta diharapkan memiliki kemampuan strategi, analisa, dan problem solving yang dapat diterapkan dalam keseharian tugas/pekerjaan.
Setelah mengikuti pelatihan ini, peserta akan memiliki kemampuan untuk:
1. Memahami prinsip dan konsep supply chain management
2. Memahami proses dan tahapan day to day operasional supply chain
3. Mendapatkan cara pandang bagaimana meningkatkan kinerja SCM secara praktis dan dinamis.
4. Update dari konsep, best practice, dan teknologi terkini dari konsep aplikatif supply chain
5. Memahami bagaimana melakukan evaluasi kinerja dan Audit SCM
Outline
TRAINING BEST PRACTICES INTEGRATED SUPPLY CHAIN MANAGEMENT
1. Supply Chain strategy and Supply Chain Network
a. SCM definition
b. Evolusi konsep SCM
c. SCM strategy
d. Kolaborasi dan partnership SCM
e. Vendor Managed Inventory
f. Supply chain improvement
2. Effective Procurement
a. Prinsip pengadaan
b. Metode sourcing
c. Strategi negosiasi
d. Bid analisis
e. Pakta integritas
f. Kode etik supplier
3. Warehouse management improvement
a. Layout gudang
b. Inbound and QC process
c. Picking and outbound process
d. Administrasi warehouse
e. Stok taking and audit warehouse
4. Transportation and distribution improvement
a. Transportation models and cargo management
b. Maintenance and repairs
c. Transport consolidation
d. Routing and drop point
e. Vehicle monitoring and tracking
f. Managing transportation provider
5. Safety Awareness
a. Elemen SMK3
b. Identifikasi Bahaya dan penilaian resiko
c. Equipment maintenance and control
d. Pest and rodent control
e. Waste management
f. Green SCM awareness
6. Green SCM
a. Isu global warming dan kepedulian lingkungan
b. Regulasi terkait Green SCM
c. Stakeholder terkait
d. Metode dan strategi Green SCM
e. Cara mengukur dan mengevaluasi aplikasi Green SCM
7. ERP and IT review
a. ERP flowchart
b. Seleksi Vendor IT
c. Arsitektur System ERP
d. Interface modul
e. Security system
f. Evaluasi current system
8. Outsourcing review
a. Definisi outsourcing
b. Keputusan dan strategi outsourcing
c. Proses seleksi provider
d. Services Level Agreement
e. Evaluasi kinerja provider
9. Supply Chain KPI
a. Konsep Performance Management
b. Process Based and Result Based KPI
c. Mengidentifikasi dan mendefinisikan KPI untuk setiap proses kerja dan jabatan
d. Formula Pencapaian KPI
e. Memonitor dan evaluasi KPI
10. Audit SCM
a. Quality Management System
b. Tujuan dan sasaran audit SCM
c. Teknik dan metode Audit
d. Audit kinerja, proses, dan strategi
e. Audit attitude dan potensi fraud
f. Evaluasi hasil audit SCM
11. Kunjungan lapangan: Transportation management process
a. Routing plan
b. Drop point strategy
c. Cross docking
d. Managing vehicle queue
e. Vehicle checking and monitoring
f. Transportation documents
12. Kunjungan lapangan: Warehouse inbound, QC, picking, and outbound process
a. Inbound and unloading process
b. QC and sampling process
c. Order picking
d. Outbond and loading process
e. Inventory monitoring and control
f. Warehouse administration process
13. Discussion sharing: SCM operational challenges
14. Closing review
SASARAN PESERTA PELATIHAN BEST PRACTICES INTEGRATED SUPPLY CHAIN MANAGEMENT
Para Profesional di bidang:
1. Supply Chain, PPIC, Produksi, Warehouse, Distribusi, Purchasing/Procurement
2. Project Manager, Key Account Manager, GA
3. Administrasi Kontrak, Legal Perusahaan, Auditor
4. Supervisor/Manager yang terlibat dalam proses negosiasi dengan kontraktor dan pemasok.
5. Serta siapa saja yang ingin meningkatkan kompetensi mereka di bidang ini.
Metode TRAINING BEST PRACTICES INTEGRATED SUPPLY CHAIN MANAGEMENT
Class presentation, discussion, study analysis, video presentation, dan kunjungan lapangan, dengan konsep:
* 20% teori berdasarkan literatur praktisi
* 40% analisa best practices dan benchmarking antar industri
* 40% studi kasus nyata dan diskusi brainstorming antara trainer dengan peserta
Course Leader :
DENI DANASENJAYA,SE, MM & TEAM
Jadwal Pelatihan di Diorama Training :
09 – 11 Januari 2018
21 – 23 Februari 2018
29 –31 Maret 2018
11 – 13 April 2018
08 – 10 Mei 2018
21 – 23 Juni 2018
19 – 21 Juli 2018
08 – 10 Agustus 2018
24 – 26 September 2018
16 – 18 Oktober 2018
19 – 21 November 2018
10 – 12 Desember 2018
hal tersebut dapat disesuaikan dengan kebutuhan calon peserta
Lokasi Pelatihan Diotraining.com :
Yogyakarta, Hotel Dafam Malioboro (6.000.000 IDR / participant)
Jakarta, Hotel Amaris Tendean (6.500.000 IDR / participant)
Bandung, Hotel Golden Flower (6.500.000 IDR / participant)
Bali, Hotel Ibis Kuta (7.500.000 IDR / participant)
Lombok, Hotel Jayakarta (7.500.000 IDR / participant)
Investasi Pelatihan tahun 2018 ini :
Investasi pelatihan selama tiga hari tersebut menyesuaikan dengan jumlah peserta (on call). *Please feel free to contact us.
Apabila perusahaan membutuhkan paket in house training, anggaran investasi pelatihan dapat menyesuaikan dengan anggaran perusahaan.
Fasilitas Pelatihan di Diorama :
FREE Airport pickup service (Gratis Antar jemput Hotel/Bandara)
FREE Akomodasi Peserta ke tempat pelatihan .
Module / Handout
FREE Flashdisk
Sertifikat
FREE Bag or bagpackers (Tas Training)
Training Kit (Dokumentasi photo, Blocknote, ATK, etc)
2xCoffe Break & 1 Lunch, Dinner
FREE Souvenir Exclusive