PELATIHAN COALBED METHANE
TRAINING TENTANG COALBED METHANE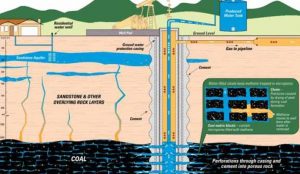 Deskripsi TRAINING TENTANG COALBED METHANE
Coal bed methane (CBM) merupakan sumber energi yang relatif masih baru. Sumber energi ini merupakan salah satu energi alternatif yang dapat diperbaharui penggunaannya. Gas metane yang diambil dari lapisan batubara ini dapat digunakan sebagai energi untuk berbagai kebutuhan manusia. Walaupun dari energi fosil yang tidak terbaharukan, tetapi gas ini terus terproduksi bila lapisan batubara tersebut ada.
Meskipun batubara berupa benda padat dan terlihat seperti batu yang keras, tapi di dalamnya banyak sekali terdapat pori-pori yang berukuran lebih kecil dari skala mikron, sehingga batubara ibarat sebuah spon. Kondisi inilah yang menyebabkan permukaan batubara menjadi sedemikian luas sehingga mampu menyerap gas dalam jumlah yang besar. Gas yang terperangkap pada batubara sebagian besar terdiri dari gas metana, atau secara umum disebut dengan Coal Bed Methane (CBM).
Seiring bertambahnya kebutuhan akan energi, baik untuk listrik dan transportasi, negara-negara berkembang seperti Indonesia juga membutuhkan suatu energi alternatif yang dapat terus dikembangkan. Sebuah sumber di USA menyebutkan bahwa kebutuhan akan energi untuk pembangkit listrik terus berkembang. Salah satu pembangkit listrik di dunia yang paling dominan adalah dari energi batubara.
Dengan mengikuti kegiatan pelatihan yang membahas seluk beluk CBM, maka peserta diharapkan dapat memahami berbagai langkah yang bisa dilakukan manajemen dalam rangka pemanfaatan dan efisiensi energy.
Materi TRAINING TENTANG COALBED METHANE
The Overview of Technical Aspect of CBM Business
* Introduction to Coal Bed Methane ( CBM )
* Development of CBM: National and International spectrum
* CBM as a Reservoir
* Method of Drilling and Production
* Design of Gas Transmission Pipeline
* Design of Crude, Oil, and Produced Water Transportation Pipeline
* HSE Aspect of CBM Explorations
* National development of CBM
* Economic Aspect and Project Calculation for CBM
The Contractual, Legal, and Financial Aspect of CBM Business
* Understanding the Mechanism of PSC and CBM Contract
* Introduction: Financial Influences and Non Financial Divisions
* CBM & Petroleum Business in Brief: Global Competitiveness
* Nature of the Oil and Gas Industry and Business Process
* CBM Operation in Brief
* General Petroleum Including CBM Accounting and Taxation
* The Philosophy of PSC
* Cost Recovery
* CBM Contract, PSC, & Business Process
* PSC & CBM Contract: Procedure in Practice
* PSC & CBM Contract :Term & Application
* PSC & CBM Contract: Calculation
* PSC & CBM Contract: Financial Budgeting & Reporting
* Understanding the PSC Key Performance and sensitivity
Due Diligence:
* Gas Content Analysis
* Gas content Quality Control
* Measuring and Changing Permeability
* Net Coal
* Gas Composition Changes
* Isotherm Consideration
* Reserve / Production Ratio
* Development Constraint Maps
PARTICIPANTS TRAINING TENTANG COALBED METHANE
Technical, Legal, and Managerial Staff who need an understanding of coal bed methane production and CBM Exploration and development opportunities
Tempat
The Papandayan Hotel / The Jayakarta Suites, Boutique Hotel and spa
Instruktur TRAINING TENTANG COALBED METHANE
DR. Sudarmoyo, ST, MSc. & team
Jadwal Pelatihan di Diorama Training :
13 – 15 Februari 2018
10 – 12 April 2018
17 – 19 Juli 2018
18 – 20 September 2018
16 – 18 Oktober 2018
26 – 28 Desember 2018
*Jadwal tersebut dapat disesuaikan dengan kebutuhan calon peserta
Lokasi Pelatihan Diotraining.com :
Yogyakarta, Hotel Dafam Malioboro (6.000.000 IDR / participant)
Jakarta, Hotel Amaris Tendean (6.500.000 IDR / participant)
Bandung, Hotel Golden Flower (6.500.000 IDR / participant)
Bali, Hotel Ibis Kuta (7.500.000 IDR / participant)
Lombok, Hotel Jayakarta (7.500.000 IDR / participant)
Investasi Pelatihan tahun 2018 ini :
Investasi pelatihan selama tiga hari tersebut menyesuaikan dengan jumlah peserta (on call). *Please feel free to contact us.
Apabila perusahaan membutuhkan paket in house training, anggaran investasi pelatihan dapat menyesuaikan dengan anggaran perusahaan.
Fasilitas Pelatihan di Diorama :
FREE Airport pickup service (Gratis Antar jemput Hotel/Bandara)
FREE Akomodasi Peserta ke tempat pelatihan .
Module / Handout
FREE Flashdisk
Sertifikat
FREE Bag or bagpackers (Tas Training)
Training Kit (Dokumentasi photo, Blocknote, ATK, etc)
2xCoffe Break & 1 Lunch, Dinner
FREE Souvenir Exclusive