Training PLC Siemens S7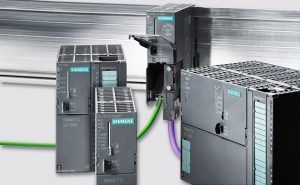 This section will begin with a discussion of basic theory of operation and how it is used to control a process. It will also identify potential applications and relate how PLC control compares with traditional methods of control. A discussion of the benefits of PLC control will follow.
Objective Pelatihan
PLC Siemens S7
PLC Training is designed to instruct electrical control professionals on how to successfully integrate a PLC into actual day-to-day industial electrical processes. It not only deals with the hardware and software, but all the surrounding systems that must be compatible to achieve a safe and reliable control system.
PLC Training is also designed to help delegates keep abreast of the latest Siemens's PLC technologies and techniques available in this area, this tutorial offers an excellent opportunity for delegates to ask specific questions and exchange ideas relating to their own applications.
MATERI Training PLC Siemens S7
Hardware Configuration
This section will describe the various components used in the formulation of a PLC control system for Siemens S7-400. Included will be methods to select the correct features and capabilities to match the process requirements.
* CPU sizes and types
* Backplanes
* Power supplies
* I/O module types
Installation and Wiring Considerations
There are necessary steps that must be taken to ensure that the control system will be correctly installed to provide safe and reliable operation. Installation recommendations and techniques will be given for the following:
* Power and grounding
* Enclosures
* Input devices and wiring methods
* Output devices and wiring methods
Commissioning
This section will discuss the methods used and preparations that should be made to guarantee a smooth and troublefree system start-up.
Safety Issues and Techniques
This section will define the major safety issues relating to control systems. A number of techniques will be discussed to address these issues including:
* Solid state switching
* E-Stops
* Power-up delays
* Equipment re-starting
* Watchdog circuits
* MCR circuits
PLC Numbering Systems
PLC control system hardware and software use alternate numbering systems. The delegate will be exposed to the different base systems and how to convert to and from the decimal format.
Programming Siemens S7-400
The delegates will be instructed in the commands and logic necessary to assemble a basic PLC program to control an industrial process. The delegate will perform a simple programming exercise. Interactive Discussion
This will be an opportunity for delegates to interact and trade relevant stories and experiences.
Programming Software
Various types of programming software will be introduced to the delegates. Techniques for simple program development and downloading will be demonstrated. Topics will include:
* Program functions
* Program keying and development
* Connecting to the PLC
* Set-up
* Program downloading
* Monitoring and diagnostics
Jadwal Pelatihan di Diorama Training :
15 – 17 Januari 2019
12 – 14 Februari 2019
12 – 14 Maret 2019
9 – 11 April 2019
7 – 9 Mei 2019
18 – 20 Juni 2019
9 – 11 Juli 2019
6 – 8 Agustus 2019
3 – 5 September 2019
24 – 26 September 2019
8 – 10 Oktober 2019
22 – 24 Oktober 2019
5 – 7 November 2019
3 – 5 Desember 2019
Jadwal tersebut dapat disesuaikan dengan kebutuhan calon peserta
Lokasi Pelatihan Diotraining.com :
Yogyakarta, Hotel Dafam Malioboro (6.000.000 IDR / participant)
Jakarta, Hotel Amaris Tendean (6.500.000 IDR / participant)
Bandung, Hotel Golden Flower (6.500.000 IDR / participant)
Bali, Hotel Ibis Kuta (7.500.000 IDR / participant)
Lombok, Hotel Jayakarta (7.500.000 IDR / participant)
Investasi Pelatihan tahun 2019 ini :
Investasi pelatihan selama tiga hari tersebut menyesuaikan dengan jumlah peserta (on call). *Please feel free to contact us.
Apabila perusahaan membutuhkan paket in house training, anggaran investasi pelatihan dapat menyesuaikan dengan anggaran perusahaan.
Fasilitas Pelatihan di Diorama :
FREE Airport pickup service (Gratis Antar jemput Hotel/Bandara)
FREE Akomodasi Peserta ke tempat pelatihan .
Module / Handout
FREE Flashdisk
Sertifikat
FREE Bag or bagpackers (Tas Training)
Training Kit (Dokumentasi photo, Blocknote, ATK, etc)
2xCoffe Break & 1 Lunch, Dinner
FREE Souvenir Exclusive