PELATIHAN ADVANCE SCALE PREVENTION AND WATER TECHNOLOGY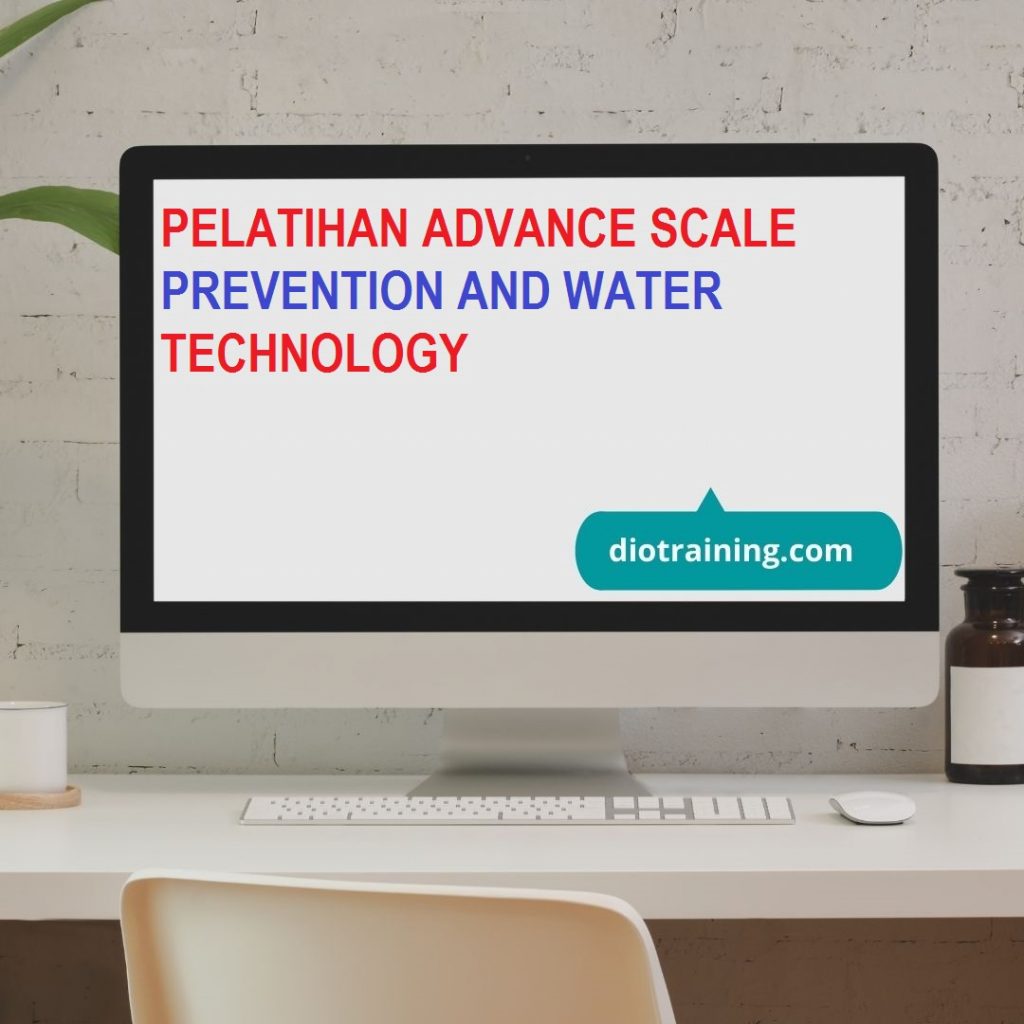 TUJUAN ADVANCE SCALE PREVENTION AND WATER TECHNOLOGY
Setelah menyelesaikan kursus ini diharapkan peserta dapat :
Memahami dasar-dasar pembentukan scale dan penggunaannya untuk keperluan operasi produksi-injeksi reservoir minyak, gas dan reservoir panas bumi.
Memahami cara-cara pengambilan sample air di lapangan dan cara analisis kandungan kimianya pada sumur-sumur produksi minyak, gas dan panas bumi.
¨    Memahami prinsip-prinsip dasar penggunaan peralatan untuk  pelaksanaan  pengujian sifat-sifat air di lapangan minyak, gas dan panas bumi.
¨    Melakukan diagnosis sederhana dan melakukan penyelesaian persoalan yang berkaitan dengan pembentukan scale oleh air formasi yang turut terproduksi ke permukaan.
¨    Melakukan perhitungan-perhitungan kuantitatip sederhana untuk berbagai keperluan industri dan pelaksanaan injeksi air di lapangan dan cara penanganan kandungan mikrobiologisnya.
¨    Mempergunakan pengetahuan spesifik untuk keperluan penanganan scale air formasi termasuk  scale clean out, scale squeeze dan acidizing.
MATERI ADVANCE SCALE PREVENTION AND WATER TECHNOLOGY
Kimia Air Formasi
Proses pembentukan Scale dan Faktor Penyebabnya
Scale Kalsium Karbonat
Scale Kalsium Sulfat
Scale BariumSulfat
Scale Besi
Field Analysis
Teknik Analisis Air Formasi
Identifiksi Jenis Scale
Penentuan Kecenderungan Pembentukan Scale
Kalsium Karbonat
Kalsium Sulfat dan Barium Sulfat
Penanggulangan Masalkah Scale
Menghilangkan Scale
Secara Mekanis
Secara Kimiawi
Pencegahan Scale
Secara Non Kimiawi
Secara Kimiawi
Penanggulangan Scale di Lapangan
Metoda Scale Clean Out
Metoda Scale Squeeze
Teknik Pengasaman
Jenis Asam
Jenis Aditive
Stimulasi Batuan Karbonat
Perencanaan Stimulasi Asam
Kriteria Keberhasilan
The Chemistry of Water
Chemical and Physical Properties
Sampling
Quantitative Analysis
Procedures
Expression of Results
Water Patterns
Reports
Analysis Techniques
Suspended SolidsPartical Size Analysis
Turbidity
Field Analysis
Water Formed Scales
Why Scales Form
Common Scales
Predicting Scale Formation
Water Compatibility
Scale Prevention
Alteration of Water Properties
Scale Control Chemicals
Scale Removal Methods
Scale Analysis
Scale Removal Chemicals
Removal from Surface Lines
Downhole Cleanout
Corrosion in Water Injection and Disposal System
Theory
Effect of Metal Composition
Effect of Water Composition
Physical Variables
Form of Corrosion
Corrosion Control Methods
Approaches
Inhibitors
Coatings and Linings
Cathodic Protection
NonmetalicTubular Goods
Removal of Corrosion Gases
Oxygen Exclusion
Design Consideration
Corrosion Monitoring Techniques
Water Treatment Microbiology
Terminology
Bacteria Which Causes Problems
Culturing, Indentifying and Counting Bacteria
Miscellaneous Organism
Chlorination
Waterflood Injection System
Water Source Selection
Type of Treating Systems
Water Treating Equipment
Suspended Solids Removal
Suspended Oil Removal
Guidelines to System Design
Waterflood Inspection and System Analysis
Water Disposal System
Pollution Incentive for Subsurface Disposal
Brines and Gas Processing Plant Waters
Plant Water Disposal
INSTRUKTUR TRAINING
Pelatihan ini akan dibawakan oleh trainer/ pemateri yang berpengalaman di bidangnya.
METODE TRAINING
1. Presentation
2. Discuss
3. Case Study
4. Evaluation
5. Pre-Test & Post-Test
6. Games
JADWAL TRAINING 2022
18-19 Januari 2022
22-23 Februari 2022
15-16 Maret 2022
19-20 April 2022
23-24 Mei 2022
14-15 Juni 2022
12-13 Juli 2022
23-24 Agustus 2022
13 – 14 September 2022
11-12 Oktober 2022
8 – 9 November 2022
29-30 November  2022
13-14 Desember 2022
Jadwal tersebut juga dapat disesuaikan dengan kebutuhan calon peserta
LOKASI DAN INVESTASI
Pelatihan Diotraining.com :
Yogyakarta, Hotel Dafam Malioboro (6.000.000 IDR / participant)
Jakarta, Hotel Amaris Tendean (6.500.000 IDR / participant)
Bandung, Hotel Golden Flower (6.500.000 IDR / participant)
Bali, Hotel Ibis Kuta (7.500.000 IDR / participant)
Lombok, Hotel Jayakarta (7.500.000 IDR / participant)
Investasi Pelatihan tahun 2022 ini :
Investasi pelatihan selama tiga hari tersebut menyesuaikan dengan jumlah peserta (on call). *Please feel free to contact us.
Apabila perusahaan membutuhkan paket in house training, anggaran investasi pelatihan dapat menyesuaikan dengan anggaran perusahaan.
Fasilitas Pelatihan di Diorama :
FREE Airport pickup service (Gratis Antar jemput Hotel/Bandara)
FREE Akomodasi Peserta ke tempat pelatihan .
Module / Handout
FREE Flashdisk
Sertifikat
FREE Bag or bagpackers (Tas Training)
Training Kit (Dokumentasi photo, Blocknote, ATK, etc)
2xCoffe Break & 1 Lunch, Dinner
FREE Souvenir Exclusive