PELATIHAN HIGH PERFORMING TEAM USING MBTI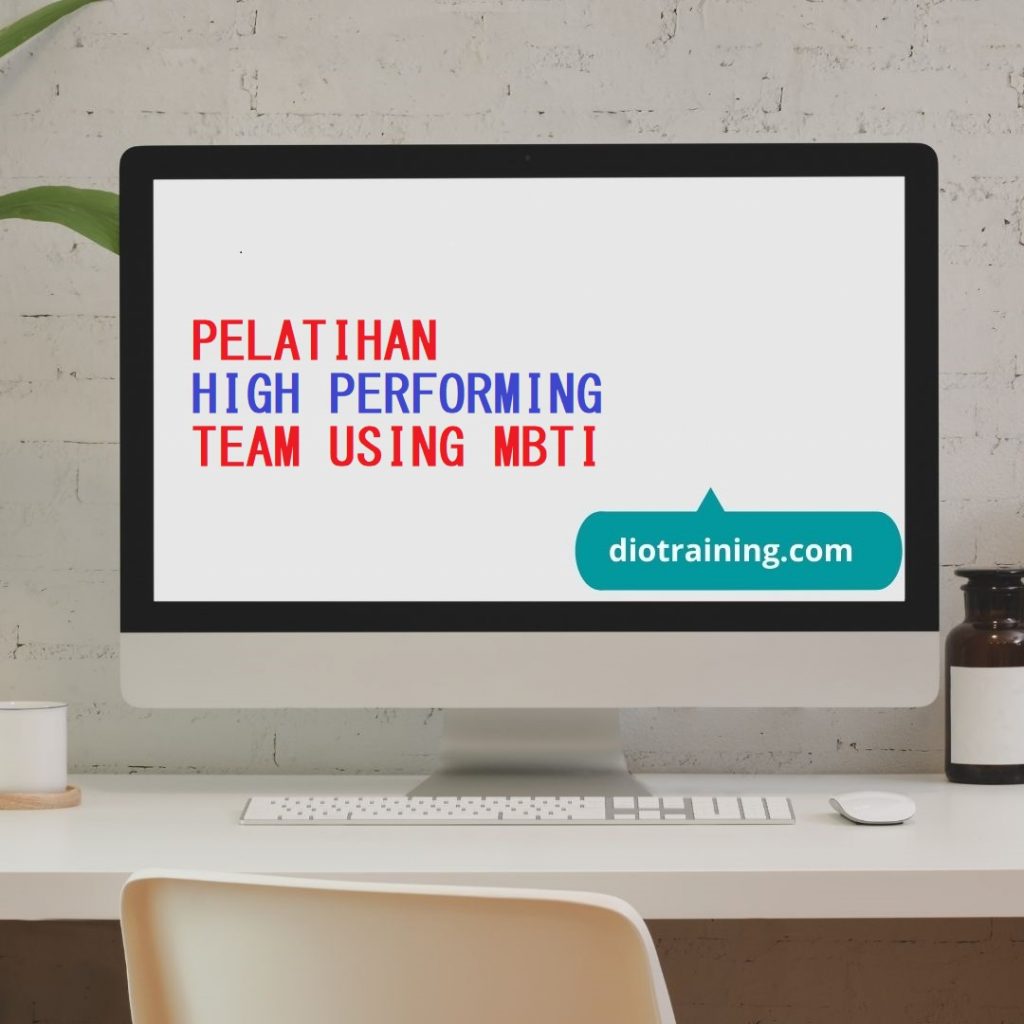 DESKRIPSI HIGH PERFORMING TEAM USING MBTI
Sebagai seorang Manager atau Supervisor, hal penting yang harus Andapelajari adalah mengenal berbagai tipe kepribadian manusia. Anda diharapkan mampu mengetahui tipe kepribadian anggota tim Anda secara spesifik serta mengajarkan mereka bagaimana bersinergi di dalam tim.
Myers Briggs Type Indicator (MBTI) adalah salah satu alat pengenal tipe kepribadian ternama yang memiliki reputasi dunia. Selain membuat orang bekerja lebih efektif, pemahaman MBTI juga sangat bermanfaat untukmeningkatkan kualitas komunikasi dan mengurangi konflik dengan orang lain.
Workshop " Understanding Yourself, Understanding Your Subordinate using MBTI Preference Model" dirancang khusus untuk para Manager, Supervisor serta Team Leader perusahaan agar mampu menggunakan MBTI untuk mengembangkan kemampuan kepemimpinan melalui pengenalan potensi kekuatan  dan kelemahan diri sendiri serta anggota tim.
TUJUAN HIGH PERFORMING TEAM USING MBTI
Setelah mengikuti pelatihan ini, peserta diharapkan mampu untuk:
Memahami 16 tipe kepribadian menurut MBTI
Mengenal kekuatan diri & potensi kelemahan yang dimiliki
Mengidentifikasi tipe kepribadian anggota tim untuk dapat memberikan arahan dengan kualitas komunikasi yang lebih baik
Mengenal sumber motivasi anggota tim dan hal yang menyebabkan mereka mengalami demotivasi.
Mengenal " value of life" dari individu anggota tim
Megidentifikasi potensi konflik yang terjadi dalam tim
MATERI
Landasan Teori MBTI
Menjelaskan landasan teori: setiap orang mempunyai diri bawaan (true self)
MBTI untuk meningkatkan PQ (Personality Quotient)
Penjelasan Preferensi MBTI
Penjelasan konsep MBTI :
Pembahasan keunikan perilaku setiap preferensi tipe kepribadian: kekuatan (strength) dan kelemahan (blind-spot) masing-masing
ISTJ, ISFJ,INFJ, INTJ
ISTP, ISFP, INFP, INTP
ESTP, ESFP,ENFP,ENTP
ESTJ,ESFJ,ENFJ,ENTJ
Pemahaman MBTI dengan model " Keirsey  Temperament"
Guardian
Artisan
Idealist
Thinker
Tehnik Berkomunikasi Efektif dengan Pendekatan MBTI
Tehnik berkomunikasi efektif dengan anggota yang terdiri dari ragam tipe kepribadian :
Pemilihan kata yang tepat, intonasi suara
Mengenal hal-hal yang dapat meningkatkan motivasi kerja anggota tim
Menetapkan langkah-langkah pengembangan diri dengan efektif
INSTRUKTUR TRAINING
Pelatihan ini akan dibawakan oleh trainer/ pemateri yang berpengalaman di bidangnya.
METODE TRAINING
1. Presentation
2. Discuss
3. Case Study
4. Evaluation
5. Pre-Test & Post-Test
6. Games
JADWAL TRAINING 2022
18-19 Januari 2022
22-23 Februari 2022
15-16 Maret 2022
19-20 April 2022
23-24 Mei 2022
14-15 Juni 2022
12-13 Juli 2022
23-24 Agustus 2022
13 – 14 September 2022
11-12 Oktober 2022
8 – 9 November 2022
29-30 November  2022
13-14 Desember 2022
Jadwal tersebut juga dapat disesuaikan dengan kebutuhan calon peserta
LOKASI DAN INVESTASI
Pelatihan Diotraining.com :
Yogyakarta, Hotel Dafam Malioboro (6.000.000 IDR / participant)
Jakarta, Hotel Amaris Tendean (6.500.000 IDR / participant)
Bandung, Hotel Golden Flower (6.500.000 IDR / participant)
Bali, Hotel Ibis Kuta (7.500.000 IDR / participant)
Lombok, Hotel Jayakarta (7.500.000 IDR / participant)
Investasi Pelatihan tahun 2022 ini :
Investasi pelatihan selama tiga hari tersebut menyesuaikan dengan jumlah peserta (on call). *Please feel free to contact us.
Apabila perusahaan membutuhkan paket in house training, anggaran investasi pelatihan dapat menyesuaikan dengan anggaran perusahaan.
Fasilitas Pelatihan di Diorama :
FREE Airport pickup service (Gratis Antar jemput Hotel/Bandara)
FREE Akomodasi Peserta ke tempat pelatihan .
Module / Handout
FREE Flashdisk
Sertifikat
FREE Bag or bagpackers (Tas Training)
Training Kit (Dokumentasi photo, Blocknote, ATK, etc)
2xCoffe Break & 1 Lunch, Dinner
FREE Souvenir Exclusive