PELATIHAN MAINTENANCE PRIORITY INDEX (MPI) DENGAN PROSES SYSTEM & EQUIPMENT RELIABILITY & PRIORITIZATION (SERP)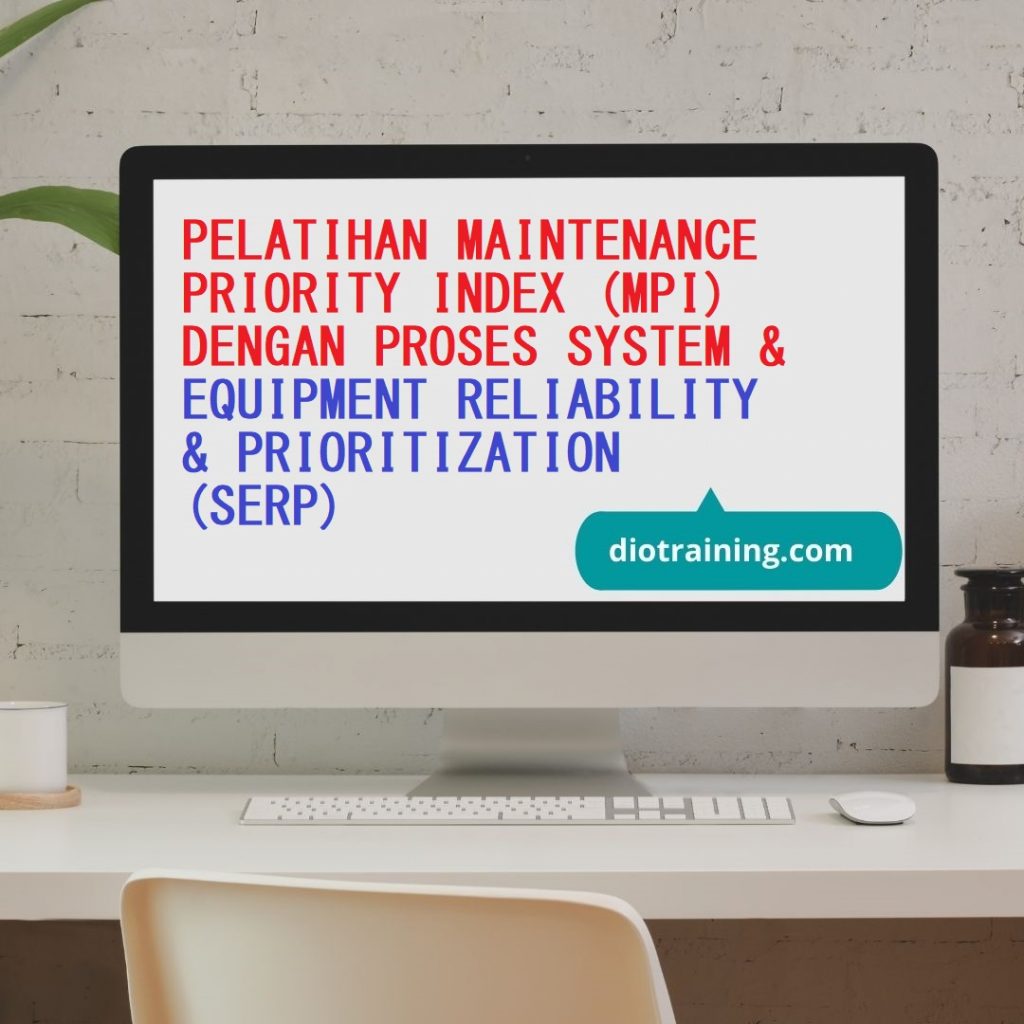 DESKRIPSI MAINTENANCE PRIORITY INDEX (MPI) DENGAN PROSES SYSTEM & EQUIPMENT RELIABILITY & PRIORITIZATION (SERP)
Sebagian besar dari Reliability Management Process didasarkan pada pengelolaan dari berbagai aset kritikal, namun banyak organisasi yang gagal untuk memahami sepenuhnya mengenai makna dibalik dari criticality ranking. Umumnya, aset yang 'kritikal' memiliki dampak yang signifikan terhadap misi dari organisasi, baik tingkat produksi atau pelayanan, mutu dari produk atau pelayanan yang dihasilkan, atau biaya dari produk atau pelayanan.
Namun mengikuti pola pikir demikian, organisasi seringkali terjebak untuk hanya mementingkan karakteristik tunggal yang membuat tiap aset menjadi 'kritikal'.
Dengan konstruksi yang tepat terhadap Maintenance Priority Index, organisasi akan mampu menjabarkan peningkatan reliability yang harus dibuat untuk mengelola criticality, sehingga meningkatkan kemampuan organisasi dalam mengelola asset bedasarkan criticality.
TUJUAN MAINTENANCE PRIORITY INDEX (MPI) DENGAN PROSES SYSTEM & EQUIPMENT RELIABILITY & PRIORITIZATION (SERP)
Diharapkan setelah mengikuti pelatihan ini, peserta akan mampu:
Memahami konsep dari asset criticality
Memahami berbagai karakteristik yang menentukan asset criticality
Memahami dan menguasai penentuan karakteristik dan skala pembobotannya
Melakukan analisis penentuan Maintenance Priority Index (MPI) dengan proses SERP (System & Equipment Reliability & Prioritization)
MATERI MAINTENANCE PRIORITY INDEX (MPI) DENGAN PROSES SYSTEM & EQUIPMENT RELIABILITY & PRIORITIZATION (SERP)
Definisi SERP
Tujuan SERP
Hasil SERP
Manfaat SERP
Persyaratan SERP
Implementasi SERP
* Tingkatan I: Ranking and Prioritization
Tahapan Pertama: Penentuan sistem dasar
Tahapan Kedua: Penentuan System Criticality Ranking
Tahapan Ketiga: Penentuan Operational Criticality Ranking
Tahapan Keempat: Penentuan Asset Criticality Ranking
Tahapan Kelima: Penentuan Maintenance Priority Index
* Tingkatan II: FMEA
Modus Kegagalan
Penyebab Kegagalan
Akar Penyebab
* Tingkatan III: Failure Defense Plan:
Peralatan Non-Kritikal
PESERTA
Pelatihan ini sesuai untuk diikuti oleh:
* Maintenance Managers, Technical Maintenance Managers, Plant Managers, Routine Work Managers, Operation Managers, Production Managers, Engineering Managers
* Planners, Engineers, Superintendents, Supervisors & Team Leaders
INSTRUKTUR TRAINING
Pelatihan ini akan dibawakan oleh trainer/ pemateri yang berpengalaman di bidangnya.
METODE TRAINING
1. Presentation
2. Discuss
3. Case Study
4. Evaluation
5. Pre-Test & Post-Test
6. Games
JADWAL TRAINING 2022
18-19 Januari 2022
22-23 Februari 2022
15-16 Maret 2022
19-20 April 2022
23-24 Mei 2022
14-15 Juni 2022
12-13 Juli 2022
23-24 Agustus 2022
13 – 14 September 2022
11-12 Oktober 2022
8 – 9 November 2022
29-30 November 2022
13-14 Desember 2022
Jadwal tersebut juga dapat disesuaikan dengan kebutuhan calon peserta
LOKASI DAN INVESTASI
Pelatihan Diotraining.com :
Yogyakarta, Hotel Dafam Malioboro (6.000.000 IDR / participant)
Jakarta, Hotel Amaris Tendean (6.500.000 IDR / participant)
Bandung, Hotel Golden Flower (6.500.000 IDR / participant)
Bali, Hotel Ibis Kuta (7.500.000 IDR / participant)
Lombok, Hotel Jayakarta (7.500.000 IDR / participant)
Investasi Pelatihan tahun 2022 ini :
Investasi pelatihan selama tiga hari tersebut menyesuaikan dengan jumlah peserta (on call). *Please feel free to contact us.
Apabila perusahaan membutuhkan paket in house training, anggaran investasi pelatihan dapat menyesuaikan dengan anggaran perusahaan.
Fasilitas Pelatihan di Diorama :
FREE Airport pickup service (Gratis Antar jemput Hotel/Bandara)
FREE Akomodasi Peserta ke tempat pelatihan .
Module / Handout
FREE Flashdisk
Sertifikat
FREE Bag or bagpackers (Tas Training)
Training Kit (Dokumentasi photo, Blocknote, ATK, etc)
2xCoffe Break & 1 Lunch, Dinner
FREE Souvenir Exclusive