PELATIHAN MS. EXCEL FOR ESTIMATING, BUDGETING, CALCULATING, CONTROLLING, AND EVALUATION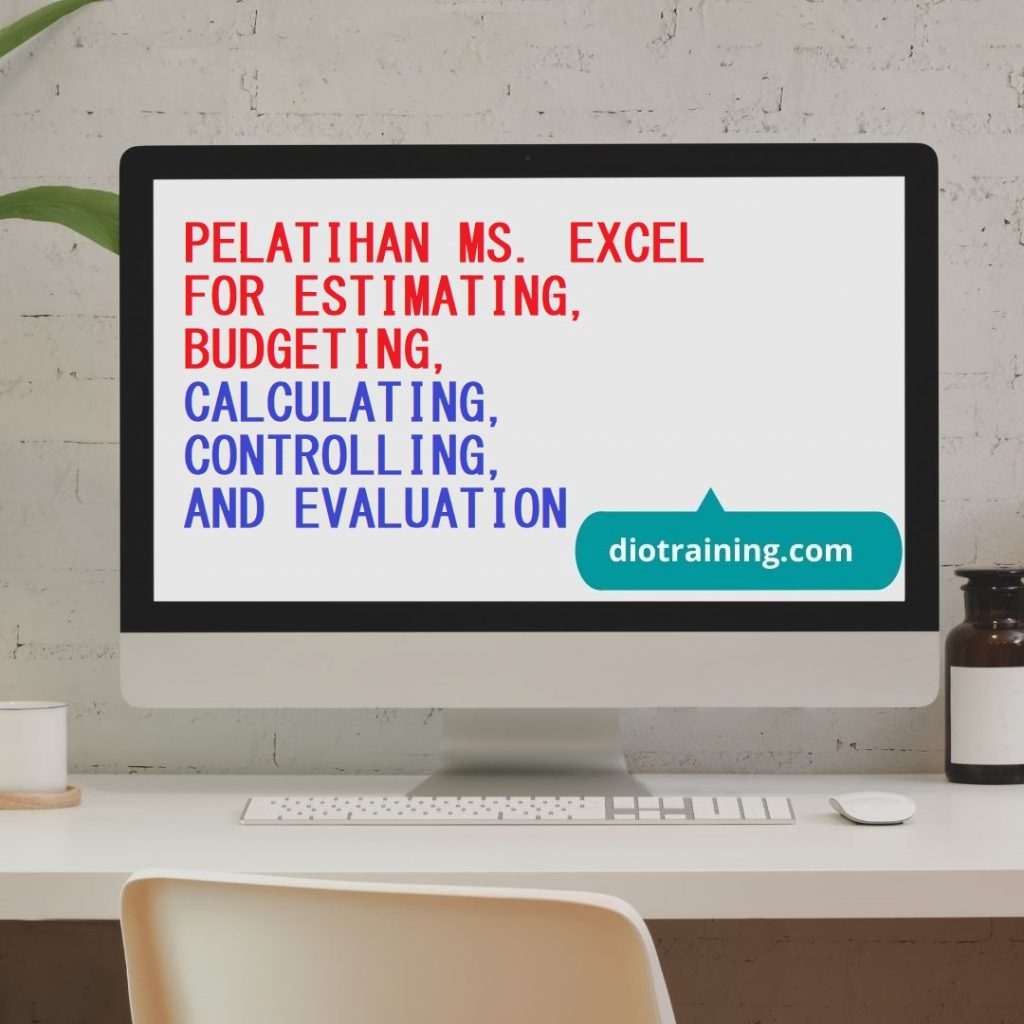 TRAINING MS. EXCEL FOR ESTIMATING
Deskripsi Pelatihan Microsoft Excel for Calculating
Manajemen Proyek bangunan akan sangat komplek dan merepotkan apabila system yang digunakan masih sederhana dan menggunakan fungsi atau formula yang dituliskan satu per satu dalam suatu cell address. Apalagi ketika menghadapi tantangan dan peluang baru dalam hal keuangan, maka kemampuan untuk melakukan analisa yang akurat dan realistis adalah merupakan suatu keharusan. Dalam kondisi dunia usaha yang dinamis seperi saat ini, kemampuan membuat spreadsheets saja tidak cukup. Anda harus mampu menyajikan berbagai kemungkinan (what if-scenarios) dan melakukan pengetesan untuk mendapatkan berbagai hasil yang mungkin akan terjadi.
Salah satu alat bantu yang diperlukan dalam pengambilan keputusan serta meningkatkan kehandalan dan kualitas dari keputusan yang akan anda ambil, maka dibutuhkan suatu financial model yang baik.
Microsoft excel masih merupakan spreadsheet yang sangat aplikatif dan popular dalam menyusun budget, melakukan kontrol bahkan evaluasi atas manajemen proyek bangunan. Hingga saat ini sudah banyak perusahaan yang mengandalkan program ini karena sangat user friendly dan mudah diperoleh. Namun demikian untuk dapat memanfaatkan MS Excel secara optimal, diperlukan kemampuan dalam mengaplikasikan program excel disatu sisi dan pemahaman tatacara penyusunan budget, calculating, controlling dan evaluasi atas manajemen proyek bangunan itu sendiri disisi lainnya.
Materi Training Excel for Controlling
1. Establishing project building management fundamentals
2. Establishing excel and office 2007 sharepoint server fundamentals
3. Mengenal fitur excel terbaru untuk project building management
4. Membangun spreadsheet hingga menjadi proforma laporan keuangan
5. Budgeting cycle dan report yang dibutuhkan dalam proyek
6. Teknik mengupdate estimasi, budget package dan kontrol dengan mudah
7. Menentukan persyaratan proyek, perencanaan dan sumber daya
8. Estimating dan menghitung anggaran
9. Quality management and controlling project outcomes and archiving documents
10. Membuat report dalam menganalisa budget dan estimasi
11. Evaluation on project building management
INSTRUKTUR TRAINING
Pelatihan ini akan dibawakan oleh trainer/ pemateri yang berpengalaman di bidangnya.
METODE TRAINING
1. Presentation
2. Discuss
3. Case Study
4. Evaluation
5. Pre-Test & Post-Test
6. Games
JADWAL TRAINING 2022
18-19 Januari 2022
22-23 Februari 2022
15-16 Maret 2022
19-20 April 2022
23-24 Mei 2022
14-15 Juni 2022
12-13 Juli 2022
23-24 Agustus 2022
13 – 14 September 2022
11-12 Oktober 2022
8 – 9 November 2022
29-30 November 2022
13-14 Desember 2022
Jadwal tersebut juga dapat disesuaikan dengan kebutuhan calon peserta
LOKASI DAN INVESTASI
Pelatihan Diotraining.com :
Yogyakarta, Hotel Dafam Malioboro (6.000.000 IDR / participant)
Jakarta, Hotel Amaris Tendean (6.500.000 IDR / participant)
Bandung, Hotel Golden Flower (6.500.000 IDR / participant)
Bali, Hotel Ibis Kuta (7.500.000 IDR / participant)
Lombok, Hotel Jayakarta (7.500.000 IDR / participant)
Investasi Pelatihan tahun 2022 ini :
Investasi pelatihan selama tiga hari tersebut menyesuaikan dengan jumlah peserta (on call). *Please feel free to contact us.
Apabila perusahaan membutuhkan paket in house training, anggaran investasi pelatihan dapat menyesuaikan dengan anggaran perusahaan.
Fasilitas Pelatihan di Diorama :
FREE Airport pickup service (Gratis Antar jemput Hotel/Bandara)
FREE Akomodasi Peserta ke tempat pelatihan .
Module / Handout
FREE Flashdisk
Sertifikat
FREE Bag or bagpackers (Tas Training)
Training Kit (Dokumentasi photo, Blocknote, ATK, etc)
2xCoffe Break & 1 Lunch, Dinner
FREE Souvenir Exclusive