PELATIHAN NEGOTIATION SKILL AND EFFECTIVE COMMUNICATION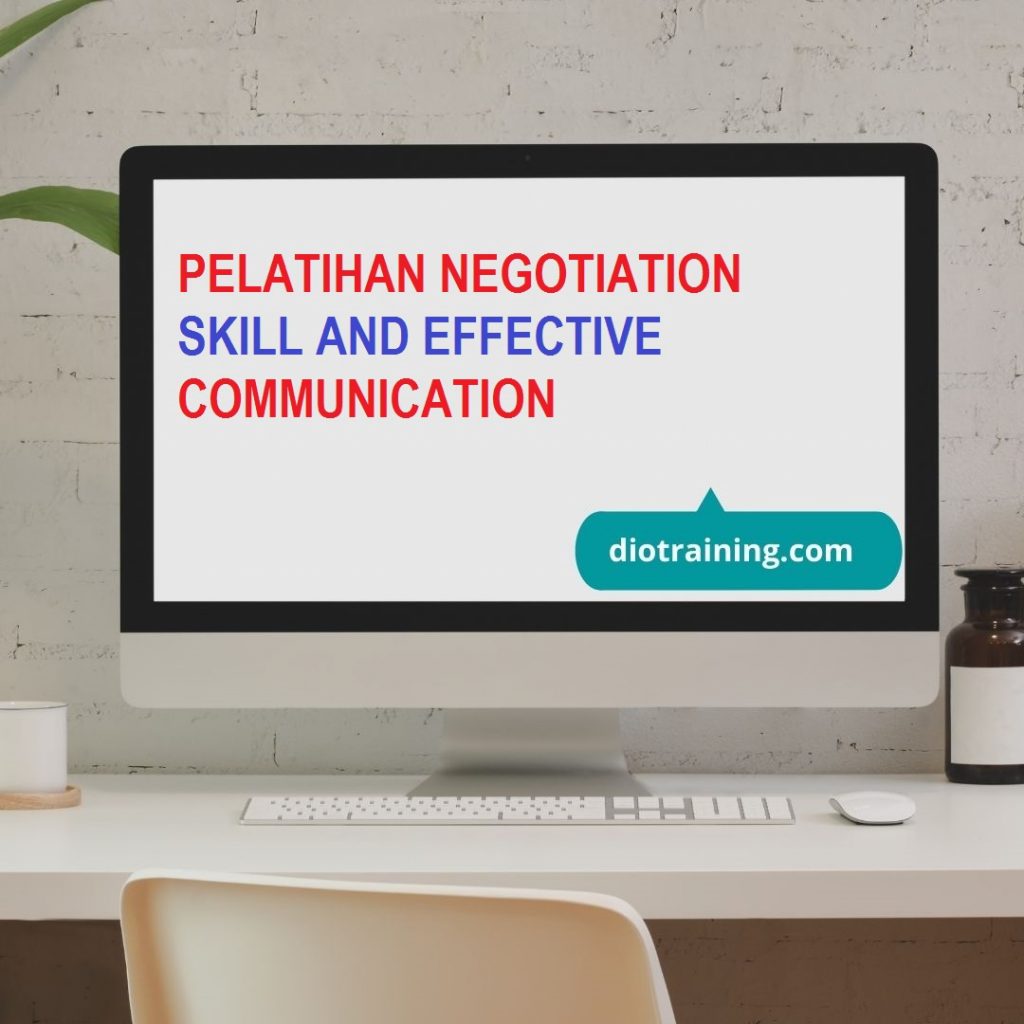 DESKRIPSI NEGOTIATION SKILL AND EFFECTIVE COMMUNICATION
Softskill SDM yang mempunyai kontribusi yang significant dalam sebuah proses bisnis perusahaan, di level manapun baik sebagai staf apalagi manajemen adalah kemampuan untuk bernegosiasi dengan baik serta kemampuan komunikasi secara efektif. (Negotiation Skill & Effective Communication)
Secara sederhana dapat dikatakan bahwa bernegosiasi berarti melakukan aktivitas yang mampu mempengaruhi orang lain guna membantu mencapai tujuan pribadi kita dan pada saat bersamaan juga dapat memberikan keuntungan tersendiri bagi orang lain tersebut.  Pada kenyataannya, bernegosiasi bukan hanya sesuatu yang umum dilakukan, tetapi juga merupakan hal yang penting untuk mencapai tingkat kehidupan yang efektif dan nyaman.
Selain kemampuan bernegosiasi, di dalam hubungan kerja, kemampuan dalam membina hubungan interpersonal dengan cara melakukan proses komunikasi yang efektif akan memudahkan penyelesaian tugas sehari-hari apalagi tugas dalam teamwork. Karena bagaimanapun akan sulit membangun teamwork yang tangguh bila ketrampilan komunikasi ini tidak dimiliki oleh salah seorang anggotanya. Atau dengan kata lain seseorang yang tidak memiliki  komunikasi akan sulit bekerja dalam satu kelompok kerja secara baik.
Pelatihan ini didesain untuk memberikan pemahaman dan kemampuan agar permasalahan yang sering muncul dalam lingkungan kerja akibat lemahnya kemampuan bernegosiasi dan komunikasi dapat dihindari dan dapat diantisipasi secara tepat.
TUJUAN NEGOTIATION SKILL AND EFFECTIVE COMMUNICATION
Setelah mengikuti pelatihan ini, peserta diharapkan mampu untuk :
* Mengerti konsep dasar mengenai Negotiation Skill & Effective Communication, khususnya terkait dengan urusan pekerjaan sehari-hari.
* Dapat mempersiapkan negosiasi secara efektif mulai prinsip pertukaran sampai dengan menciptakan suasana yang tepat
* Meningkatkan kemampuan peserta dalam membina hubungan interpersonal
* Meningkatkan kemampuan peserta dalam bernegosiasi dan berkomunikasi secara professional
* Berkomunikasi secara efektif dan menangani konflik hingga teknik penyelesaian masalah
MATERI NEGOTIATION SKILL AND EFFECTIVE COMMUNICATION
* Memahami Proses Negosiasi dan Komunikasi
* Prinsip Dasar Negosasi dan Komunikasi efektif
* Memahami terjadinya Mis-Komunikasi
* Keahlian Bertanya dan Mendengarkan secara Aktif
* Berbicara dengan Jelas dan Terarah
* Teknik Body Language
* Membangun hubungan dengan Orang yang Baru dikenal
* Mempersiapkan Negosiasi
* Prinsip Dasar Bernegosiasi
* Menentukan Sasaran Negosiasi
* Struktur Negosiasi yang Efektif
* Komunikasi yang Efektif
* Menangani Konflik
* Teknik Penyelesaian Masalah
* Mencapai Kesepakatan
* Negosiasi dalam Situasi Sehari-hari
* Negosiasi Melalui Telepon dan Email
* Daftar Penentu Keberhasilan Negosiasi
* Studi Kasus dan Pemecahan Masalah tentang Teknik Negosiasi yang Sukses
INSTRUKTUR TRAINING
Pelatihan ini akan dibawakan oleh trainer/ pemateri yang berpengalaman di bidangnya.
METODE TRAINING
1. Presentation
2. Discuss
3. Case Study
4. Evaluation
5. Pre-Test & Post-Test
6. Games
JADWAL TRAINING 2022
18-19 Januari 2022
22-23 Februari 2022
15-16 Maret 2022
19-20 April 2022
23-24 Mei 2022
14-15 Juni 2022
12-13 Juli 2022
23-24 Agustus 2022
13 – 14 September 2022
11-12 Oktober 2022
8 – 9 November 2022
29-30 November  2022
13-14 Desember 2022
Jadwal tersebut juga dapat disesuaikan dengan kebutuhan calon peserta
LOKASI DAN INVESTASI
Pelatihan Diotraining.com :
Yogyakarta, Hotel Dafam Malioboro (6.000.000 IDR / participant)
Jakarta, Hotel Amaris Tendean (6.500.000 IDR / participant)
Bandung, Hotel Golden Flower (6.500.000 IDR / participant)
Bali, Hotel Ibis Kuta (7.500.000 IDR / participant)
Lombok, Hotel Jayakarta (7.500.000 IDR / participant)
Investasi Pelatihan tahun 2022 ini :
Investasi pelatihan selama tiga hari tersebut menyesuaikan dengan jumlah peserta (on call). *Please feel free to contact us.
Apabila perusahaan membutuhkan paket in house training, anggaran investasi pelatihan dapat menyesuaikan dengan anggaran perusahaan.
Fasilitas Pelatihan di Diorama :
FREE Airport pickup service (Gratis Antar jemput Hotel/Bandara)
FREE Akomodasi Peserta ke tempat pelatihan .
Module / Handout
FREE Flashdisk
Sertifikat
FREE Bag or bagpackers (Tas Training)
Training Kit (Dokumentasi photo, Blocknote, ATK, etc)
2xCoffe Break & 1 Lunch, Dinner
FREE Souvenir Exclusive