TRAINING ADVANCED DOCUMENTS & ELECTRONIC RECORDS MANAGEMENT SYSTEM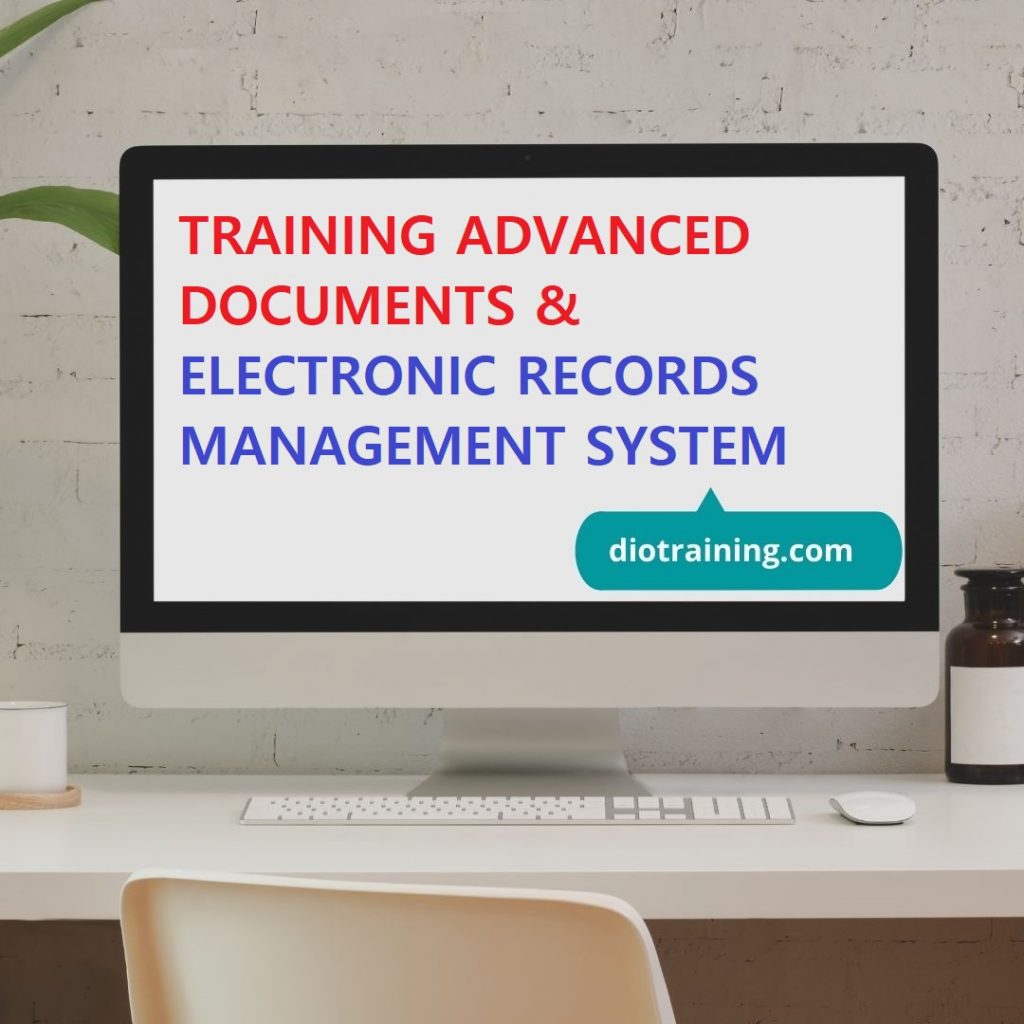 Training Advanced Documents
Training Electronic Record Management System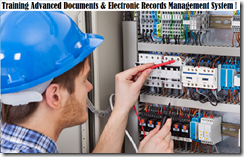 Pengantar Training :
ISO 14589 dan Undang-Undang No. 43 tahun 2009 tentang Kearsipan, satu sama lain saling menunjang dalam penerapan pengolahan kearsipan di perusahaan. Penerapan ISO 14589 pada Arsip perusahaan berguna untuk: (1) Meningkatkan citra perusahaan, (2) Meningkatkan kinerja lingkungan perusahaan, (3) Meningkatkan efisiensi kegiatan, (4) Memperbaiki manajemen organisasi dengan menerapkan perencanaan, pelaksanaan, pengukuran dan tindakan perbaikan (plan, do, check, act), (5) Meningkatkan penataan terhadap ketentuan peraturan perundang-undangan dalam hal pengelolaan lingkungan, (6) Mengurangi risiko usaha, (7) Meningkatkan daya saing, (8) Meningkatkan komunikasi internal dan hubungan baik dengan berbagai pihak yang berkepentingan, (9) Mendapat kepercayaan dari konsumen/mitra kerja/pemodal.
Dan dengan adanya Undang-Undang No. 43 tahun 2009 tentang Kearsipan, pengaturan akses arsip dinamis diatur secara lebih tegas dalam melaksanakan layanan arsip. Serta penyelenggaraan kearsipan dilaksanakan berasaskan: (1) kepastian hukum; (2) keautentikan dan keterpercayaan; (3) keutuhan; (4) asal usul (principle of provenance); (5) aturan asli (principle of original order); (6) keamanan dan keselamatan; (7) keprofesionalan; (8) keresponsifan; (9) keantisipatifan; (10) kepartisipatifan; (11) akuntabilitas; (12) kemanfaatan; (13) aksesibilitas; dan (14) kepentingan umum.
Pelatihan ini memberikan strategi manajemen dokumen level advance, dengan didasari ISO 14589 dan Undang-Undang No. 43 tahun 2009, diantaranya; Memilih, memilih dan membangun system, penggunaan peralatan kearsipan, dan system aplikasi yang digunakan untuk menyimpan, mengelola, mengklasifikasi, mendistribusikan, mendisposisikan, sampai dengan pemusnahan dokumen berdasarkan standarisasi internasional maupun nasional.
Dalam pelatihan ini Anda akan belajar bagaimana untuk:
1. Memahami konsep manajemen kearsipan dengan level advance, sesuai dengan prosedur dan standar kearsipan (ISO 15489 dan UU 43 tahun 2009)
2. Mengembangkan strategi dan konsep kearsipan secara tepat, agar sesuai dengan persyaratan bisnis perusahaan, hukum dan audit.
3. Membuat Proses Jadwal Retensi Dokumen (JRD) seperti penentuan masa retensi, cara pemusnahan, dan legalitas pemusnahan, atau menjadi arsip yang permanent.
4. Membuat system aplikasi Electronic Records Management System (EDMS) yang dapat digunakan perusahaan sesuai dengan standarisasi manajemen kearsipan.
TUJUAN Training :
1. Memahami manajemen kearsipan tingkat advance, dengan membuat prosedur sesuai dengan standar kearsipan.
2. Membantu menyelesaikan permasalahan perusahaan yang berkaitan dengan penyimpanan dokumen.
3. Mempelajari konsep kearsipan tingkat advance dalam mengelola informasi dan dokumen, diantaranya; workflow dokumen, indexing, filing, audit dan kontrol system.
4. Review terhadap vendor yang memberikan jasa atau solusi kearsipan.
5. Membuat metadata aplikasi, klasifikasi, autorisasi / security dan pengaturan jadwal retensi dokumen (JRD).
6. Bagaimana menerapkan undang-undang, standar dan regulasi yang berlaku mengenai manajemen dokumen.
7. Membuat konsep SOP dan aplikasi kearsipan sesuai dengan kebutuhan perusahaan.
8. Audit system standarisasi manajemen kearsipan.
GARIS BESAR BAHASAN :
Anda akan diberikan materi pelatihan mengenai;
Pemahaman Solusi Manajemen Dokumen
* Manajemen Rekod ISO 15489
* Konsep SOP Manajemen Dokumen; Procedures, Work Instruction, Form, Classification and Retention Schedule
Perancangan dan Pengembangan Sistem Kearsipan
* Mencatat Jenis-jenis Dokumen
* Sistem dan Media Penyimpanan Fisik Dokumen
* Distribusi Dokumen
* Transfer / Pemindahan Dokumen
* Sistem Akses, Pengambilan dan Penggunaan
* Sirkulasi / Proses Peminjaman Dokumen
* Retensi dan Disposisi
* Sistem Klasifikasi
* Pengindeksan
* Pembuatan Nomor dan kode Fisik Dokumen
* Membuat Pusat Arsip (Records Center)
Electronic Records Management System (EDMS)
* Me-review Electronic Records Management Systems (EDMS)
* Alihmedia (imaging) dan masalah legalitasnya
Implementasi Sistem Kearsipan
* Implementasi SOP Kearsipan
* Monitoring , Control dan Audit Sistem Kearsipan 9 – 11 November 2021 ISO 15489
* Membuat Kebijakan dan Prosedur Manajemen Kearsipan
Studi Kasus
* Permasalahan SOP dan EDMS
* Strategy
* Concepts
* Process
* Evalusi dan Diksusig)
PELATIHAN SANGAT PENTING BAGI :
Pelatihan ini khusus ditujukan untuk mereka yang melakukan pengambilan keputusan dalam manajemen dokumen, diantaranya:
1. Records managers
2. Document controllers
3. IT Management
4. Document and Records Management personnel
5. Document Management Supervisors
6. Suppliers, Solution Providers and Vendors
7. Users of Document and Records Management
INSTRUKTUR TRAINING
Pelatihan ini akan dibawakan oleh trainer/ pemateri yang berpengalaman di bidangnya.
METODE TRAINING
1. Presentation
2. Discuss
3. Case Study
4. Evaluation
5. Pre-Test & Post-Test
6. Games
JADWAL TRAINING 2022
18-19 Januari 2022
22-23 Februari 2022
15-16 Maret 2022
19-20 April 2022
23-24 Mei 2022
14-15 Juni 2022
12-13 Juli 2022
23-24 Agustus 2022
13 – 14 September 2022
11-12 Oktober 2022
8 – 9 November 2022
29-30 November  2022
13-14 Desember 2022
Jadwal tersebut juga dapat disesuaikan dengan kebutuhan calon peserta
LOKASI DAN INVESTASI
Pelatihan Diotraining.com :
Yogyakarta, Hotel Dafam Malioboro (6.000.000 IDR / participant)
Jakarta, Hotel Amaris Tendean (6.500.000 IDR / participant)
Bandung, Hotel Golden Flower (6.500.000 IDR / participant)
Bali, Hotel Ibis Kuta (7.500.000 IDR / participant)
Lombok, Hotel Jayakarta (7.500.000 IDR / participant)
Investasi Pelatihan tahun 2022 ini :
Investasi pelatihan selama tiga hari tersebut menyesuaikan dengan jumlah peserta (on call). *Please feel free to contact us.
Apabila perusahaan membutuhkan paket in house training, anggaran investasi pelatihan dapat menyesuaikan dengan anggaran perusahaan.
Fasilitas Pelatihan di Diorama :
FREE Airport pickup service (Gratis Antar jemput Hotel/Bandara)
FREE Akomodasi Peserta ke tempat pelatihan .
Module / Handout
FREE Flashdisk
Sertifikat
FREE Bag or bagpackers (Tas Training)
Training Kit (Dokumentasi photo, Blocknote, ATK, etc)
2xCoffe Break & 1 Lunch, Dinner
FREE Souvenir Exclusive