TRAINING ELECTRIC MACHINE DRIVES
Training Pengetahuan Dasar Dan Teori-Teori Prinsip Mesin
Training Aspek Penerapan Perangkat Dalam Industri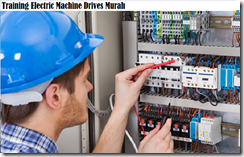 DESKRIPSI
Pelatihan ini di mulai dengan meninjau ulang teori dan hukum yang berkaitan dengan sirkuit magnetik & magnetis yang digabungkan dengan prinsip di balik konversi energi elektronmekanis fundamental. Hal ini juga terkait dengan karakteristik mesin DC, induksi, mesin sinkron, dan transformer. Pelatihan ini juga akan mencakup aspek penerapan perangkat dalam industri
Setelah mengikuti pelatihan ini harapannya peserta memiliki pengetahuan dasar dan teori-teori prinsip mesin, memahami karakteristik, operasi dan teori-teori yang mendasari mesin AC seperti transformer, mesin sinkron dan motor induksi, dan memahami karakteristik, operasi dan teori-teori yang mendasari DC motor.
MATERI KHUSUS
1. INTRODUCTION TO MACHINERY PRINCIPLES
Rotational motion, Newton's Law and Power Relationship
The magnetic field, Magnetic circuits
Faraday's Law
Production of induced force on a wire
Induced voltage on a moving wire in a magnetic field
The linear DC machine
2. TRANSFORMERS
Types and construction of transformers
The ideal transformer
Theory of operation of real single-phase transformer
The equivalent circuit of a transformer
The Per-Unit system of measurement
The transformer voltage regulation and efficiency
Three-Phase transformers
3. AC MACHINERY FUNDAMENTALS
The rotating magnetic field
Magnetomotive force and flux distribution in AC machines
Induced voltage in AC machines
Induced torque in AC machines
INDUCTION MOTOR
Induction Motor construction
Basic Induction Motor concepts
Equivalent circuit of an Induction Motor
Power and Torque in Induction Motor
Induction Motor Torque-Speed Characteristics
Variations in Induction Motor Torque-Speed Characteristics
Starting of Induction Motor
Speed control of Induction Motor
Determining Induction Motor circuit model parameters
5. SYNCHRONOUS GENERATOR
Synchronous Generator construction
Speed of rotation of Synchronous Generator
Internal generated voltage of Synchronous Generator
Equivalent circuit of Synchronous Generator
Phasor diagram of Synchronous Generator
Power and Torque in Synchronous Generator
Determining Synchronous Generator circuit model parameters
Synchronous Generator operating alone
Conditions and Procedures for Paralleling AC generators
6. SYNCHRONOUS MOTOR
Basic principles of Synchronous Motor operation
Steady-state Synchronous Motor operation
Starting of Synchronous Motor
7. DC MACHINERY FUNDAMENTALS
A simple rotating loop between curved pole faces
Commutation in a simple four-loop DC machine
Armature reaction phenomenon
The internal generated voltage and induced torque equations
8. DC MOTORS
Equivalent circuit of a DC machine
Magnetization curve of a DC machine
The Separately Excited DC Motor
The Shunt DC Motor
The Permanent Magnet DC Motor
The Series DC Motor
The Compounded DC Motor ynchronous generator ratings
PESERTA
Siapa pun yang terkait dengan penggunaan motor listrik di lingkungan industri atau otomatisasi. Pelathan ini juga akan bermanfaat bagi mereka yang bekerja dalam desain sistem serta situs commissioning, pemeliharaan dan troubleshooting
METODE
Presentation;
Discussion;
Case Study;
Evaluation;
Pre test & Post Test
Jadwal Diotraining.com tahun 2021 :
12 – 14 Januari 2021
9 – 11 Februari 2021
16 – 18 Maret 2021
6 – 8 April 2021
11 – 13 Mei 2021
2 – 4 Juni 2021
6 – 8 Juli 2021
4 – 6 Agustus 2021
7 – 9 September 2021 | 5 – 7 Oktober 2021
9 – 11 November 2021 | 7 – 9 Desember 2021
–
Jadwal tersebut dapat disesuaikan dengan kebutuhan calon peserta
Lokasi Pelatihan Diotraining.com :
Yogyakarta, Hotel Dafam Malioboro (7.250.000 IDR / participant)
Jakarta, Hotel Amaris Tendean (7.750.000 IDR / participant)
Bandung, Hotel Golden Flower (7.750.000 IDR / participant)
Bali, Hotel Ibis Kuta (8.500.000 IDR / participant)
Lombok, Hotel Jayakarta (8.750.000 IDR / participant)
Investasi Pelatihan tahun 2021 ini :
Investasi pelatihan selama tiga hari tersebut menyesuaikan dengan jumlah peserta (on call). *Please feel free to contact us.
Apabila perusahaan membutuhkan paket in house training, anggaran investasi pelatihan dapat menyesuaikan dengan anggaran perusahaan.
Fasilitas Pelatihan di Diorama untuk Paket Group (Minimal 2 orang peserta dari perusahaan yang sama):
FREE Airport pickup service (Gratis Antar jemput Hotel/Bandara)
FREE Transportasi Peserta ke tempat pelatihan .
Module / Handout
FREE Flashdisk
Sertifikat
FREE Bag or bagpackers (Tas Training)
Training Kit (Dokumentasi photo, Blocknote, ATK, etc)
2xCoffe Break & 1 Lunch, Dinner
FREE Souvenir Exclusive
Jadwal Pelatihan masih dapat berubah, mohon untuk tidak booking transportasi dan akomodasi sebelum mendapat konfirmasi dari Marketing kami. Segala kerugian yang disebabkan oleh miskomunikasi jadwal tidak mendapatkan kompensasi apapun dari kami.
Technorati Tags: training reviu kertas kerja,temuan audit dan teknik penulisan laporan hasil audit yang efektif pasti jalan,training review kertas kerja pasti jalan,training teknik penulisan laporan hasil audit pasti jalan,training penyusunan laporan hasil audit pasti jalan,pelatihan reviu kertas kerja,pelatihan review kertas kerja pasti running