TRAINING ELECTRICAL SAFETY AWARENESS FOR NON ELECTRICAL WORKERS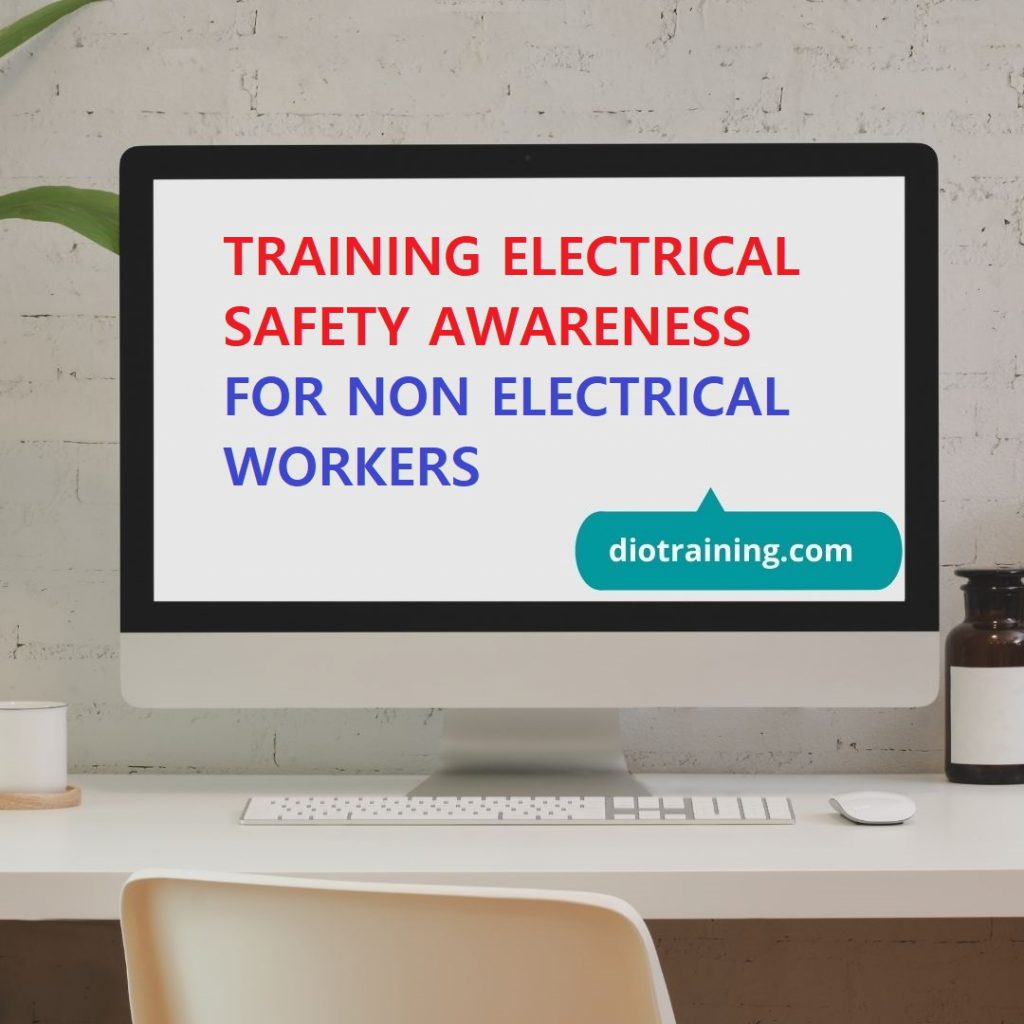 Training Electrical Safety Awareness
Training Keselamatan Kelistrikan Untuk Non Pekerja Kelistrikan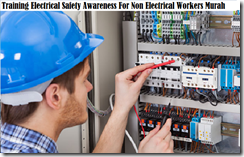 DESCRIPTION
This electrical safety awareness course for non-electrical workers provides a solid foundation for compliance considerations by building owners, managers, supervisors and employers who realize the importance of electrical safety in their workplace. This course is intended to raise awareness about electrical safety both on and off the job. The target audience is non-electricians, including maintenance workers, machine operators and anybody who works with and around electrical tools or equipment.
WHO SHOULD ATTEND
* Industrial plant managers and supervisors
* Occupational health and safety coordinators
* Federal, provincial and municipal government building owners, managers, operators and Building service technicians
* Private commercial and institutional building owners, managers, operators and Building service technicians
* Non Electrical Skilled workers such as: Fitters, Painters, Carpenters, Laborers, Utility Operators, Equipment Operators, Janitors, Waste Handlers and Warehouse Workers, HVAC Personnel
SUMMARY OUTLINE
BASIC ELECTRICAL TERMINOLOGY
*  Current
*  Resistance
* Voltage
* Conductors
* Insulators
*  Grounding
HAZARDS OF ELECTRICITY
*  Electrical shock
* Arc flash
* Arc blast
STEP AND TOUCH POTENTIAL
* Step potential
* Touch potential
ELECTRICAL SHOCK
* Dangers of electrical shock
* Effects of electricity on the body
* How is an electrical shock received?
* Low voltage does not mean low hazard
* Examples of electrical burns and injuries
* Examples of electrical accidents involving non-electrical personnel
ARC FLASH
*  Characteristics of an arc flash
ARC BLAST
* Characteristics of an arc blast
RECOGNIZING ELECTRICAL HAZARDS
*  Exposed wiring
* Tripping and abrasion hazards
* Cabinets, boxes, and fittings
*  Daisy chain multi-outlet strips
* Electrical boxes
* Damaged grounding plugs
* Broken conduit and damaged equipment
* Overhead lines
*  Underground cable
SAFE WORK PRACTICES
*  Portable electric equipment and flexible cord set requirements
* Electrical power tool safety
* Cord control
* Extension cords 9 – 11 November 2021 items to consider before use
*  Resetting breakers
* Conductive apparel
* Wall penetrations
* Equipment applications and standards labeling
* Using ground fault circuit interrupter to protect workers
* Circuit breaker tripping and molded case circuit breakers
*  Downed power lines
*  Ladders used around electrical hazards
* Approach distances to overhead lines.
*  Specific clearance requirements around electrical equipment
* Emergency generators
* Battery banks
* Battery chargers
ELECTRICAL SYSTEM INTRUSIONS
* Excavating, cutting or drilling into electrical systems
OBEYING ALL SIGNS AND BARRIERS
*  Signs, symbols, tags, and barricades are used to warn personnel of potential electrical hazards 9 – 11 November 2021 know how to read and obey them
ELECTRICAL HAZARDS ENCOUNTERED BY SPECIFIC WORK GROUPS
* Welders
* Heavy equipment operators
* Excavators
* Warehouse workers
* Painters
ELECTRICAL EMERGENCIES
* Electrical accidents
* Electrical rescue techniques
* Role of CPR
ELECTRICAL SAFETY FOR BUILDING OWNERS, MANAGERS AND SUPERVISORS
* Federal legislation 9 – 11 November 2021 Bill C45
*  Provincial electrical safety legislation governing the workplace
* Canadian Electrical Code
* Overview of CSA Z462 Electrical Safety in the Workplace (simplified)
* Who is a qualified electrical person?
* Who is an unqualified electrical person?
* Safe work vs unsafe work
HIRING OUTSIDE CONTRACTORS WHO ARE CSA Z462 COMPLIANT (CHECKLIST)
* Provide Arc Flash assessment to contractors
* Provide hazard assessment of work location(s) to contractors
* Have contractors provide their procedures when working with electricity
* Contractor qualifications and who from contractor to take out electrical permit as per local regulation
ELECTRICAL SAFETY TRAINING PROGRAMS
* Meeting Provincial regulations
* Adopting electrical standards such as CSA Z462
* Establishing and identifying who within the facility is qualified to work on electrical equipment
ELECTRICAL ENERGIZED WORK PERMITS
* Where energized work permit needed
* Exemptions
* Sample of energized work permit
LOCKOUT RULES
* Individual lockout requirements
* Group lockout requirements
*  Locks, tags and hardware to be used
ROLE OF THE "SAFETY WATCHER"
* Qualifications of safety watcher
* Where safety watcher used
*  Authority of safety watcher
RULES GOVERNING ELECTRICAL EQUIPMENT LABELING
* Labelling to address electrical code requirements
* Labelling needed to meet CSA Z462 standard
* Who applies labelling
ELECTRICAL SAFETY CLOTHING AND PPE FOR ELECTRICAL PERSONNEL
* Description of all PPE as related to Electrical shock and arc flash
* Training on use of PPE
* Procedures where PPE is required
INSTRUKTUR TRAINING
Pelatihan ini akan dibawakan oleh trainer/ pemateri yang berpengalaman di bidangnya.
METODE TRAINING
1. Presentation
2. Discuss
3. Case Study
4. Evaluation
5. Pre-Test & Post-Test
6. Games
JADWAL TRAINING 2022
18-19 Januari 2022
22-23 Februari 2022
15-16 Maret 2022
19-20 April 2022
23-24 Mei 2022
14-15 Juni 2022
12-13 Juli 2022
23-24 Agustus 2022
13 – 14 September 2022
11-12 Oktober 2022
8 – 9 November 2022
29-30 November  2022
13-14 Desember 2022
Jadwal tersebut juga dapat disesuaikan dengan kebutuhan calon peserta
LOKASI DAN INVESTASI
Pelatihan Diotraining.com :
Yogyakarta, Hotel Dafam Malioboro (6.000.000 IDR / participant)
Jakarta, Hotel Amaris Tendean (6.500.000 IDR / participant)
Bandung, Hotel Golden Flower (6.500.000 IDR / participant)
Bali, Hotel Ibis Kuta (7.500.000 IDR / participant)
Lombok, Hotel Jayakarta (7.500.000 IDR / participant)
Investasi Pelatihan tahun 2022 ini :
Investasi pelatihan selama tiga hari tersebut menyesuaikan dengan jumlah peserta (on call). *Please feel free to contact us.
Apabila perusahaan membutuhkan paket in house training, anggaran investasi pelatihan dapat menyesuaikan dengan anggaran perusahaan.
Fasilitas Pelatihan di Diorama :
FREE Airport pickup service (Gratis Antar jemput Hotel/Bandara)
FREE Akomodasi Peserta ke tempat pelatihan .
Module / Handout
FREE Flashdisk
Sertifikat
FREE Bag or bagpackers (Tas Training)
Training Kit (Dokumentasi photo, Blocknote, ATK, etc)
2xCoffe Break & 1 Lunch, Dinner
FREE Souvenir Exclusive