TRAINING ETAP ELECTRICAL POWER SYSTEM ANALYSIS USING ETAP
Training Teknik Analisis Etap
Training Building One-Line Diagram Using Etap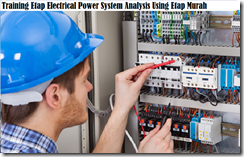 Deskripsi
Pelatihan ini ditujukan untuk ahli listrik, operator sistem, Engineering untuk memperkenalkan dasar 9 – 11 November 2021 dasar Transmisi dan Distribusi menggunakan ETAP. Pelatihan ini memberikan keterampilan, pengetahuan, dan teknik yang diperlukan untuk menjadi ahli dalam ETAP untuk melakukan permodelan analisis.
Tujuan
Pelatihan ini bertujuan memberikan keterampilan, pengetahuan yang menyeluruh tentang ETAP dan teknik analisis untuk memecahkan berbagai masalah dalam pratek.
Materi Training Electrical Power System Analysis Using ETAP
Building One-Line Diagram Using ETAP. (Add Elements, Select & Deselect Elements, Element and Connector Colors, Relocate Elements, Cut, Copy, & Paste, Size, Symbol, & Orientation, Protective Devices, Nodes & Buses, Group & Ungroup, Composite Networks)
Load Flow Calculation Methods. (Newton-Raphson, Fast-Decoupled, Gaus-Siedel)
Load Flow Study Using ETAP. (Load Flow Toolbar, Load Flow Study Case Editor, Load Flow Display Options, Load Flow Calculation Methods, Load Flow Required Data, Load Flow Output Reports)
Fault Calculation Methods. (Impedance Methode, Symetrical Component Methode)
Short-Circuit Analysis. (Short-Circuit Toolbar, Short-Circuit Study Case Editor, Short-Circuit Display Options, Short-Circuit Required Data, Short-Circuit Output Reports)
Motor Starting Analysis. (Motor Starting Methods, Motor Starting Calculation)
Motor Starting Analysis Using ETAP. (Motor Starting Toolbar, Motor Starting Study Case Editor, Info Page, Model Page, Time Event Pages, Add Action by Starting Category, Add Action by Load, Motor Starting Display Options, Motor Starting Calculation Methods, Motor Starting Required Data, Motor Starting Output Reports, Motor Starting Time Slider Toolbar)
Transient Stability Anaysis. (Purpose for Performing Transient Stability Study, Power System Stability Definition, Stability Limits)
Transient Stability Anaysis Using ETAP. (Transient Stability Toolbar, Transient Stability Study Case Editor, Info Page, Events Page, Dyn Model Page, Transient Stability Plots, Transient Stability Required Data, Transient Stability Output Reports, Transient Stability Time Slider Toolbar)
Harmonic Analysis. (Definition, Harmonic Parameters, Harmonic Sources)
Harmonic Analysis Using ETAP. (Harmonic Analysis Toolbar, Harmonic Analysis Study Case Editor, Harmonic Analysis Display Options, Harmonic Analysis Calculation Methods, Harmonic Analysis Required Data, Harmonic Analysis Output Reports, Harmonic Analysis Order-Slider, Harmonic Analysis Frequency-Slider)
Case and Study
Peserta  Training Electrical Power System Analysis Using ETAP
Para Operator, Teknisi, Engineer dan Supervisor yang ingin memahami dan meningkatkan pengetahuan dalam melakukan analisa system tenaga.
Metode  Training Electrical Power System Analysis Using ETAP
Presentasi, diskusi, studi kasus
Jadwal training etap electrical power system analysis using etap
Jadwal Diotraining.com tahun 2021 :
12 – 14 Januari 2021
9 – 11 Februari 2021
16 – 18 Maret 2021
6 – 8 April 2021
11 – 13 Mei 2021
2 – 4 Juni 2021
6 – 8 Juli 2021
4 – 6 Agustus 2021
7 – 9 September 2021 | 5 – 7 Oktober 2021
9 – 11 November 2021 | 7 – 9 Desember 2021
–
Jadwal tersebut dapat disesuaikan dengan kebutuhan calon peserta
Lokasi Pelatihan Diotraining.com :
Yogyakarta, Hotel Dafam Malioboro (7.250.000 IDR / participant)
Jakarta, Hotel Amaris Tendean (7.750.000 IDR / participant)
Bandung, Hotel Golden Flower (7.750.000 IDR / participant)
Bali, Hotel Ibis Kuta (8.500.000 IDR / participant)
Lombok, Hotel Jayakarta (8.750.000 IDR / participant)
Investasi Pelatihan tahun 2021 ini :
Investasi pelatihan selama tiga hari tersebut menyesuaikan dengan jumlah peserta (on call). *Please feel free to contact us.
Apabila perusahaan membutuhkan paket in house training, anggaran investasi pelatihan dapat menyesuaikan dengan anggaran perusahaan.
Fasilitas Pelatihan di Diorama untuk Paket Group (Minimal 2 orang peserta dari perusahaan yang sama):
FREE Airport pickup service (Gratis Antar jemput Hotel/Bandara)
FREE Transportasi Peserta ke tempat pelatihan .
Module / Handout
FREE Flashdisk
Sertifikat
FREE Bag or bagpackers (Tas Training)
Training Kit (Dokumentasi photo, Blocknote, ATK, etc)
2xCoffe Break & 1 Lunch, Dinner
FREE Souvenir Exclusive
Jadwal Pelatihan masih dapat berubah, mohon untuk tidak booking transportasi dan akomodasi sebelum mendapat konfirmasi dari Marketing kami. Segala kerugian yang disebabkan oleh miskomunikasi jadwal tidak mendapatkan kompensasi apapun dari kami.
Technorati Tags: training reviu kertas kerja,temuan audit dan teknik penulisan laporan hasil audit yang efektif pasti jalan,training review kertas kerja pasti jalan,training teknik penulisan laporan hasil audit pasti jalan,training penyusunan laporan hasil audit pasti jalan,pelatihan reviu kertas kerja,pelatihan review kertas kerja pasti running