TRAINING HUMAN RESOURCES FOR NON HUMAN RESOURCES
Training Ruang Lingkup Manajemen Sdm
Training Perencanaan Sdm Di Perusahaan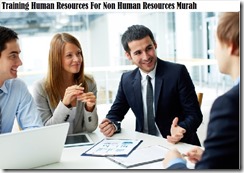 DESKRIPSI
Fungsi dan tanggung jawab human recourses harus dipahami dengan baik oleh jajaran manager di sebuah perusahaan. Hal ini menjadi penting dikarenakan human resources menjadi unsur penting dalam pengelolaan kompetensi dan dasar dari kinerja SDM untuk semua karyawan perusahaan, dimana hal tersebut yang merupakan bagian dari tanggung jawabnya.
Human resources mempunyai peran yang penting yaitu menempatkan  fungsi SDM tidak hanya pada  operasional administrasi dan kesejahteraan namun pada peran lain seperti peningkatan kompetensi dalam pembelajaran dan pertumbuhan, peningkatan  customer satisfaction, peningkatan internal bisnis process dan peningkatan finansial perusahaan. Oleh karena itu training ini bertujuan untuk memberikan pemahaman kepada Manajer (eksekutif) non HR  mengenai lingkup kerja Manajemen SDM, permasalahan yang muncul dan  pendekatan baru dalam mengelola SDM disertai dengan best practice dan aplikasi di perusahaan.
MATERI KHUSUS
Ruang lingkup kerja manajemen SDM beserta lingkungan global dan tantangan peran manajemen SDM
Konsep Strategic Competency-based Human Resource Management
Organization Development dan Change Management
Perencanaan SDM di Perusahaan
Sistem Rekrutmen & Seleksi dan Metode Assessment Center
Sistem Pelatihan & Pengembangan SDM (Training & Development System)
Sistem Manajemen Karir dan Perencanaan Suksesi (Career Management & Succession Plan)
Sistem Remunerasi (Remuneration System)
Sistem Pengelolaan Kinerja (Performance Management System)
Hubungan Industrial (Industrial Relations)
Pengelolaan Kompetensi dan Kinerja Sebagai Fungsi Strategik Manajemen SDM
Strategi kompetensi  SDM Sebagai Bagian Dari Perencanaan Strategik Organisasi
Cascading Down Business Competency to Job Competency
Competency Profile Analysis
Job Family & Job Evaluation
Nilai, Perilaku & Budaya (Organization Value, Behavior & Culture)
Pendekatan & Proses Change Management
Hambatan dan Teknik Mengubah Paradigma Dalam Change Management
Perencanaan SDM (HR Planning) dan Kaitannya Dengan Rencana Strategik Organisasi
HR Planning dan Kaitannya Dengan kompetensi SDM
Teknik Perencanaan & Perhitungan Kebutuhan SDM (Manpower Demand & Supply)
Teknik Menyusun HR Planning
Prinsip Dasar Rekrutmen & Seleksi
Teknik dan Penerapan Proses Rekrutmen & Seleksi
Metode Competency-based Selection Interview
Metode Assessment Center Sebagai Alat Utama Seleksi SDM dan Pengukuran Kompetensi
Prinsip Dasar Pelatihan dan Pengembangan SDM
Model Pendekatan Pelatihan & Pengembangan SDM
Training Needs Analysis (Competency Gap Analysis)
Mendesain Competency-based Training Program
Pengelolaan Aktifitas Pelatihan & Pengembangan
Metode Evaluasi Pelatihan & Pengembangan
Kaitan Sistem Pelatihan & Pengembangan dengan Sistem Manajemen SDM Lain
Prinsip Dasar Manajemen Karir
Aspek-aspek Manajemen Karir
Desain Jenjang Karir (Career Path Design)
Aspek-aspek Perencanaan Suksesi
Kaitan Manajemen Karir & Perencanaan Suksesi dengan Sistem Manajemen SDM Lain
Skill practice : Menyusun Replacement Chart
Filosofi Remunerasi dan Strategi Remunerasi
Penetapan Job Class Berdasarkan Job Evaluation
Kaitan Sistem Remunerasi dengan Sistem Manajemen SDM Lain
Prinsip Dasar Sistem Pengelolaan Kinerja
Performance Management Cycle
Individual Development Plan (IDP)
Kaitan Sistem Pengelolaan Kinerja dengan Sistem Manajemen SDM Lain
Skill Practice : Menyusun (IDP)
Prinsip Dasar Industrial Relations
Undang-Undang Ketenagakerjaan dan Peraturan Perusahaan
Perjanjian Kerja Bersama (PKB)
Pemutusan Hubungan Kerja (PHK)
Kaitan Hubungan Industrial dengan Sistem Manajemen SDM Lain
PESERTA
Pelatihan ini sangat cocok diikuti oleh semua Staff dan  Manajer diberbagai bidang khusunya di bagian SDM atau HR
INSTRUKTUR TRAINING
Pelatihan ini akan dibawakan oleh trainer/ pemateri yang berpengalaman di bidangnya.
METODE TRAINING
1. Presentation
2. Discuss
3. Case Study
4. Evaluation
5. Pre-Test & Post-Test
6. Games
JADWAL TRAINING 2022
18-19 Januari 2022
22-23 Februari 2022
15-16 Maret 2022
19-20 April 2022
23-24 Mei 2022
14-15 Juni 2022
12-13 Juli 2022
23-24 Agustus 2022
13 – 14 September 2022
11-12 Oktober 2022
8 – 9 November 2022
29-30 November  2022
13-14 Desember 2022
Jadwal tersebut juga dapat disesuaikan dengan kebutuhan calon peserta
LOKASI DAN INVESTASI
Pelatihan Diotraining.com :
Yogyakarta, Hotel Dafam Malioboro (6.000.000 IDR / participant)
Jakarta, Hotel Amaris Tendean (6.500.000 IDR / participant)
Bandung, Hotel Golden Flower (6.500.000 IDR / participant)
Bali, Hotel Ibis Kuta (7.500.000 IDR / participant)
Lombok, Hotel Jayakarta (7.500.000 IDR / participant)
Investasi Pelatihan tahun 2022 ini :
Investasi pelatihan selama tiga hari tersebut menyesuaikan dengan jumlah peserta (on call). *Please feel free to contact us.
Apabila perusahaan membutuhkan paket in house training, anggaran investasi pelatihan dapat menyesuaikan dengan anggaran perusahaan.
Fasilitas Pelatihan di Diorama :
FREE Airport pickup service (Gratis Antar jemput Hotel/Bandara)
FREE Akomodasi Peserta ke tempat pelatihan .
Module / Handout
FREE Flashdisk
Sertifikat
FREE Bag or bagpackers (Tas Training)
Training Kit (Dokumentasi photo, Blocknote, ATK, etc)
2xCoffe Break & 1 Lunch, Dinner
FREE Souvenir Exclusive