TRAINING IMPLEMENTATION OF ELECTRONIC FILING WITH INTEGRATED DOCUMENT MANAGEMENT SYSTEM AND E-MAIL HANDLING
Training Electronic Filing
Training Document Management System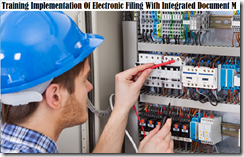 Organisasi pada era globalisasi dengan perkembangan teknologi informasi dewasa ini sangat membutuhkan karyawan yang memahami implementasi dari konsep integrasi electronic imaging system dengan record management system dan implementasi dari electronic document management system.
Records Management System (Sistem Manajemen Kearsipan) harus diimplementasikan dengan konsep yang benar agar dapat menjadi pondasi yang kuat dalam pengembangan filing system yang modern.
Penerapan electronic imaging sytem digunakan agar organisasi dapat melakukan proses efisiensi sumber daya yang jauh lebih besar ketimbang menggunakan pengelolaan arsip dengan sistem filing yang tradisional (traditional paper filing system) dan hasilnyapun jauh lebih efektif karena file hasil scan dapat ditelusuri dan ditemukan kembali dalam suatu database pada saat diperlukan dan dalam waktu yang sangat singkat. Sehingga akan sangat memudahkan dan mempercepat pengelolaan kearsipan.
Electronics document management system diimplementasikan untuk mengelola file-file dokumen elektronik yang dihasilkan dari suatu aplikasi word processor, spread sheet, presentation dan project agar memudahkan dalam pembuatan identifikasi revisi dokumen elektronik dengan otorisasi updating revisi dokumennya sehingga dokumen elektronik tersebut dapat ditemukan dengan cepat pada saat dibutuhkan. Tentunya hal tersebut mendukung kebijakan pengendalian dokumen berdasarkan standar ISO 9001 dan mendukung kebijakan pemerintah RI dengan sejumlah regulasi dokumen yang sudah ditetapkan.
Apabila semua hal tersebut di atas sudah diimplementasikan dengan baik dan benar, maka akan sangat membantu memaksimalkan proses pelayanan, baik kepada internal customer ataupun kepada external customer, sehingga diharapkan dapat membangun image yang baik dan meningkatkan daya saing bagi organisasi tersebut.
OBJECTIVES
Setelah mengikuti pelatihan ini peserta diharapkan mampu untuk :
1. Memahami konsep dokumen dalam definisi  file, records dan archive sertatinjauan umum aspek-aspek pengelolaannya, mulai dari proses penciptaan, penyimpanan, pengambilan dan penyusutan umur dokumen sampai dengan proses pemusnahan dokumen.
2. Memahami implementasi dari 5 macam sistem penyimpanan arsip (filing system) berikut dengan 2 metode penyimpanan dan pengambilannya untuk kategori dokumen kronologis.
3. Memahami implementasi dari konsep records management system, electronics imaging system dan electronics document management system.
4. Memahami implementasi dari konsep integrasi antara electronics imaging system dengan records management system.
5. Memahami implementasi dari konsep electronic document management system.
6. Memahami implementasi prosedure & prinsip-prinsip filing system.
7. Memahami implementasi pengendalian dokumen berdasarkan standar ISO 9001.
8. Memahami implementasi  electronic filing system dengan perangkat pendukungnya.
9. Memahami implementasi dari penggunaan software aplikasi EFIDMS (Electronic Filing with Integrated Document Management System) baik untuk modul Electronic Document Management System, modul Electronic Imaging System dan modul Record Management System,  lengkap dengan penggunaan scanner,  printer dan kamera digital.
10. Memahami faktor-faktor kunci keberhasilan implementasi filing system dalam organisasi.
SYLLABUS
* Understanding document of the definition files, records and archive.
* Understanding the definition of the documentation
* Understanding the difference between documentation and archives.
* Understand the procedure handling incoming mail and outgoing mail.
* Understanding the general ilustration of document create, storing, retrieval, retention and destruction.
* Understanding the life span of records in records management with steps activities.
* Understanding the following definition of archival administration.
* Understanding the filing system with infrastructure and support tools.
* Knowing the percentage calculation of the ratio of document retrieval accuracy.
* Knowing the following types of archive storage system.
* Understanding implementation of document control based on ISO 9001.
* Understanding the factors that support the strategic key to success in the implementation of electronic filing management system.
* Implementation of application process for Records Management System in EFIDMS software.
* Implementation of application process for Electronic Document Management System in EFIDMS software.
* Implementation of application process for Electronic Imaging System in EFIDMS software with using Scanner and Digital Camera.
* How using operation steps of Electronics Imaging System link to Records Management System.
* How using operation steps for Security Management Information System implementation.
* How using operation steps for Document Control process.
* How using operation steps for Document Distribution process.
* How using of Electronic filing operation steps for Document Update process
* Document search process for soft and hard documents through five method.
* Process convert picture files from digital cameras to document file office 2007
* Implementation process of sending e-mail soft document directly through EFIDMS software.
* Cases study.
AUDIENCE TARGET
Staff atau Leader yang bertanggung jawab dalam proses filing document
INSTRUKTUR TRAINING
Pelatihan ini akan dibawakan oleh trainer/ pemateri yang berpengalaman di bidangnya.
METODE TRAINING
1. Presentation
2. Discuss
3. Case Study
4. Evaluation
5. Pre-Test & Post-Test
6. Games
JADWAL TRAINING 2022
18-19 Januari 2022
22-23 Februari 2022
15-16 Maret 2022
19-20 April 2022
23-24 Mei 2022
14-15 Juni 2022
12-13 Juli 2022
23-24 Agustus 2022
13 – 14 September 2022
11-12 Oktober 2022
8 – 9 November 2022
29-30 November  2022
13-14 Desember 2022
Jadwal tersebut juga dapat disesuaikan dengan kebutuhan calon peserta
LOKASI DAN INVESTASI
Pelatihan Diotraining.com :
Yogyakarta, Hotel Dafam Malioboro (6.000.000 IDR / participant)
Jakarta, Hotel Amaris Tendean (6.500.000 IDR / participant)
Bandung, Hotel Golden Flower (6.500.000 IDR / participant)
Bali, Hotel Ibis Kuta (7.500.000 IDR / participant)
Lombok, Hotel Jayakarta (7.500.000 IDR / participant)
Investasi Pelatihan tahun 2022 ini :
Investasi pelatihan selama tiga hari tersebut menyesuaikan dengan jumlah peserta (on call). *Please feel free to contact us.
Apabila perusahaan membutuhkan paket in house training, anggaran investasi pelatihan dapat menyesuaikan dengan anggaran perusahaan.
Fasilitas Pelatihan di Diorama :
FREE Airport pickup service (Gratis Antar jemput Hotel/Bandara)
FREE Akomodasi Peserta ke tempat pelatihan .
Module / Handout
FREE Flashdisk
Sertifikat
FREE Bag or bagpackers (Tas Training)
Training Kit (Dokumentasi photo, Blocknote, ATK, etc)
2xCoffe Break & 1 Lunch, Dinner
FREE Souvenir Exclusive