TRAINING INTERNAL HEALTH AND SAFETY AUDITOR BASED ON OHSAS 18001-2007
Training Auditor Kesehatan Dan Keselamatan Internal Berdasarkan Ohsas 18001-2007
Training Pengantar Kesehatan & Keselamatan Kerja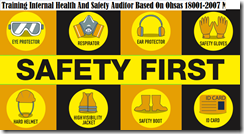 Pembicara / Fasilitator
Soehatman Ramli, Ir, Dipl.SM
Berpengalaman di bidang Occupational Health & Safety dan Environment selama lebih dari 35 tahun. Pernah menjabat sebagai EHS Manager, Marketing and Trading Pertamina. Saat ini aktif dalam memberikan training dan konsultasi dalam bidang Occupational Health & Safety dan Environment di berbagai perusahaan. Klien yang pernah beliau tangani diantaranya Kondur Petroleum,BP Migas,Indonesia Power,Nippon Shokubai, Pertamina, Telkom, Blue Scope Steel. Beliau pernah menjabat sebagai Ketua Ikatan Ahli K3 Indonesia (IAKKI) sekaligus Ketua Penyusunan Standard Kompetensi K3 Indonesia. Pendidikan formal beliau adalah Teknik Kimia, selain itu juga mendapatkan gelar Dipl. Safety dari British Safety Council, serta Graduate of Safety Management Universitas Indonesia. Beliau juga adalah Lead Auditor OHSAS 18001 dan ISO 14001.
PENDAHULUAN
Top management dari setiap organisasi yang telah dengan segala upaya merancang, mempersiapkan dan melaksanakan Occupational Health & Safety Management System berdasarkan OHSAS 18001:2007 akan selalu bertanya tentang keefektifan dari pelaksanaan System tersebut. Salah satu cara untuk mengetahui apakah System telah dilaksanakan secara efektif atau tidak adalah dengan melakukan Internal Audit. Hasil dari Internal Audit akan digunakan sebagai salah satu masukan dalam Management Review yang disyaratkan oleh OHSAS 18001:2007.
Kapan Internal Audit harus dilaksanakan, bagaimana caranya dan siapa yang harus melakukan Internal Audit, serta apa yang harus dilakukan dengan hasil Internal Audit? Dalam pelatihan dua hari ini peserta akan mendapatkan jawaban dari pertanyaan itu semua, serta dilatih bagaimana cara melakukan Internal Audit, termasuk praktik langsung melakukan Audit Internal di Perusahaan.
Jadwal Lainnya :
Basic HSE (JAKARTA)
GARIS BESAR PROGRAM
* Occupational Health & Safety Introduction
* Summary of Key Changes between OHSAS 18001:1999 and OHSAS 18001:2007
* Overview of OHSAS 18001:2007
* Internal Audit
* Audit Performance
* Audit Closing, Reporting and Follow Up
* Audit Check List
* Audit Internal Simulation
MANFAAT TRAINING INTERNAL AUDIT OHSAS
Setelah mengikuti training audit internal ohsas ini, diharapkan peserta akan dapat
1. Memahami persyaratan OHSAS 18001:2007
2. Memahami apa dan kenapa diperlukan Internal Audit
3. Mengetahui cara melaksanakan Internal Audit
4. Memahami kompetensi yang diperlukan untuk menjadi Internal Auditor
5. Mengetahui cara menganalisa hasil Internal Audit
6. Mengetahui cara menindak lanjuti hasil Internal Audit
Wajib diikuti oleh
Operation/Production Manager, HRD Manager, Training and Development Manager, Management Representative (MR), Superintendent/Supervisor, Para Praktisi K-3, Dan semua yang terkait dalam pengembangan K-3 di perusahaan
Jadwal training internal health and safety auditor based on ohsas
Jadwal Diotraining.com tahun 2021 :
12 – 14 Januari 2021
9 – 11 Februari 2021
16 – 18 Maret 2021
6 – 8 April 2021
11 – 13 Mei 2021
2 – 4 Juni 2021
6 – 8 Juli 2021
4 – 6 Agustus 2021
7 – 9 September 2021 | 5 – 7 Oktober 2021
9 – 11 November 2021 | 7 – 9 Desember 2021
–
Jadwal tersebut dapat disesuaikan dengan kebutuhan calon peserta
Lokasi Pelatihan Diotraining.com :
Yogyakarta, Hotel Dafam Malioboro (7.250.000 IDR / participant)
Jakarta, Hotel Amaris Tendean (7.750.000 IDR / participant)
Bandung, Hotel Golden Flower (7.750.000 IDR / participant)
Bali, Hotel Ibis Kuta (8.500.000 IDR / participant)
Lombok, Hotel Jayakarta (8.750.000 IDR / participant)
Investasi Pelatihan tahun 2021 ini :
Investasi pelatihan selama tiga hari tersebut menyesuaikan dengan jumlah peserta (on call). *Please feel free to contact us.
Apabila perusahaan membutuhkan paket in house training, anggaran investasi pelatihan dapat menyesuaikan dengan anggaran perusahaan.
Fasilitas Pelatihan di Diorama untuk Paket Group (Minimal 2 orang peserta dari perusahaan yang sama):
FREE Airport pickup service (Gratis Antar jemput Hotel/Bandara)
FREE Transportasi Peserta ke tempat pelatihan .
Module / Handout
FREE Flashdisk
Sertifikat
FREE Bag or bagpackers (Tas Training)
Training Kit (Dokumentasi photo, Blocknote, ATK, etc)
2xCoffe Break & 1 Lunch, Dinner
FREE Souvenir Exclusive
Jadwal Pelatihan masih dapat berubah, mohon untuk tidak booking transportasi dan akomodasi sebelum mendapat konfirmasi dari Marketing kami. Segala kerugian yang disebabkan oleh miskomunikasi jadwal tidak mendapatkan kompensasi apapun dari kami.
Technorati Tags: training reviu kertas kerja,temuan audit dan teknik penulisan laporan hasil audit yang efektif pasti jalan,training review kertas kerja pasti jalan,training teknik penulisan laporan hasil audit pasti jalan,training penyusunan laporan hasil audit pasti jalan,pelatihan reviu kertas kerja,pelatihan review kertas kerja pasti running