TRAINING MANAGERIAL SKILL FOR MANAGER OR SUPERVISOR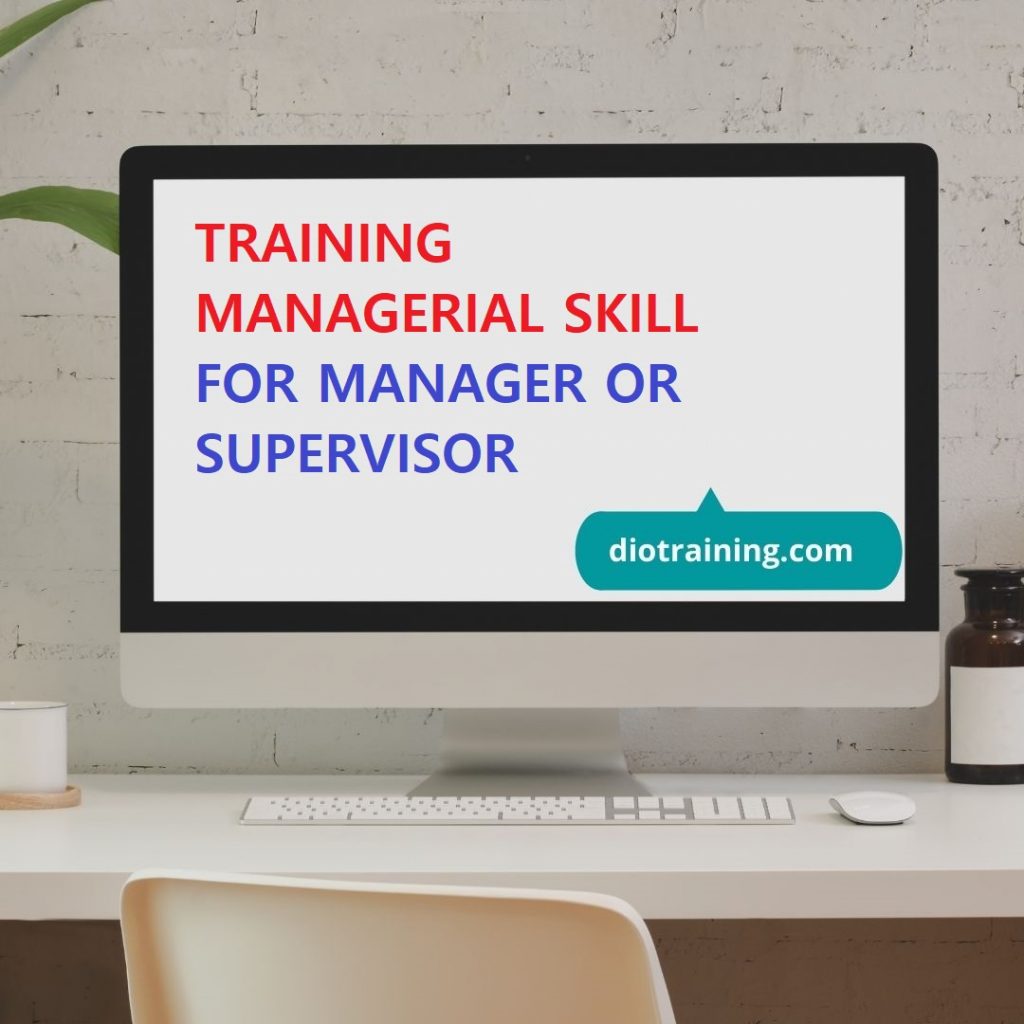 Training Managerial Skill
Training Managerial For Supervisor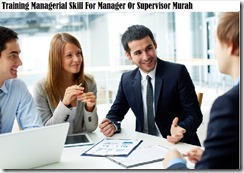 OVERVIEW
Ditengah persaingan dan derasnya arus perubahan yang terjadi saat ini ditambah dengan berbagai masalah (baik yang bersumber dari internal dan eksternal), membuat para supervisor dan teknisi perlu benar-benar efektif dan efisien dalam menjalankan tugas dan tanggung jawabnya. Tiga pilar utama yang harus dikuasai adalah kemampuan mereka dalam mengelola diri sendiri, pekerjaan dan orang lain. Selain itu, mereka perlu memiliki beberapa pengetahuan dan keterampilan penting lainnya yang mendukung mereka agar mampu bekerja secara professional.
TUJUAN
Adapun tujuan yang akan dicapai dari program training ini adalah:
1. Peserta mampu berpikir lebih strategis dalam menjalankan tugas dan tanggung jawab utamanya.
2. Peserta mampu memimpin diri sendiri, pekerjaannya dan orang lain
3. Peserta mampu melihat permasalahan dengan lebih baik serta terampil dalam keputusan yang rasional
SILABUS
1. Pendahuluan
2. Mengelola Perubahan
3. Mengelola Diri Sendiri ( Managing Self )
* Peserta menyadari fungsi, peran dan tanggung jawab utamanya sebagai Supervisor dan Teknisi
4. Selft Assessement
* Menumbuhkan Motivasi berprestasi yang tinggi dan sikap mental yang positif
* Peserta terampil mengoptimalkan penggunaan waktu guna mencapai tujuan
5. Mengelola Pekerjaan ( Managing Job )
* Peserta dapat membuat suatu tujuan yang jelas dan memotivasi diri untuk mencapainya SMART
6. Mengelola Orang Lain ( Managing Others )
* Peserta menyadari bahwa untuk mengelola orang lain dibutuhkan keterampilan memimpin dan mempengaruhi orang lain.
7. Asessment Leadership Style
* Peserta megenali tipe dan gaya kepemimpinan di dalam dirinya serta cara-cara menggunakannya secara efektif.
8. Problem solving and Decision Making
* Peserta memahami cara dan pendekatan rasional melihat suatu permasalahan, mencari solusi dan keputusan serta mengamankan keputusan agar lebih efektif
9. Human Relation and Communication Skills
* Peserta menyadari pentingnya kemampuan keterampilan yang efektif dan menjalin hubungan dengan baik di tempat kerja
* Peserta memahami berbagai kendala dalam komunikasi efektif dan cara-cara mengatasinya.
10. Conflict Management and Building Commitment
* Peserta memahami cara-cara mengatasi konflik di tempat kerja
* Peserta menyadari pentingnya komitment bersama untuk mencapai sukses bersama
INSTRUKTUR TRAINING
Pelatihan ini akan dibawakan oleh trainer/ pemateri yang berpengalaman di bidangnya.
METODE TRAINING
1. Presentation
2. Discuss
3. Case Study
4. Evaluation
5. Pre-Test & Post-Test
6. Games
JADWAL TRAINING 2022
18-19 Januari 2022
22-23 Februari 2022
15-16 Maret 2022
19-20 April 2022
23-24 Mei 2022
14-15 Juni 2022
12-13 Juli 2022
23-24 Agustus 2022
13 – 14 September 2022
11-12 Oktober 2022
8 – 9 November 2022
29-30 November 2022
13-14 Desember 2022
Jadwal tersebut juga dapat disesuaikan dengan kebutuhan calon peserta
LOKASI DAN INVESTASI
Pelatihan Diotraining.com :
Yogyakarta, Hotel Dafam Malioboro (6.000.000 IDR / participant)
Jakarta, Hotel Amaris Tendean (6.500.000 IDR / participant)
Bandung, Hotel Golden Flower (6.500.000 IDR / participant)
Bali, Hotel Ibis Kuta (7.500.000 IDR / participant)
Lombok, Hotel Jayakarta (7.500.000 IDR / participant)
Investasi Pelatihan tahun 2022 ini :
Investasi pelatihan selama tiga hari tersebut menyesuaikan dengan jumlah peserta (on call). *Please feel free to contact us.
Apabila perusahaan membutuhkan paket in house training, anggaran investasi pelatihan dapat menyesuaikan dengan anggaran perusahaan.
Fasilitas Pelatihan di Diorama :
FREE Airport pickup service (Gratis Antar jemput Hotel/Bandara)
FREE Akomodasi Peserta ke tempat pelatihan .
Module / Handout
FREE Flashdisk
Sertifikat
FREE Bag or bagpackers (Tas Training)
Training Kit (Dokumentasi photo, Blocknote, ATK, etc)
2xCoffe Break & 1 Lunch, Dinner
FREE Souvenir Exclusive