TRAINING REKLAMASI PENAMBANGAN BATUBARA
Training Regulasi Penerapan Reklamasi
Training Manajemen Kontrol Reklamasi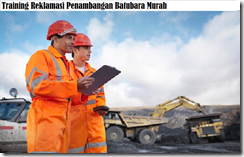 Deskripsi
Tidak dapat dipungkiri bahwa usaha penambangan batubara dapat menurunkan kualitas lingkungan operasi dari waktu ke waktu. Hal ini tentu dapat merugikan masyarakat sekitar yang dapat menimbulkan ketidakpercayaan masyarakat dan pemerintahan setempat. Track record perusahaan seperti inilah yang dapat menjadi hambatan bagi perusahaan apabila perusahaan ingin meluaskan penambangan di tempat lain. Berbagai persoalan yang mungkin timbul akibat adanya penambangan batubara antara lain: gangguan keseimbangan permukaan tanah, penurunan produktivitas lahan, kepadatan tanah bertambah, terjadinya erosi dan sedimentasi, terganggunya habitat flora dan fauna. Sehingga untuk dapat meningkatkan kepercayaan masyarakat itulah, perusahaan perlu menerapkan sistem reklamasi yang tepat dan terintegrasi dengan setiap proses pertambangan yang dilakukan oleh perusahaan untuk meminimalisir dampak negatif  akibat usaha pertambangan. Training ini akan memberikan pemahaman mengenai reklamasi penambangan batubara dan
langkah-langkah yang tepat yang dapat dilakukan dalam proses reklamasi tersebut.
Tujuan dan Manfaat
Dengan mengikuti training ini diharapkan peserta dapat:
1. Memberikan kecakapan dalam menyusun reklamasi penambangan batubara yang terintegrasi pada setiap proses produksi batubara
2. Memberikan daya kreativitas dalam melaksanakan program reklamasi pertambangan
3. Memberikan best practice penerapan reklamasi di beberapa perusahaan besar
Materi Reklamasi Penambangan Batubara
1. Ruang lingkup dan perananan reklamasi
2. Regulasi penerapan reklamasi
3. Strategi penanganan penurunan kualitas lahan dan tanah
4. Strategi reklamasi untuk penanganan potensi erosi dan sedimentasi
5. Strategi integrasi reklamasi dengan proses operasi produksi batubara
6. Reklamasi berbasis komunitas masyarakat
7. Manajemen identifikasi dan pengelolaan reklamasi
8. Manajemen kontrol reklamasi
9. Rehabilitasi habitat flora dan fauna
10. Studi kasus pengelolaan reklamasi yang terintegrasi
11. Best practice penerapan reklamasi di beberapa perusahaan besar
Peserta
Direktur Perusahaan, General Manager, Manager Operasi, Manager Produksi, Supervisor produksi, Teknisian
Metode
Presentasi, lecture, studi kasus, tanya jawab, brainstorming, diskusi.
Instruktur
Ir. Ketut Gunawan, MT and team
Jadwal Diotraining.com tahun 2021 :
12 – 14 Januari 2021
9 – 11 Februari 2021
16 – 18 Maret 2021
6 – 8 April 2021
11 – 13 Mei 2021
2 – 4 Juni 2021
6 – 8 Juli 2021
4 – 6 Agustus 2021
7 – 9 September 2021 | 5 – 7 Oktober 2021
9 – 11 November 2021 | 7 – 9 Desember 2021
–
Jadwal tersebut dapat disesuaikan dengan kebutuhan calon peserta
Lokasi Pelatihan Diotraining.com :
Yogyakarta, Hotel Dafam Malioboro (7.250.000 IDR / participant)
Jakarta, Hotel Amaris Tendean (7.750.000 IDR / participant)
Bandung, Hotel Golden Flower (7.750.000 IDR / participant)
Bali, Hotel Ibis Kuta (8.500.000 IDR / participant)
Lombok, Hotel Jayakarta (8.750.000 IDR / participant)
Investasi Pelatihan tahun 2021 ini :
Investasi pelatihan selama tiga hari tersebut menyesuaikan dengan jumlah peserta (on call). *Please feel free to contact us.
Apabila perusahaan membutuhkan paket in house training, anggaran investasi pelatihan dapat menyesuaikan dengan anggaran perusahaan.
Fasilitas Pelatihan di Diorama untuk Paket Group (Minimal 2 orang peserta dari perusahaan yang sama):
FREE Airport pickup service (Gratis Antar jemput Hotel/Bandara)
FREE Transportasi Peserta ke tempat pelatihan .
Module / Handout
FREE Flashdisk
Sertifikat
FREE Bag or bagpackers (Tas Training)
Training Kit (Dokumentasi photo, Blocknote, ATK, etc)
2xCoffe Break & 1 Lunch, Dinner
FREE Souvenir Exclusive
Jadwal Pelatihan masih dapat berubah, mohon untuk tidak booking transportasi dan akomodasi sebelum mendapat konfirmasi dari Marketing kami. Segala kerugian yang disebabkan oleh miskomunikasi jadwal tidak mendapatkan kompensasi apapun dari kami.
Technorati Tags: training reviu kertas kerja,temuan audit dan teknik penulisan laporan hasil audit yang efektif pasti jalan,training review kertas kerja pasti jalan,training teknik penulisan laporan hasil audit pasti jalan,training penyusunan laporan hasil audit pasti jalan,pelatihan reviu kertas kerja,pelatihan review kertas kerja pasti running