TRAINING REKRUTMEN DAN SELEKSI KARYAWAN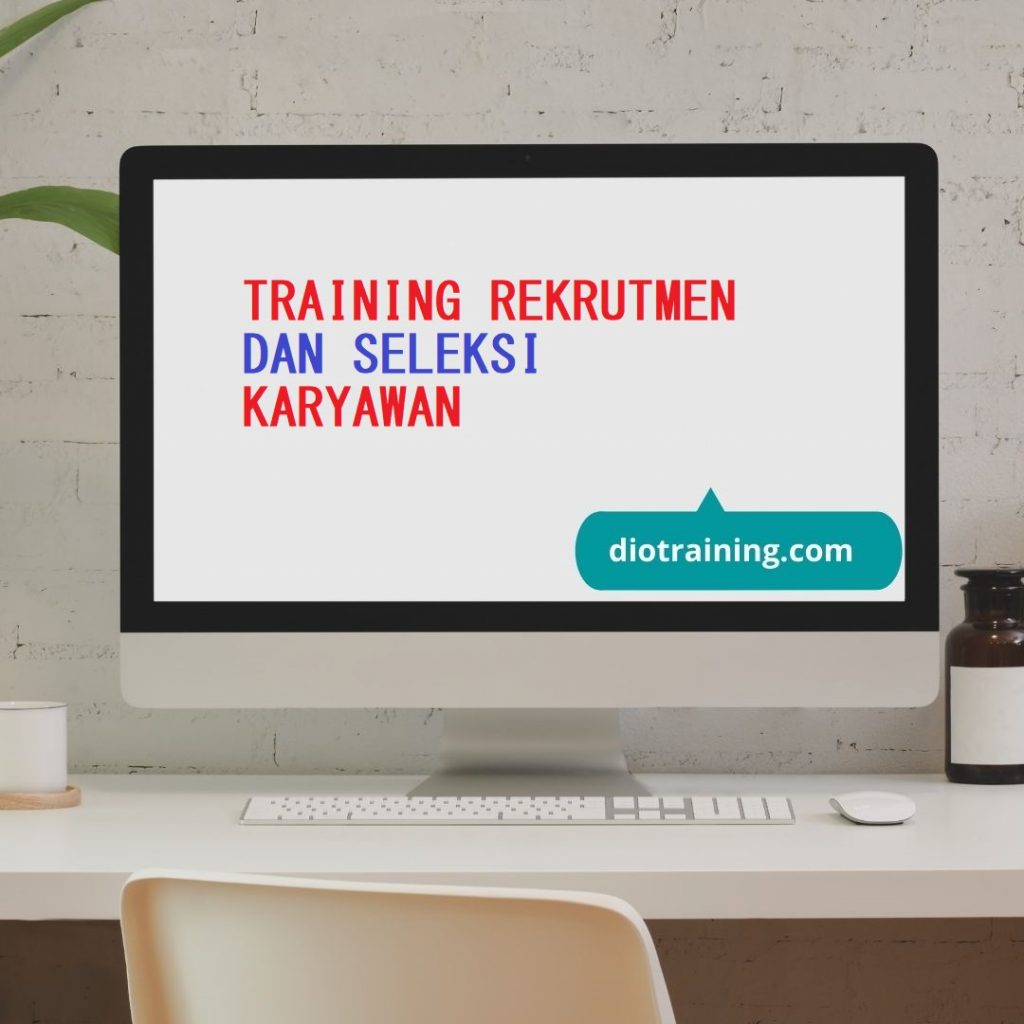 Training Recruitment And Employee Selection
Training Rekrutmen
Training Rekrutmen dan Seleksi Karyawan
Rekrutmen  dan Seleksi Karyawan Perusahaan Persaingan antar perusahaan
sejenis  yang  terus  berkembang menuntut setiap perusahaan yang ingin
tetap   survive    harus   didukung   oleh   sumberdaya  manusia  yang
berkualitas.
Recruitment  &  Selection  System  adalah  suatu cara atau metode yang
diterapkan  dalam melaksanakan proses recruitment dan seleksi karyawan
di suatu organisasi/perusahaan.
Dengan  inilah kami menawarkan sebuah solusi Training
Rekrutmen dan Seleksi Karyawan untuk perusahaan Anda.
Recruiment  and  Selection  ini  adalah  suatu  kompetensi teknis yang
mutlak  harus  dikuasai  oleh  seseorang  yang berkarir di bidang SDM,
karena  merupakan sistem yang berada di bagian awal proses pengelolaan
SDM.  Melalui  Pelatihan Rekrutmen dan Seleksi Karyawan akan diperoleh
berbagai  teknik  menyeleksi  bagi  calon  pekerja  secara efektif dan
efisien yang benar-benar memenuhi standar perusahaan/organisasi.
METODE TRAINING REKRUTMEN DAN SELEKSI KARYAWAN
Agar  tujuan  dan  sasaran Training Rekrutmen dan Seleksi Karyawan ini
dapat berhasil dengan baik, maka metode yang dipakai adalah :
1. Tutorial
2. Konsultasi Interaktif
3. Diskusi
4. Pembahasan kasus
5. Pelatihan  ini  juga  didukung  klip  film  yang  menggugah emosi,
kesadaran, dan pemahaman peserta
MATERI TRAINING REKRUTMEN DAN SELEKSI KARYAWAN
1. Perencanaan sumber daya manusia
2. Mencari  orang  yang  sesuai  dengan pekerjaan (tugas dan tanggung
jawabnya)
3. Sumber-sumber  informasi  tentang  job  candidates,  dan  strategi
pemanfaatannya
4. Test dan wawancara
5. Success profile
6. Pengambilan keputusan tentang penerimaan karyawan
7. Latihan ketrampilan
Sasaran   peserta Training   Rekrutmen  dan  Seleksi  Karyawan  adalah
karyawan  managerial  (khususnya  bagian  Perencanaan dan Pengembangan
SDM).
INSTRUKTUR TRAINING
Pelatihan ini akan dibawakan oleh trainer/ pemateri yang berpengalaman di bidangnya.
METODE TRAINING
1. Presentation
2. Discuss
3. Case Study
4. Evaluation
5. Pre-Test & Post-Test
6. Games
Jadwal Training Diorama Training Tahun 2023
Training Bulan Januari : 10-11 Januari 2023
Training Bulan Februari : 7-8 Februari 2023
Training Bulan Maret : 7-8 Maret 2023
Training Bulan April : 18-19 April 2023
Training Bulan Mei : 16-17 Mei 2023
Training Bulan Juni : 6-7 Juni 2023
Training Bulan Juli : 11-12 Juli 2023
Training Bulan Agustus : 22-23 Agustus 2023
Training Bulan September : 12-13 September 2023
Training Bulan Oktober : 10-11 Oktober 2023
Training Bulan November : 7-8 November 2023
Training Bulan Desember : 5-6 Desember 2023
*Jadwal tersebut dapat disesuaikan dengan kebutuhan calon peserta
Lokasi Pelatihan Diorama Training :
Yogyakarta, Hotel Dafam Malioboro (6.000.000 IDR / participant)
Jakarta, Hotel Amaris Tendean (6.500.000 IDR / participant)
Bandung, Hotel Golden Flower (6.500.000 IDR / participant)
Bali, Hotel Ibis Kuta (7.500.000 IDR / participant)
Lombok, Hotel Jayakarta (7.500.000 IDR / participant)
Investasi Pelatihan tahun 2023 ini :
Investasi pelatihan selama tiga hari tersebut menyesuaikan dengan jumlah peserta (on call). *Please feel free to contact us.
Apabila perusahaan membutuhkan paket in house training, anggaran investasi pelatihan dapat menyesuaikan dengan anggaran perusahaan.
Fasilitas Training di Diorama Training :
FREE Airport pickup service (Gratis Antar jemput Hotel/Bandara)
FREE Akomodasi Peserta ke tempat pelatihan .
Module / Handout
FREE Flashdisk
Sertifikat
FREE Bag or bagpackers (Tas Training)
Training Kit (Dokumentasi photo, Blocknote, ATK, etc)
2xCoffe Break & 1 Lunch, Dinner
FREE Souvenir Exclusive