TRAINING TEHNIK AUDIT INTERNAL K3
Training Perbedaan Antara Inspeksi And Audit
Training Penyiapan Checklist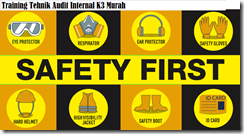 Pembicara / Fasilitator
Ir.Faizal Safa.MSc
Seorang senior konsultan yang telah berpengalaman lebih dari 18 tahun dibidang Quality, Environment dan Safety. Bidang-bidang yang pernah dibimbingnya antara lain Health Care, Manufaktur, Kontraktor, Perhotelan, konstruksi dan kehutanan baik untuk penerapan sistem manajemen seperti ISO 9001 & 14001, OHSAS 18001, SMK3, CSR, COC, CSMS, TQM atau sistem improvement seperti Balance Scorecard, Malcolm Baldrige dan Six Sigma. Dengan pengalaman-pengalaman beliau dalam penerapan sistem-sistem diatas diharapkan dapat memberikan pencerahan bagi peserta sehingga akhirnya dapat memberi added value bagi perusahaan.
Harga
Rp. 3,500,000
sudah termasuk material kit, sertifikat keikutsertaan, makan siang dan rehat kopi, belum termasuk pajak. Bagi 5 peserta atau lebih dari perusahaan yg sama Gratis untuk 1 orang peserta
Materi
Untuk menekan tingginya angka kecelakaan kerja maka penerapan system manajemen Keselamatan dan Kesehatan Kerja (SMK3) harus dijalankan secara baik dan melalui mekanisme control yang baik.
Internal Audit merupakan salah satu implementasi mekanisme kontrol. Untuk melakukan Audit terhadap sistem manajemen K3 dibutuh Pengetahuan dan SDM yang baik sehingga hasil dari Audit yang dilakukan dapat menjadi bahan perbaikan bagi perusahaan sehingga pada akhirnya perusahaan dapat merasakan manfaat dari penerapan sistem manajemen K3.
Tujuan dari Pelatihan ini adalah untuk memberikan kompetensi dan menambah kemampuan SDM dibidang QHSE dalam mendukung program 9 – 11 November 2021 program perusahaan dalam kaitannya dengan perbaikan berkelanjutan dibidang K3.
Topik yang akan dibahas
1. Peraturan dan Perundangan yang terkait dengan Sistem Manajemen K3 dan Audit
2. Perbedaan antara Inspeksi and Audit
3. Sistem Manajemen Keselamatan & Kesehatan Kerja dan elemen-elemennya
4. Team Audit dan Kualifikasinya
5. Penyiapan Checklist
6. Tekhnik Audit
7. Penilaian dan Pertimbangan
8. Laporan Audit dan Tindak Lanjut dari Rekomendasi Audit
Wajib diikuti oleh
HSE Manager, Safety Officer, Staff Sistem Manajemen K3, Internal Auditor, Calon Internal Auditor, dan pihak yang tertarik untuk memahami bagaimana melakukan Audit OHSAS 18001
Jadwal Diotraining.com tahun 2021 :
12 – 14 Januari 2021
9 – 11 Februari 2021
16 – 18 Maret 2021
6 – 8 April 2021
11 – 13 Mei 2021
2 – 4 Juni 2021
6 – 8 Juli 2021
4 – 6 Agustus 2021
7 – 9 September 2021 | 5 – 7 Oktober 2021
9 – 11 November 2021 | 7 – 9 Desember 2021
–
Jadwal tersebut dapat disesuaikan dengan kebutuhan calon peserta
Lokasi Pelatihan Diotraining.com :
Yogyakarta, Hotel Dafam Malioboro (7.250.000 IDR / participant)
Jakarta, Hotel Amaris Tendean (7.750.000 IDR / participant)
Bandung, Hotel Golden Flower (7.750.000 IDR / participant)
Bali, Hotel Ibis Kuta (8.500.000 IDR / participant)
Lombok, Hotel Jayakarta (8.750.000 IDR / participant)
Investasi Pelatihan tahun 2021 ini :
Investasi pelatihan selama tiga hari tersebut menyesuaikan dengan jumlah peserta (on call). *Please feel free to contact us.
Apabila perusahaan membutuhkan paket in house training, anggaran investasi pelatihan dapat menyesuaikan dengan anggaran perusahaan.
Fasilitas Pelatihan di Diorama untuk Paket Group (Minimal 2 orang peserta dari perusahaan yang sama):
FREE Airport pickup service (Gratis Antar jemput Hotel/Bandara)
FREE Transportasi Peserta ke tempat pelatihan .
Module / Handout
FREE Flashdisk
Sertifikat
FREE Bag or bagpackers (Tas Training)
Training Kit (Dokumentasi photo, Blocknote, ATK, etc)
2xCoffe Break & 1 Lunch, Dinner
FREE Souvenir Exclusive
Jadwal Pelatihan masih dapat berubah, mohon untuk tidak booking transportasi dan akomodasi sebelum mendapat konfirmasi dari Marketing kami. Segala kerugian yang disebabkan oleh miskomunikasi jadwal tidak mendapatkan kompensasi apapun dari kami.
Technorati Tags: training reviu kertas kerja,temuan audit dan teknik penulisan laporan hasil audit yang efektif pasti jalan,training review kertas kerja pasti jalan,training teknik penulisan laporan hasil audit pasti jalan,training penyusunan laporan hasil audit pasti jalan,pelatihan reviu kertas kerja,pelatihan review kertas kerja pasti running