Training Tentang Ergonomic Program to Improve Work Productivity and Quality of Life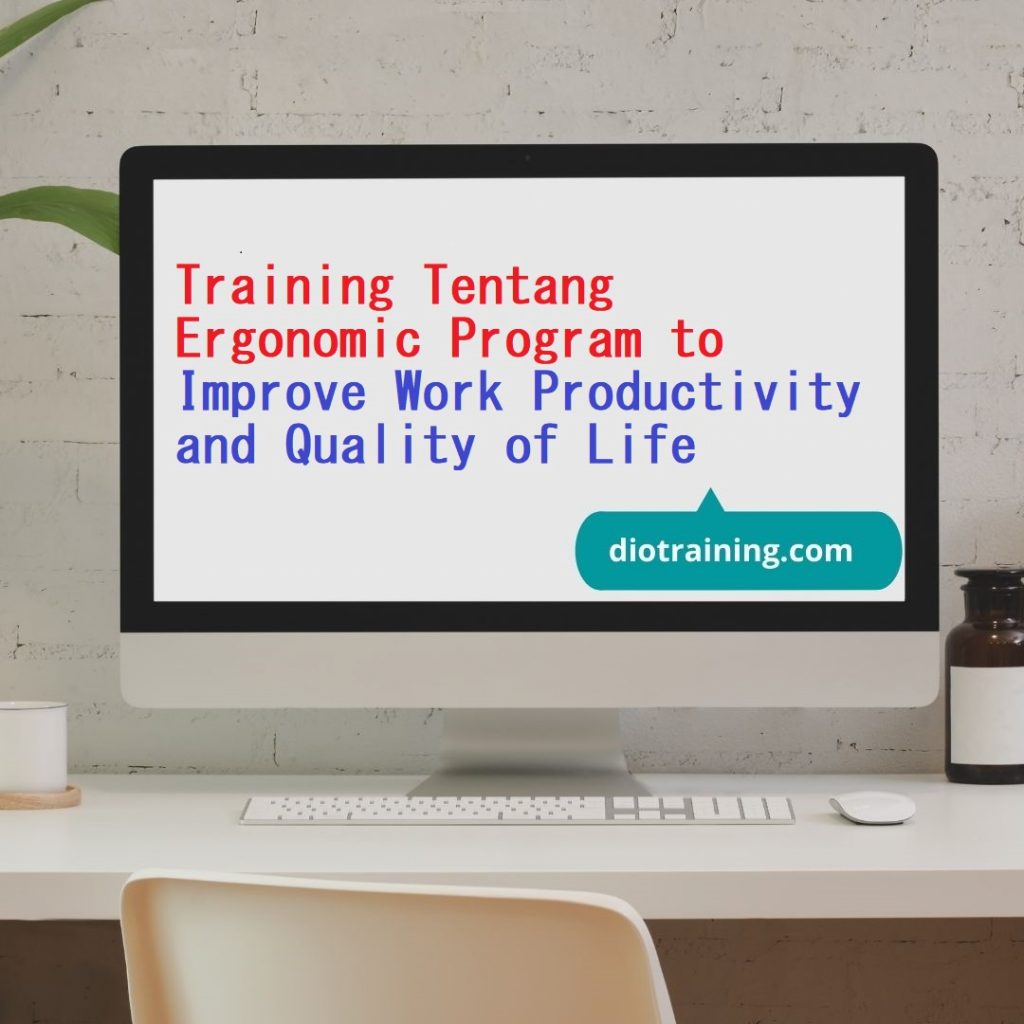 Pelatihan Ergonomic Program to Improve Work Productivity and Quality of Life
Description Pelatihan Ergonomic Program to Improve Work Productivity and Quality of Life
Many industries (from small to large) are totally committed to providing a safe and health workplace. They are also committed to ensuring that the highest level of productivity and quality is achieved by its employees and for its customers respectively. Implementation of a successful plant-wide ergonomic program will play a key role in achieving these goals. The main goal of ergonomics is to reduce the risk of injuries by matching demands of the job to the abilities of the employee through the proper design of workstations, tools, environment, work schedules, policies and procedures.Most injuries happen in workplace included Overexertion and musculoskeletal disorders (MSD) that involve strains and sprains of muscles, tendons, ligaments, joints or nerves. These usually occur over time due to repeated exposure to certain risk factors. This training program aims to identify work activities that can lead to injury and how to reduce risk of injury, also to identify the most effective ways to
improve your employees' work environments and implement ergonomic solutions.
Objective
By the end of this training, the participant will be able to
* Understand the ergonomics and its benefits in workplace
* Identify work activities that can lead to injury
* Identify the list of action to reduce risk of injury
* Identify parts of the body that get injured at work
* Recognize and report signs and symptoms of injury early
Outline Ergonomic Program
1. Scope of ergonomic at work and its benefits: Best practice from many industries
2. Identify work activities that can lead to injury
* What is Work-related Musculo Skeletal Disorders (WMSDs)?
* How to identify WMSDs?
2. Identify some of the symptoms of WMSDs?
* Discomfort
* Pain
* Numbness
* Burning
* Swelling
* Change in color
* Tingling
* Tightness, loss of flexibility
3. What Causes WMSDs?
* Awkward Postures
* High Hand Force
* Repetitive Motions
* Repeated Impacts
* Heavy, Frequent, or Awkward Lifting
* Moderate to High Hand-Arm Vibration
4. Risk Factors
* Duration (how long you are exposed to it)
* Frequency (how often you are exposed to it and how much rest you get in between)
* Intensity (how much of the risk factor there is)
* Combinations of risk factors, where you are exposed to more than one risk factor at a time.
* The more risk factors you have at once, the more likely an injury will occur.
5. List of action of ergonomic principles that reduce risk of injury
* Reducing Awkward Postures
* Reducing High Hand Force
* Reducing Repetitive Motions
* Reducing Repeated Impacts
* Reducing Heavy, Frequent, or Awkward Lifting
* Reducing Moderate to High Hand-Arm Vibration
6. What you can do:
* Symptom recognition and reporting
* Report symptoms if:
1. Pain is persistent, severe or worsening
2. Pain radiates
3. Symptoms include numbness or tingling
* Reporting Procedures
PESERTA:
Suitable for All staff
INSTRUKTUR TRAINING
Pelatihan ini akan dibawakan oleh trainer/ pemateri yang berpengalaman di bidangnya.
METODE TRAINING
1. Presentation
2. Discuss
3. Case Study
4. Evaluation
5. Pre-Test & Post-Test
6. Games
JADWAL TRAINING 2022
18-19 Januari 2022
22-23 Februari 2022
15-16 Maret 2022
19-20 April 2022
23-24 Mei 2022
14-15 Juni 2022
12-13 Juli 2022
23-24 Agustus 2022
13 – 14 September 2022
11-12 Oktober 2022
8 – 9 November 2022
29-30 November  2022
13-14 Desember 2022
Jadwal tersebut juga dapat disesuaikan dengan kebutuhan calon peserta
LOKASI DAN INVESTASI
Pelatihan Diotraining.com :
Yogyakarta, Hotel Dafam Malioboro (6.000.000 IDR / participant)
Jakarta, Hotel Amaris Tendean (6.500.000 IDR / participant)
Bandung, Hotel Golden Flower (6.500.000 IDR / participant)
Bali, Hotel Ibis Kuta (7.500.000 IDR / participant)
Lombok, Hotel Jayakarta (7.500.000 IDR / participant)
Investasi Pelatihan tahun 2022 ini :
Investasi pelatihan selama tiga hari tersebut menyesuaikan dengan jumlah peserta (on call). *Please feel free to contact us.
Apabila perusahaan membutuhkan paket in house training, anggaran investasi pelatihan dapat menyesuaikan dengan anggaran perusahaan.
Fasilitas Pelatihan di Diorama :
FREE Airport pickup service (Gratis Antar jemput Hotel/Bandara)
FREE Akomodasi Peserta ke tempat pelatihan .
Module / Handout
FREE Flashdisk
Sertifikat
FREE Bag or bagpackers (Tas Training)
Training Kit (Dokumentasi photo, Blocknote, ATK, etc)
2xCoffe Break & 1 Lunch, Dinner
FREE Souvenir Exclusive