TRAINING TENTANG ESSENTIAL SELF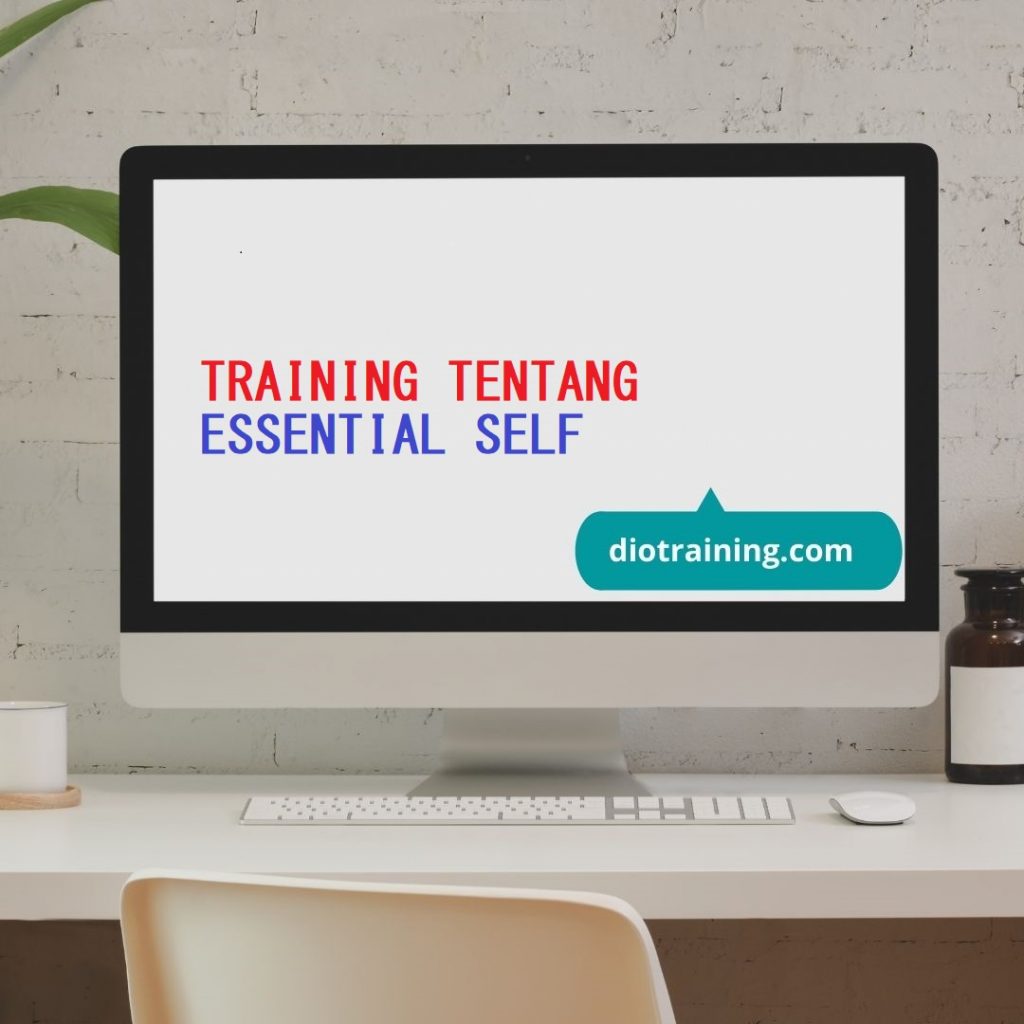 PELATIHAN FINDING YOUR ESSENTIAL SEL
PENDAHULUAN TRAINING ESSENTIAL SELF :
Kreatifitas, kepuasan kerja, keuletan, ketangguhan, dan bahkan keberhasilan kepemimpinan di tempat kerja sering kali bersumber dari tajam tidaknya penghayatan seseorang akan tujuan yang sedang diembannya. Sejumlah besar penelitian sudah memberikan indikasi bahwa penghayatan seseorang akan self nya sering kali menjadi alasan munculnya sejumlah sikap dan perilaku. Misalnya keberhasilan seseorang dalam kerja tampaknya disumbang cukup banyak oleh bagaimana seseorang itu menghayati self nya. Memang tak dapat dipungkiri bahwa kajian mengenai 'self' adalah telaah yang sangat penting dalam psikologi sejak kurun waktu yang cukup lama.
Penghayatan 'self' seperti apakah yang dapat berperan terhadap munculnya sejumlah perilaku positif seperti keberanian, keteguhan, ketangguhan, kreatifitas, dan happiness?
Pandangan mengenai diri/self yang keliru dapat berakibat fatal. Kurangnya antusiasme dalam kerja, sensitifitas yang berlebihan, ketegangan yang terus-menerus, atau mudah lelah sering kali adalah buah dari adanya cara pandang yang keliru mengenai diri. Seseorang perlu mereframe ulang penghayatannya mengenai hidup dan dirinya secara keseluruhan. Menemukan insight mengenai cara pandang diri yang keliru dan mencobakan beberapa cara yang dapat mempertajam penghayatannya yang lebih murni mengenai hidup dan dirinya adalah tujuan utama Pelatihan dua hari ini.
Sasaran utama Pelatihan ini adalah membantu tiap peserta untuk mendapatkan insight-insight yang diperlukannya untuk dapat memiliki cara pandang yang lebih jernih mengenai diri dan seluruh kapasitas yang dimilikinya sehingga memiliki sejumlah motivasi positif yang membuatnya untuk dapat lebih berkontribusi secara optimal dalam lingkungannya.
Pelatihan ini peserta diajak untuk menyadari pentingnya merubah sudut pandang (persepsi) menuju proses berpikir positif (change to positive mindset). Dengan adanya perubahan sudut pandang ini akan membantu karyawan untuk berkontribusi lebih baik dalam melakukan perubahan di organisasi. Untuk mengajak pesertanya dalam membuka mindset akan perubahan, pelatihan akan bersifat :
1. practical karena dilengkapi dengan form yang langsung dapat digunakan dan contoh nyata kasus di pekerjaan
2. inspiring dimana cara penyampaian instruktur akan membuat peserta tergerak untuk menerapkannya di pekerjaan
3. enjoyable dengan metode instruktur yang akan membuat pelatihan diselingi aktivitas yang sifatnya fun, sehingga peserta relaks dan antusias selama pelatihan
CAKUPAN MATERI TRAINING ESSENTIAL SELF :
1. Essential self adalah sumber dari berbagai perilaku positif.
2. Cara mencapai essential self dan berlatih untuk mendapatkan cara-cara yang paling sesuai bagi dirinya melalu pengengalan potensi diri.
3. Hambatan-hambatan yang biasanya menghalangi seseorang untuk menemukan essential self-nya, seperti dendam, adanya attachment, cara berpikir yang keliru, atau belum terbentuknya mental abundance.
4. Mengatasi hambatan yang mungkin ada padanya dalam mencapai essential self-nya yang optimal.
5. Memberikan dorongan menyegarkan bagi tiap peserta untuk menata kembali arah dalam kerja secara professional.
6. Pengembangan Pola fikir melalui Etos Kerja Bermutu
7. Kemampuan (self individuals) melalui perubahan Mindset
8. Melatih energi positif saat melakukan perubahan indvidu dan motivasi diri
SIAPA SEBAIKNYA MENGIKUTI TRAINING INI ?
Seluruh pegawai yang ingin meningkatkan kepercayaan dan kemampuan diri
INSTRUKTUR TRAINING
Pelatihan ini akan dibawakan oleh trainer/ pemateri yang berpengalaman di bidangnya.
METODE TRAINING
1. Presentation
2. Discuss
3. Case Study
4. Evaluation
5. Pre-Test & Post-Test
6. Games
JADWAL TRAINING 2022
18-19 Januari 2022
22-23 Februari 2022
15-16 Maret 2022
19-20 April 2022
23-24 Mei 2022
14-15 Juni 2022
12-13 Juli 2022
23-24 Agustus 2022
13 – 14 September 2022
11-12 Oktober 2022
8 – 9 November 2022
29-30 November  2022
13-14 Desember 2022
Jadwal tersebut juga dapat disesuaikan dengan kebutuhan calon peserta
LOKASI DAN INVESTASI
Pelatihan Diotraining.com :
Yogyakarta, Hotel Dafam Malioboro (6.000.000 IDR / participant)
Jakarta, Hotel Amaris Tendean (6.500.000 IDR / participant)
Bandung, Hotel Golden Flower (6.500.000 IDR / participant)
Bali, Hotel Ibis Kuta (7.500.000 IDR / participant)
Lombok, Hotel Jayakarta (7.500.000 IDR / participant)
Investasi Pelatihan tahun 2022 ini :
Investasi pelatihan selama tiga hari tersebut menyesuaikan dengan jumlah peserta (on call). *Please feel free to contact us.
Apabila perusahaan membutuhkan paket in house training, anggaran investasi pelatihan dapat menyesuaikan dengan anggaran perusahaan.
Fasilitas Pelatihan di Diorama :
FREE Airport pickup service (Gratis Antar jemput Hotel/Bandara)
FREE Akomodasi Peserta ke tempat pelatihan .
Module / Handout
FREE Flashdisk
Sertifikat
FREE Bag or bagpackers (Tas Training)
Training Kit (Dokumentasi photo, Blocknote, ATK, etc)
2xCoffe Break & 1 Lunch, Dinner
FREE Souvenir Exclusive