PELATIHAN MENYUSUN ANGGARAN UNTUK PENGEMBANGAN SUMBER DAYA MANUSIA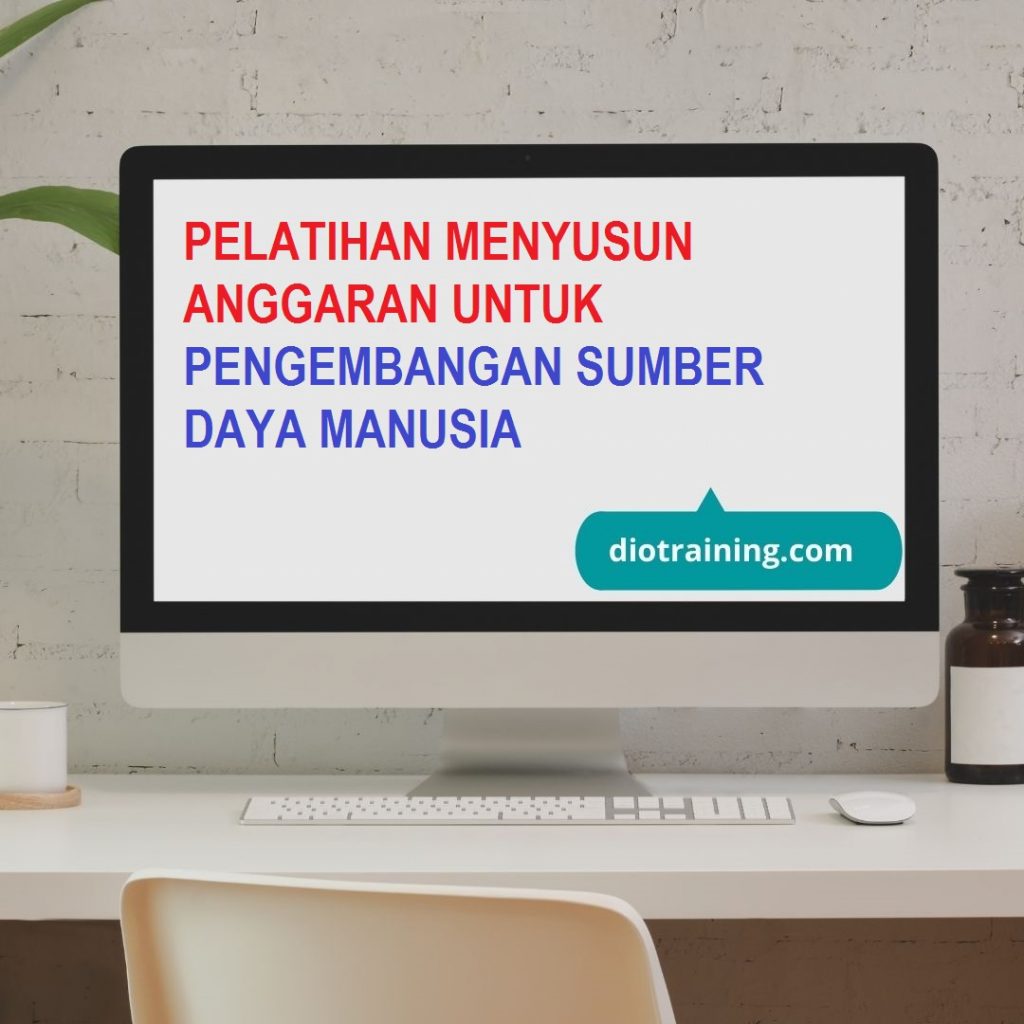 DESKRIPSI MENYUSUN ANGGARAN UNTUK PENGEMBANGAN SUMBER DAYA MANUSIA
Pelatihan ini merupakan indentifikasi dari Planning yang dibutuhkan dalam mengembangkan kegiatan/aktivitas SDM yang dihubungkan dengan rencana Budget Operasional keseluruhan di suatu badan usaha/perusahaan. Perlu diketahui bahwa rencana HR Budgeting adalah proyeksi dari aktivitas/kegiatan SDM dimasa mendatang.
Hal tersebut diatas sepenuhnya sangat disadari, namun sangat sedikit karyawan, khususnya bagian SDM yang mengetahui bagaimana caranya melakukan langkah-langkah membuat HR Budgeting.Tidak heran mangapa banyak pimpinan perusahaan mempertanyakan kegiatan SDM kurang memberikan "mutual benefits" baik kepihak perusahaan maupun ke karyawan.
Pelatihan dua hari ini akan mengungkapkan betapa pentingnya untuk mengetahui bagaimana menyusun HR Budget yang efektif agar "ultimate goal" dari perusahaan tercapai khususnya dalam pembinaan kwalitas SDM dimana Anda bekerja.
TUJUAN MENYUSUN ANGGARAN UNTUK PENGEMBANGAN SUMBER DAYA MANUSIA
* Mengetahui bagaimana mendapatkanpola pikir untuk menyusun kerangka HR Budgeting yang disesuaikan dengan kegiatan SDM yang akan dicapai.
* Mendapatkan cara membuat "justification" agar rencana HR Budgeting ini dapat diterima dan disetujui oleh Pimpinan perusahaan.
* Dapat membuat skala prioritas dalam mengajukan program kegiatan-kegiatan SDM dimasa mendatang.
* Mulai mengenal rencana strategis yang menggambarkan pemikiran yang mendalam, bersifat jangka panjang serta merupakan jawaban dari pertanyaan yang dihadapi perusahaan.
* Dapat menyusun rencana yang disesuaikan dengan kebutuhuan anggaran dan kemampuan perusahaan.
* Dapat membuat proyeksi-proyeksi yang dibutuhkan dalam rencana bisnis.
Metode Pelatihan :
Metode yang digunakan dalam pelatihan ini adalah lektur, workshop, studi kasus dan konsultasi interaktif.
MATERI MENYUSUN ANGGARAN UNTUK PENGEMBANGAN SUMBER DAYA MANUSIA
* PENDAHULUAN (Pola Berpikir Penyusunan HR Budget).
* PENGERTIAN RENCANA BISNIS (Define Business Planning, Planning Cycle, Projection/Forecast Formula, Justifications To Plan, Planning Philosophy).
* PROSES MENETAPKAN SASARAN ORGANISASI DAN CARA MENCAPAINYA(Planning, Organization, Actuating, Controlling).
* MEMAHAMI BAHASA KEUANGAN DALAM BUDGET.
* HR BUDGETING MENGACU HR PLANNING (Dasar Penyusunan HR Budget, HRD Framework, Human Resource Mgt).
* KOMPONEN BIAYA UTAMA DALAM HR BUDGET.
* DASAR MENGHITUNG BIAYA UTAMA.
* MEKANISME PENGENDALIAN DALAM HR BUDGET.
* CARA MEMBUAT BUDGET SDM( Anggaran Biaya Tenaga Kerja ).
INSTRUKTUR TRAINING
Pelatihan ini akan dibawakan oleh trainer/ pemateri yang berpengalaman di bidangnya.
METODE TRAINING
1. Presentation
2. Discuss
3. Case Study
4. Evaluation
5. Pre-Test & Post-Test
6. Games
JADWAL TRAINING 2022
18-19 Januari 2022
22-23 Februari 2022
15-16 Maret 2022
19-20 April 2022
23-24 Mei 2022
14-15 Juni 2022
12-13 Juli 2022
23-24 Agustus 2022
13 – 14 September 2022
11-12 Oktober 2022
8 – 9 November 2022
29-30 November 2022
13-14 Desember 2022
Jadwal tersebut juga dapat disesuaikan dengan kebutuhan calon peserta
LOKASI DAN INVESTASI
Pelatihan Diotraining.com :
Yogyakarta, Hotel Dafam Malioboro (6.000.000 IDR / participant)
Jakarta, Hotel Amaris Tendean (6.500.000 IDR / participant)
Bandung, Hotel Golden Flower (6.500.000 IDR / participant)
Bali, Hotel Ibis Kuta (7.500.000 IDR / participant)
Lombok, Hotel Jayakarta (7.500.000 IDR / participant)
Investasi Pelatihan tahun 2022 ini :
Investasi pelatihan selama tiga hari tersebut menyesuaikan dengan jumlah peserta (on call). *Please feel free to contact us.
Apabila perusahaan membutuhkan paket in house training, anggaran investasi pelatihan dapat menyesuaikan dengan anggaran perusahaan.
Fasilitas Pelatihan di Diorama :
FREE Airport pickup service (Gratis Antar jemput Hotel/Bandara)
FREE Akomodasi Peserta ke tempat pelatihan .
Module / Handout
FREE Flashdisk
Sertifikat
FREE Bag or bagpackers (Tas Training)
Training Kit (Dokumentasi photo, Blocknote, ATK, etc)
2xCoffe Break & 1 Lunch, Dinner
FREE Souvenir Exclusive