PELATIHAN OFFICE MANAGEMENT AND ELECTRONIC FILING SYSTEM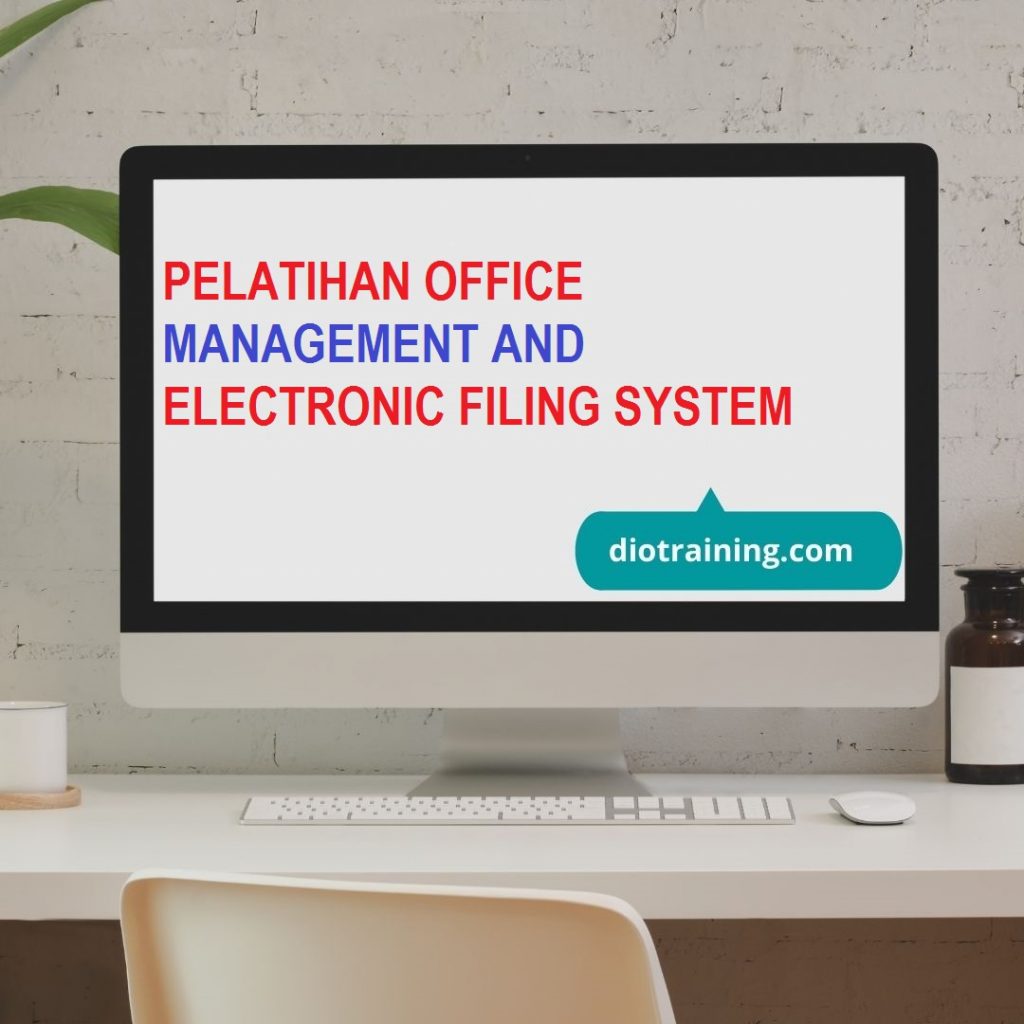 DESKRIPSI OFFICE MANAGEMENT AND ELECTRONIC FILING SYSTEM
Many people think a file plan is simply a listing of the file folders currently in their file cabinets. A real file plan is only one component of a computerized system, which is a set of policies and procedures for organizing and identifying files or documents to speed their retrieval, use, and disposition. The first document in the filing system was the Matrix for Office Files you developed as part of Step 1. The matrix shows what files the program maintains, who maintains them, and where they are maintained. The second document is the records schedule that describes the record series and gives the retention and disposition. The third document is the file plan.
WHY ARE THE FILE PLANS IMPORTANT?
Day-to-day, it is your key to better files. It will help you avoid the "subject file trap" by enabling you to:
Document your program's activities effectively.
Identify records consistently.
Retrieve records quickly.
Link to the records schedules.
Retire records to the Federal Records Center easily.
TIPS
* Keep the file plan simple. Let the records structure themselves when at all possible. For example, don't make up an alpha-numeric filing scheme for permits that already have a number.
* Consider using color coding for files or special folders to make filing simpler.
* Have program staff assist in developing the file plan. They will have useful suggestions, and they will feel more positive about using the file plan if they had a hand in developing it.
RECORDS MANAGEMENT
People frequently turn to technology because they find they can't manage their paper records. Either they are swamped by too much paper on site, or they can't find the documents they need, or both. By itself, technology cannot fix a records management problem; technology applications need a lot of research and planning to be effective. The old saw is true: if you try to automate a records management mess, you will have an automated mess.
However, technology, even simple technology, can make a basically sound records management system operate better. Let's look briefly at a number of technological "fixes" and the types of problems they can help remedy.
TYPES OF TECHNOLOGY APPLICATIONS
There are several basic types of technology applications that can help you manage your records.
Specialized filing equipment to improve the storage and retrieval of records
Document conversion technology such as optical imaging and microform to reduce the volume of paper on site and allow more efficient workflow
Document indexing software to allow for retrieval of documents in multiple ways
Document tracking and control systems to enable you to track documents or folders from creation to final disposition
Software to allow for storage and retrieval of electronic documents
Electronic forms programs to improve workflow and increase the usability of information contained on the forms
TUJUAN OFFICE MANAGEMENT AND ELECTRONIC FILING SYSTEM
After completion of the course the participants should be able to :
Improve and Develop their knowledge and skills to administer documents using modern filling system
Classify index and record filling document effectively and efficiently,
Search, trace and retrieve document needed in effective
and efficient manner,
Give a better service to line function in providing data and document which needed.
MATERI OFFICE MANAGEMENT AND ELECTRONIC FILING SYSTEM 
Filling and Record Administration
Space and Equipment
Filling Retention
* Dynamic
* Static
of Filling System
Principles and Frame work of the System
* Filling Stages of Records
* Filling Organization
* Filling Administration
* Aging of Record
Classification
Concepts
Objective and Purpose
Methods of Classification
Administrative Procedure
Forms and Charts
Indexing
Concepts Purpose and Objective
Methods of Indexing
Administrative Procedure
Forms and Charts
Records Filling
Concepts
Purpose and Objective
Methods of Records Filling
Administrative Procedure
Forms and Charts
Search, Trace and File Retrieval
Concepts
Purpose and Objective
Methods of Implementation
Administrative Procedure
Forms and Charts
Distribution, Security, Handling and Disposal
INSTRUKTUR TRAINING
Pelatihan ini akan dibawakan oleh trainer/ pemateri yang berpengalaman di bidangnya.
METODE TRAINING
1. Presentation
2. Discuss
3. Case Study
4. Evaluation
5. Pre-Test & Post-Test
6. Games
JADWAL TRAINING 2022
18-19 Januari 2022
22-23 Februari 2022
15-16 Maret 2022
19-20 April 2022
23-24 Mei 2022
14-15 Juni 2022
12-13 Juli 2022
23-24 Agustus 2022
13 – 14 September 2022
11-12 Oktober 2022
8 – 9 November 2022
29-30 November  2022
13-14 Desember 2022
Jadwal tersebut juga dapat disesuaikan dengan kebutuhan calon peserta
LOKASI DAN INVESTASI
Pelatihan Diotraining.com :
Yogyakarta, Hotel Dafam Malioboro (6.000.000 IDR / participant)
Jakarta, Hotel Amaris Tendean (6.500.000 IDR / participant)
Bandung, Hotel Golden Flower (6.500.000 IDR / participant)
Bali, Hotel Ibis Kuta (7.500.000 IDR / participant)
Lombok, Hotel Jayakarta (7.500.000 IDR / participant)
Investasi Pelatihan tahun 2022 ini :
Investasi pelatihan selama tiga hari tersebut menyesuaikan dengan jumlah peserta (on call). *Please feel free to contact us.
Apabila perusahaan membutuhkan paket in house training, anggaran investasi pelatihan dapat menyesuaikan dengan anggaran perusahaan.
Fasilitas Pelatihan di Diorama :
FREE Airport pickup service (Gratis Antar jemput Hotel/Bandara)
FREE Akomodasi Peserta ke tempat pelatihan .
Module / Handout
FREE Flashdisk
Sertifikat
FREE Bag or bagpackers (Tas Training)
Training Kit (Dokumentasi photo, Blocknote, ATK, etc)
2xCoffe Break & 1 Lunch, Dinner
FREE Souvenir Exclusive