PELATIHAN OIL ANALISYS DAN TRIBOLOGY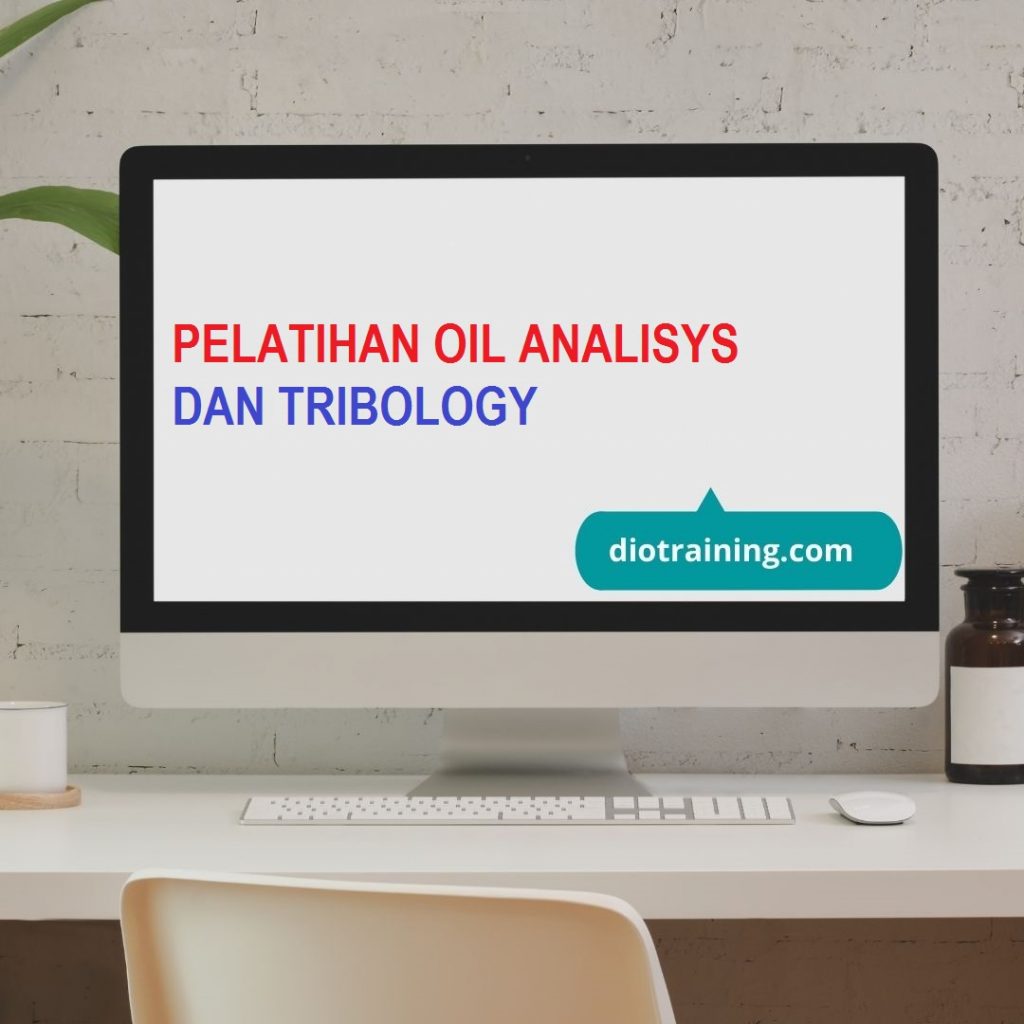 DESKRISPI OIL ANALISYS DAN TRIBOLOGY
Lubricant merupakan salah satu factor penting dalam kegiatan maintenance, untuk itu diperlukan pengalaman dan pengetahuan tentang dasar-dasar system pelumasan untuk menjaaga kondisi operasi bantalan tetap aman dan bebas dari kegagalan. Memantau kondisi operasi suatu mesin serta pemilihan pelumas yang tepat akan menjaga sebuah kinerja mesin agar tetap dapat berjalan dengan optimal dan awet.
Dalam pelatihan ini juga akan dibahas mengenai bagaimana menganalisis sumber gangguan dan sistematika analisa kerusakan pada bantalan, serta kemungkina untuk melakukan modifikasi system pelumasan dan konstruksi untuk menghindari kerusakan mesin. Dengan pemilihan pelumas dan cara pelumasan yang tepat maka seorang operator akan mampu merawat dan mengoperasikan suatu mesin dengan lebih baik, sehingga suatu operasi produksi pada suatu mesin akan dapat dijalankan lebh optimal
Secara garis besar Oil Analisys meliputi : Analisis Sifat Minyak Termasuk Minyak Dasar dan Aditifnya, Analisis Kontaminan, dan  Analisis Padatan Ikutan Dari Proses Mesin. Sedangkan tribology adalah ilmu dan teknik interaksi permukaan dalam gerakan relatif. Ini mencakup studi dan penerapan prinsip-prinsip gesekan, pelumasan dan keausan. Seorang Tribologists sering melakukan atau menginterpretasikan data analisis minyak.
Selain melakukan pemantauan kontaminasi minyak dan logam pakai, penggunaan Oil Analisys Modern meliputi analisis tambahan dalam minyak untuk menentukan apakah suatu interval pembuangan dan penggantian  lubrikan dapat diperpanjang, sehingga biaya pemeliharaan dapat dikurangi dengan menggunakan Oil Analisys untuk menentukan sisa masa manfaat aditif dalam minyak. Dengan membandingkan hasil Oil Analysis dari lubrican yang baru dan minyak digunakan, tribologist dapat menentukan kapan minyak harus diganti. Analisis yang serius bahkan memungkinkan minyak akan menjadi "sweetened" seperti tingkat aditif aslinya dengan menambahkan fresh oil atau mengisi kembali aditif yang habis.
BENTUK DAN METODE KEGIATAN
Materi pelatihan disampaikan dengan menggunakan metode interaktif (roleplay dan simulasi), dimana peserta dikenalkan kepada konsep, diberikan contoh aplikasinya, berlatih menggunakan konsep, mendiskusikan proses dan hasil latihan. Evaluasi pada akhir pelatihan mencakup penilaian terhadap instruktur, materi training, manfaat & efektifitas training serta rekomendasi dari peserta.
TUJUAN OIL ANALISYS DAN TRIBOLOGY
Tujuan dari pelatihan ini adalah :
* Memberikan pengetahuan tentang dasar-dasar Oil Analisys.
* Memberikan pengetahuan tentang dasar-dasar dan konsep Tribology.
* Implementasi dari pengetahuan tentang Oil Analysys dan Tribology
Sasaran Peserta Pelatihan
Karyawan bagian  Maintenance,  Reliability, Lubrication, Craftsmen and Millwrights, Equipment Operators, Manufacturing and Industrial, Predictive Maintenance, Laboratory Analysts, berbagai level jabatan baik operator, supervisor, dan manager.
MATERI OIL ANALISYS DAN TRIBOLOGY
HARI -1 :
Fundamental of Tribology
* Conformal and non-conformal contact
* Friction phenomena
* Wear phenomena
* Lubrication principle
* Hydrodynamic bearing
* Hydrostatic bearing
* Rolling Element bearing
Wear Metal analysis (spectroscopy, analytical ferrography or micro patch)
* Spectroscopy analysis
* Ferrography analysis
* Particle counter method
Wear phenomena, mechanism and it's causes
* Wear phenomena
* Wear mechanism
* Causes of wear
HARI 2 :
Lubricant Roles and Functions
* Base oil
* Additive functions
* Synthetic lubricants
* Lubrication regimes
Oil Analysis Maintenance Strategies
* Fundamental aspects of Reliability-Centered Maintenance (RCM)
* Fundamental aspects of Condition-Based Maintenance (CBM)
Oil Sampling
* Objectives for lube oil sampling
* Equipment specific sampling
* Sampling methods
* Managing interference
* Sampling process management
HARI 3 :
Lubricant Health Monitoring
* Lubricant failure mechanisms
* Testing for wrong or mixed lubricants
* Fluid properties test methods and measurement units
Lubricant Contamination Measurement and Control
* Particle contamination
* Moisture contamination
* Soot contamination
* Fuel contamination (fuel dilution in oil)
* Air contamination (air in oil)
Wear Debris Monitoring and Analysis
* Common wear mechanisms
* Detecting abnormal wear
* Wear debris analysis
INSTRUKTUR TRAINING
Pelatihan ini akan dibawakan oleh trainer/ pemateri yang berpengalaman di bidangnya.
METODE TRAINING
1. Presentation
2. Discuss
3. Case Study
4. Evaluation
5. Pre-Test & Post-Test
6. Games
JADWAL TRAINING 2022
18-19 Januari 2022
22-23 Februari 2022
15-16 Maret 2022
19-20 April 2022
23-24 Mei 2022
14-15 Juni 2022
12-13 Juli 2022
23-24 Agustus 2022
13 – 14 September 2022
11-12 Oktober 2022
8 – 9 November 2022
29-30 November  2022
13-14 Desember 2022
Jadwal tersebut juga dapat disesuaikan dengan kebutuhan calon peserta
LOKASI DAN INVESTASI
Pelatihan Diotraining.com :
Yogyakarta, Hotel Dafam Malioboro (6.000.000 IDR / participant)
Jakarta, Hotel Amaris Tendean (6.500.000 IDR / participant)
Bandung, Hotel Golden Flower (6.500.000 IDR / participant)
Bali, Hotel Ibis Kuta (7.500.000 IDR / participant)
Lombok, Hotel Jayakarta (7.500.000 IDR / participant)
Investasi Pelatihan tahun 2022 ini :
Investasi pelatihan selama tiga hari tersebut menyesuaikan dengan jumlah peserta (on call). *Please feel free to contact us.
Apabila perusahaan membutuhkan paket in house training, anggaran investasi pelatihan dapat menyesuaikan dengan anggaran perusahaan.
Fasilitas Pelatihan di Diorama :
FREE Airport pickup service (Gratis Antar jemput Hotel/Bandara)
FREE Akomodasi Peserta ke tempat pelatihan .
Module / Handout
FREE Flashdisk
Sertifikat
FREE Bag or bagpackers (Tas Training)
Training Kit (Dokumentasi photo, Blocknote, ATK, etc)
2xCoffe Break & 1 Lunch, Dinner
FREE Souvenir Exclusive