TRAINING POWER ELECTRICAL INSTALLATION SYSTEM
Training Electrical Distribution Systems
Training Electrical Safety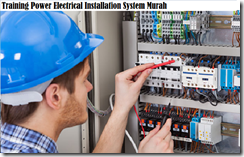 Pelatihan ini memberikan pengetahuan dan ketrampilan tentang Instalasi Tenaga listrik di Industri sesuai dengan Standard Nasional/IEC. Pelatihan ditekankan pada pemahaman Diagram Instalasi, prinsip kerja komponen9 – 11 November 2021komponen beserta spesifikasi, pemilihan komponen, instalasi dan proteksi sesuai dengan standard Nasional/IEC/PUIL sehingga setelah mengikuti pelatihan diharapkan para peserta dapat :
1.Memahami Persyaratan Umum Instalasi Tenaga Listrik di Industri
2.Menganalisa Diagram Instalasi Tenaga Listrik
3.Memahami prinsip kerja dan karakteristik komponen dalam Instalasi Tenaga Listrik di Industri
4.Memilih Komponen-komponen dalam Instalasi Tenaga Listrik di Industri
5.Memilih peralatan proteksi Instalasi Tenaga Listrik di Industri
6.Memahami factor-faktor safety pada Instalasi Tenaga Listrik di Industri.
A.MATERI
1.Electrical Distribution Systems (Electrical Power System Configuration, Electrical Distribution Network, Distribution Panel)
2.Electrical Power Installation Requirement based on Standards (National/IEC/PUIL)
3.Distribution Panels (General requirements, Components Assemblies, Panel Installation)
4.Protective Devices (Fuse, Circuit Breakers, Thermal Overload relay)
5.Selection Guide to Electrical Components (Conductor selection, Fuse Selection, Circuit Breaker Selection, etc.)
6.Electrical Machines (Electrical Motor Fundamental, DC Motor, 3 Phase Induction Motor)
7.Switching Devices (Push Button, Contactor, Relay, Timer,Limit Switch)
8.Motor Starting and Control (Direct On Line Starting, Star/Delta Starting, AutoTransformer Starting, Soft Starting, Forward-Reverse control, Sequence Control)
9.Electrical Safety (Basic Safety Concepts, Electrical Hazards, Safe Operation)
10.Grounding System (Purpose of Grounding, Standards (National/IEC), Distribution Grounding Electrodes).
B.PESERTA
Minimum SLTA; untuk para operator, teknisi, engineer, perancang, penyelia, manajer, dan lain-lainnya yang ingin mengetahui/memahami/mendalami pengetahuan dan ketrampilan tentang Instalasi Tenaga Listrik di Industri yang memenuhi Standard Nasional/IEC.
Jadwal Diotraining.com tahun 2021 :
12 – 14 Januari 2021
9 – 11 Februari 2021
16 – 18 Maret 2021
6 – 8 April 2021
11 – 13 Mei 2021
2 – 4 Juni 2021
6 – 8 Juli 2021
4 – 6 Agustus 2021
7 – 9 September 2021 | 5 – 7 Oktober 2021
9 – 11 November 2021 | 7 – 9 Desember 2021
–
Jadwal tersebut dapat disesuaikan dengan kebutuhan calon peserta
Lokasi Pelatihan Diotraining.com :
Yogyakarta, Hotel Dafam Malioboro (7.250.000 IDR / participant)
Jakarta, Hotel Amaris Tendean (7.750.000 IDR / participant)
Bandung, Hotel Golden Flower (7.750.000 IDR / participant)
Bali, Hotel Ibis Kuta (8.500.000 IDR / participant)
Lombok, Hotel Jayakarta (8.750.000 IDR / participant)
Investasi Pelatihan tahun 2021 ini :
Investasi pelatihan selama tiga hari tersebut menyesuaikan dengan jumlah peserta (on call). *Please feel free to contact us.
Apabila perusahaan membutuhkan paket in house training, anggaran investasi pelatihan dapat menyesuaikan dengan anggaran perusahaan.
Fasilitas Pelatihan di Diorama untuk Paket Group (Minimal 2 orang peserta dari perusahaan yang sama):
FREE Airport pickup service (Gratis Antar jemput Hotel/Bandara)
FREE Transportasi Peserta ke tempat pelatihan .
Module / Handout
FREE Flashdisk
Sertifikat
FREE Bag or bagpackers (Tas Training)
Training Kit (Dokumentasi photo, Blocknote, ATK, etc)
2xCoffe Break & 1 Lunch, Dinner
FREE Souvenir Exclusive
Jadwal Pelatihan masih dapat berubah, mohon untuk tidak booking transportasi dan akomodasi sebelum mendapat konfirmasi dari Marketing kami. Segala kerugian yang disebabkan oleh miskomunikasi jadwal tidak mendapatkan kompensasi apapun dari kami.
Technorati Tags: training reviu kertas kerja,temuan audit dan teknik penulisan laporan hasil audit yang efektif pasti jalan,training review kertas kerja pasti jalan,training teknik penulisan laporan hasil audit pasti jalan,training penyusunan laporan hasil audit pasti jalan,pelatihan reviu kertas kerja,pelatihan review kertas kerja pasti running