PELATIHAN AIR CONDITIONER & REFRIGERATOR : SAFETY DEVICES & CONTROL DEVICES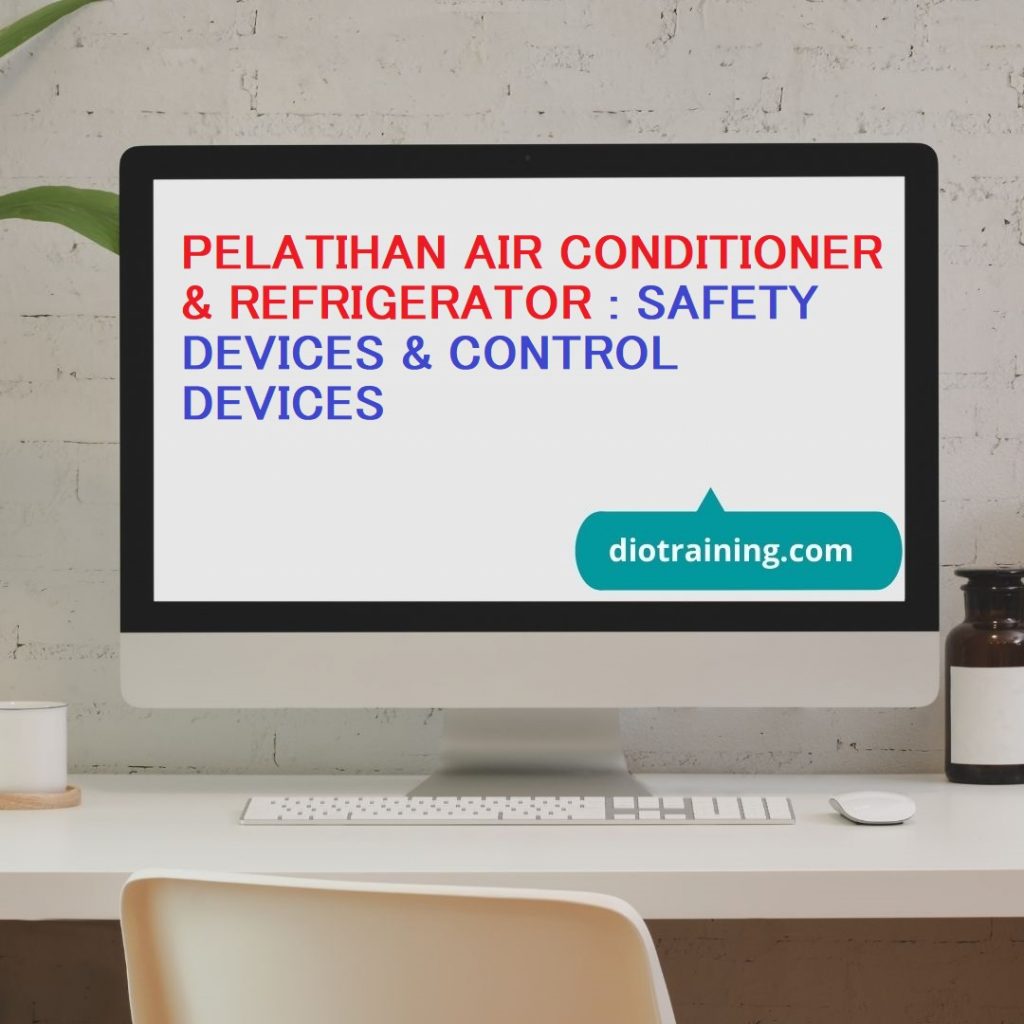 AIR CONDITIONER & REFRIGERATOR : SAFETY DEVICES & CONTROL DEVICES
DESKRIPSI PELATIHAN AIR CONDITIONER & REFRIGERATOR : SAFETY DEVICES & CONTROL DEVICES
Teknologi mesin pendingin atau mesin refrigerasi saat ini sangat mempengaruhi kehidupan dunia modern. Teknologi ini dibutuhkan untuk penyiapan bahan makanan, penyimpanan dan distribusi makanan, proses kimia yang memerlukan pendinginan, pengkondisian udara untuk kenyamanan ruangan baik pada industri, perkantoran, transportasi maupun rumah tangga. Karena peran tersebut, teknologi ini semakin banyak digunakan di tengah-tengah masyarakat dan di berbagai perusahaan.
Saat ini teknologi mesin refrigerasi yang paling banyak digunakan adalah dari jenis siklus kompresi uap. Siklus jenis ini biasanya diaplikasikan pada mesin refrigerasi untuk domestik (rumah tangga), komersial, industri, transportasi, pengkondisian udara domestik dan komersial, chiller dan MAC (Mobil Air Conditioner). Mesin jenis ini biasanya menggunakan jenis-jenis refrigeran yang kurang bersahabat dengan lingkungan karena mengandung senyawa yang dapat merusak lapisan ozon dan efek pemanasan global, seperti jenis CFC (chlorofluorocarbon), HCFC (hydrochloro-fluorocarbon) dan HFC (hydrofluorocarbon). Dampaknya terhadap lingkunganantara lain seperti efek pemanasan global dan penipisan lapisan ozon, yang terjadi bila zat (refrigeran) tersebut terlepas ke atmosfer yang disebabkan kebocoran pada mesin refrigerasi ataupun penggantian dan recycling refrigerant pada saat dilakukan perawatan.
Mengingat pentingnya aspek lingkungan sekitar, kesehatan dan keselamatan kerja serta sistem pengendalian pengoperasiannya, maka perlu untuk memberikan pemahaman yang komprehensif kepada para praktisi refrigerasi. Oleh karena itu perlu dilakukan penciptaan suatu manajemen pengetahuan pada organisasi ataupun individu yang menangani kinerja mesin refrigerasi. Melalui pelatihan ini, peserta akan diberikan pengetahuan dasar peralatan kontrol dan keamanan pada mesin refrigerasi. Selain itu juga akan dijelaskan secara komprehensif mengenai berbagai macam peralatan dan sistem keamanan, mulai dari pemilihan, prinsip kerja, perawatan, dan penanganan masalah dalam proses pendinginan.
TUJUAN PELATIHAN AIR CONDITIONER & REFRIGERATOR : SAFETY DEVICES & CONTROL DEVICES
Melalui pelatihan ini, diharapkan peserta dapat:
* Memiliki pengetahuan tentang dasar peralatan kontrol dan keamanan pada mesin-mesin pendingin atau mesin refrigerasi.
* Merencanakan/menghitung instalasi sistem AC & refrigeration dengan perangkat kerja yang ada.
* Melakukan koordinasi dan mengawasi pekerjaan pemasangan sistem instalasi AC & refrigeration.
* Melakukan diagnosa kerusakan dan penurunan kinerja mesin
* Mampu mengoperasikan sistem AC & refrigeration serta mengawasi pekerjaan dan perawatan dan perbaikan instalasi sistem refrigerasi dan tata udara.
* Memodifikasi sistem dengan teknologi maju terutama dalam hal penghematan energi.
* Memahami dampak negatif bagi lingkungan yang disebabkan oleh bahan kimia yang dihasilkan oleh system AC & refrigeration serta solusinya
Materi
PELATIHAN AIR CONDITIONER & REFRIGERATOR : SAFETY DEVICES & CONTROL DEVICES
* Basic Concept of AC & DC
* Instalasi & trouble shooting
* Predictive and Preventive Maintenance
* Intro To Load Estimating
* Load Estimating:
1. Cooling and Heating
2. System Design
* Mechanical Refrigeration:
1. Cycle Descript
2. Cycle Analysis
* Ducting Design: Principle & Method
* Fundamental of Psychrometric
* Psychrometric: Properties of Air ADV.PROG
* Refrigerant Piping System
* Water Piping & Pump Selection
* Multi Room Buildings, Load CH.SYS.PROG
* Ducting Design:
1. Air Side
2. Centrifugal Fan
3. Room Air Distribution
* Cooling Coil Performance
* Air Handling Unit : Central SYS
* Heat Rejection Equipment & Cooling Tower
* Field Trip
* Control Principles & Method
* Test Merancang Sistem Tata Udara
* Centrifugal REF.Equipment
* Absorption REF.Equipment
* Reciprocating REF.Equipment
* Reciprocating Chiller
* Large Packaged Equipment
* Energy Efficiency
* Environment Aspect
INSTRUKTUR TRAINING
Pelatihan ini akan dibawakan oleh trainer/ pemateri yang berpengalaman di bidangnya.
METODE TRAINING
1. Presentation
2. Discuss
3. Case Study
4. Evaluation
5. Pre-Test & Post-Test
6. Games
JADWAL TRAINING 2022
18-19 Januari 2022
22-23 Februari 2022
15-16 Maret 2022
19-20 April 2022
23-24 Mei 2022
14-15 Juni 2022
12-13 Juli 2022
23-24 Agustus 2022
13 – 14 September 2022
11-12 Oktober 2022
8 – 9 November 2022
29-30 November  2022
13-14 Desember 2022
Jadwal tersebut juga dapat disesuaikan dengan kebutuhan calon peserta
LOKASI DAN INVESTASI
Pelatihan Diotraining.com :
Yogyakarta, Hotel Dafam Malioboro (6.000.000 IDR / participant)
Jakarta, Hotel Amaris Tendean (6.500.000 IDR / participant)
Bandung, Hotel Golden Flower (6.500.000 IDR / participant)
Bali, Hotel Ibis Kuta (7.500.000 IDR / participant)
Lombok, Hotel Jayakarta (7.500.000 IDR / participant)
Investasi Pelatihan tahun 2022 ini :
Investasi pelatihan selama tiga hari tersebut menyesuaikan dengan jumlah peserta (on call). *Please feel free to contact us.
Apabila perusahaan membutuhkan paket in house training, anggaran investasi pelatihan dapat menyesuaikan dengan anggaran perusahaan.
Fasilitas Pelatihan di Diorama :
FREE Airport pickup service (Gratis Antar jemput Hotel/Bandara)
FREE Akomodasi Peserta ke tempat pelatihan .
Module / Handout
FREE Flashdisk
Sertifikat
FREE Bag or bagpackers (Tas Training)
Training Kit (Dokumentasi photo, Blocknote, ATK, etc)
2xCoffe Break & 1 Lunch, Dinner
FREE Souvenir Exclusive