PELATIHAN CONTINUOUS IMPROVEMENT TRAINING: EFFECTIVE SMALL GROUP ACTIVITIES (SGA) PROGRAM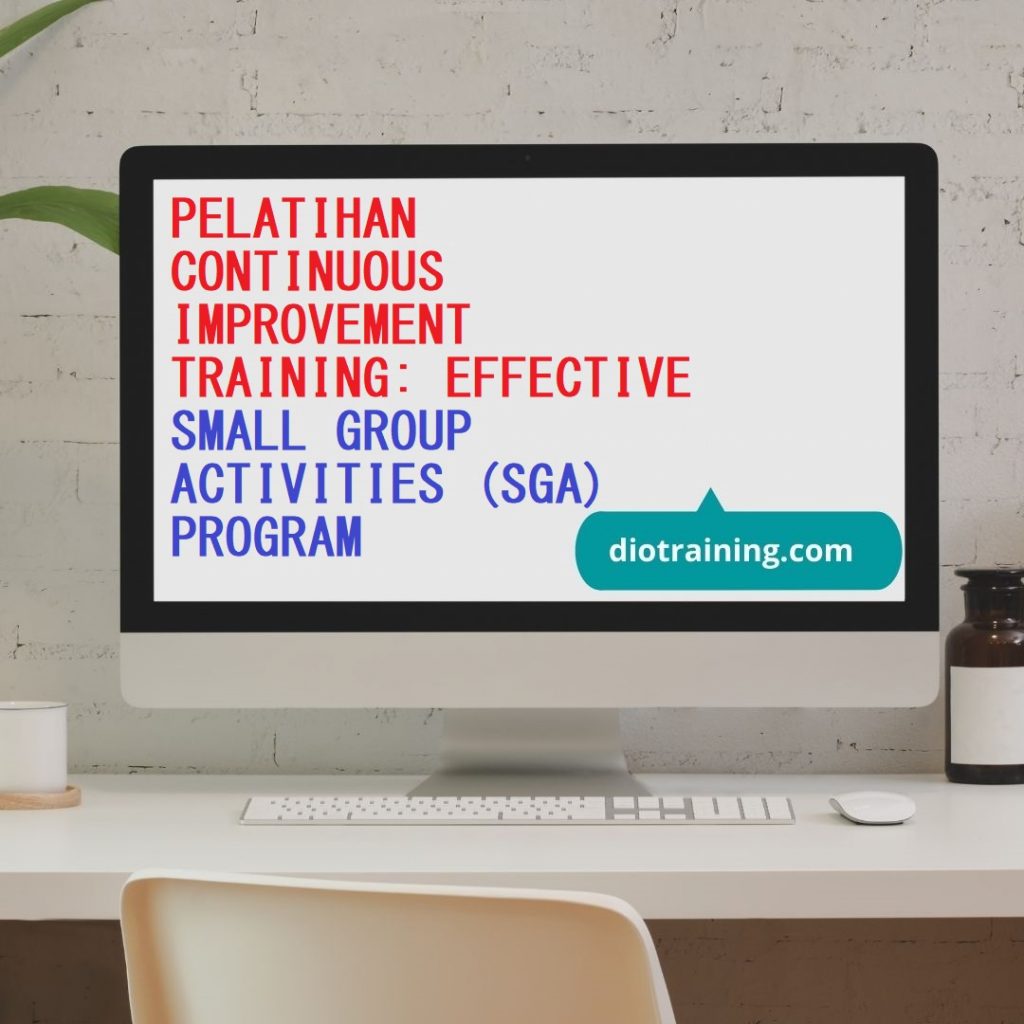 TRAINING TENTANG CONTINUOUS IMPROVEMENT TRAINING: EFFECTIVE SMALL GROUP ACTIVITIES (SGA) PROGRAM
DESKRIPSI TRAINING TENTANG CONTINUOUS IMPROVEMENT TRAINING: EFFECTIVE SMALL GROUP ACTIVITIES (SGA) PROGRAM
Salah satu faktor keberhasilan industri Jepang dan industri kelas dunia adalah penerapan Total Quality Management (TQM) secara efektif dengan pembentukan Small Group Activity (SGA) atau disebut juga Quality Circle (QC). Karena keberhasilan ini, sejumlah industri negara maju dan sedang berkembang termasuk Indonesia, menerapkan TQM dengan membentuk SGA untuk meningkatkan mutu, produktivitas dan daya saing menuju World Class Manufacturing/Services.
SGA adalah sekelompok kecil karyawan yang terdiri dari 3 – 12 orang dari unit kerja yang sama atau yang melakukan pekerjaan yang sama, yang dengan sukarela secara berkala dan berkesinambungan mengadakan pertemuan dibawah seorang ketua kelompok (Supervisor) dan mereka dilatih untuk mengidentifikasi masalah dan memecahkannya, mempresentasikan kepada manajemen (apabila diperlukan) serta mengimplementasikannya di tempat kerja (Hutchins, D. Quality Circles Handbook. Pitman, 1985). SGA dibentuk dengan sruktur, program dan aktivitas yang direncanakan dan dievaluasi secara rutin oleh perusahaan. Dalam menjalankan aktivitasnya,SGA dilengkapi dengan alat-alat pemecahan masalah (7 tools) dan alat baru yang digunakan oleh berbagai SGA dewasa ini .
Training ini akan membahas tentang apa dan bagaimana SGA di world class industry,bagaimana membentuk SGA, apa saja kegiatannya, bagaimana struktur SGA, bagaimana menjalankan SGA, hambatan (pitfalls ) dalam implementasi SGA dan alat (tools) yang digunakan untuk emngidentifikai dan memecahkan masalah.
TUJUAN TRAINING TENTANG CONTINUOUS IMPROVEMENT TRAINING: EFFECTIVE SMALL GROUP ACTIVITIES (SGA) PROGRAM
Peserta memahami tentang berbagai hal untuk merencanakan , mengoperasikan dan mengevaluasi SGA agar kinerja perusahaan meningkat Menuju World Class Manufacturing/Services.
MATERI TRAINING SMALL GROUP ACTIVITIES (SGA)
1. Introduction to Efective SGA
* Pengertian SGA, Tujuan SGA
* Benchmark SGA di perusahaan kelas dunia
2. Bagaimana membentuk SGA
3. Struktur SGA program
Six Basic Elements
* Circle participants or members.
* Circle leaders/deputy leaders.
* Program facilitator.
* Steering/advisory committee.
* Top management.
* Non-participating management/members.
4. Bagaimana menjalankan SGA
Langkah-langkah pembentukan dan menjalankan SGA
* Appointment of a steering committee, facilitator and QC team leaders.
* Formation of QCs by nomination/voluntary enrolment of QC members.
* Training of all QC members (by an expert consultant).
* Training of non-participating employees (by an expert consultant).
* Problem data bank and identification of problems for QC work.
* QC problem resolution by QCs through standardized techniques.
* Presentation of QC solutions to management.
* Evaluation of award/recognition.
5. SGA Meeting
* Kapan dan apa yang dibahas
* Code of conduct dan etika meeting
6. Alat dan Teknik Pemecahan Masalah (Problem Solving Tools and Techniques Used by SGA)
Alat dan teknik pemecahan masalah yang digunakan:
* Brainstorming.
* Pareto analysis.
* Cause and effect diagram (or fish bone diagram or Ishikawa diagram).
* Histogram.
* Scatter diagram
* Stratification
* Check sheet
* Control charts and graphs
Alat baru yang digunakan (New QC Tools)
* Relations diagram.
* Affinity diagram.
* Systematic diagram or Tree diagram.
* Matrix diagram.
* Matrix data analysis diagram.
* PDPC (Process Decision Program Chart).
* Arrow diagram.
7. Hambatan (Pitfalla) SGA dan cara mengatasinya
PESERTA TRAINING TENTANG CONTINUOUS IMPROVEMENT TRAINING: EFFECTIVE SMALL GROUP ACTIVITIES (SGA) PROGRAM
Semua staff/karyawan dari berbagai Department
METODE TRAINING TENTANG CONTINUOUS IMPROVEMENT TRAINING: EFFECTIVE SMALL GROUP ACTIVITIES (SGA) PROGRAM
Presentasi, diskusi, brainstorming, praktek dan case study
METODE TRAINING
1. Presentation
2. Discuss
3. Case Study
4. Evaluation
5. Pre-Test & Post-Test
6. Games
JADWAL TRAINING 2022
18-19 Januari 2022
22-23 Februari 2022
15-16 Maret 2022
19-20 April 2022
23-24 Mei 2022
14-15 Juni 2022
12-13 Juli 2022
23-24 Agustus 2022
13 – 14 September 2022
11-12 Oktober 2022
8 – 9 November 2022
29-30 November  2022
13-14 Desember 2022
Jadwal tersebut juga dapat disesuaikan dengan kebutuhan calon peserta
LOKASI DAN INVESTASI
Pelatihan Diotraining.com :
Yogyakarta, Hotel Dafam Malioboro (6.000.000 IDR / participant)
Jakarta, Hotel Amaris Tendean (6.500.000 IDR / participant)
Bandung, Hotel Golden Flower (6.500.000 IDR / participant)
Bali, Hotel Ibis Kuta (7.500.000 IDR / participant)
Lombok, Hotel Jayakarta (7.500.000 IDR / participant)
Investasi Pelatihan tahun 2022 ini :
Investasi pelatihan selama tiga hari tersebut menyesuaikan dengan jumlah peserta (on call). *Please feel free to contact us.
Apabila perusahaan membutuhkan paket in house training, anggaran investasi pelatihan dapat menyesuaikan dengan anggaran perusahaan.
Fasilitas Pelatihan di Diorama :
FREE Airport pickup service (Gratis Antar jemput Hotel/Bandara)
FREE Akomodasi Peserta ke tempat pelatihan .
Module / Handout
FREE Flashdisk
Sertifikat
FREE Bag or bagpackers (Tas Training)
Training Kit (Dokumentasi photo, Blocknote, ATK, etc)
2xCoffe Break & 1 Lunch, Dinner
FREE Souvenir Exclusive