TRAINING ELECTRONIC FILLING SYSTEM
Training Electronic Filling System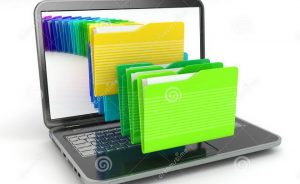 PENDAHULUAN
Salah satu hal yang mendukung kelancaran jalannya suatu organisasi bisnis adalah dalam hal penataan sistem kearsipan, baik secara administrasi maupun elektronik. Masalah kearsipan menjadi begitu penting dan sangat berpengaruh siginifikans ketika kita berhadapan dengan suatu sistem bisnis dengan data dan dokumen yang banyak sementara disisi lain kita memiliki sistem kearsipan yang kurang mendukung terutama dari sumber daya manusia dan alat atau perlengkapan yang mendukung kedalam kearsipan.
Pada dekade abad 21 saat ini, sistem kearsipan sudah masuk pada tahapan generasi yang didukung oleh kecanggihan elektronik terutama dengan penemuan-penemuan generasi komputer yang semakin baik. Dalaam dunis bisnis kita akan berhadapan dengan kepentingan legalitas arsip dan juga bagaimana menyimpan arsip dengan baik, sehingga tujuan pengarsipan tercapai. Perawatan sistem pengarsipan yang effisien adalah salah satu dari masalah yang sering muncul dalam perkantoran, dan proses pemecahannya menuntut pengertian yang tepat akan prinsip-prinsipnya.
Namun demikian, baik sistem kearsipan secara manual (administrasi) dan elektronik merupakan satu kesatuan yang tidak dapat dipisahkan karena kedua sistem ini saling meengkapi satu sama lain. Training ini akan memberikan pengetahuan dan kemampuan dasar tentang sistem pengarsipan ideal sehingga dapat mendukung karyawan dalam mencapai tujuan perusahaan.
MATERI PELATIHAN
1. Hari pertama: konsep informasi, Konsep Informasi, Manajemen Dokumen, Disain Template Dokumen, Sekitar Dokumen, Konversi, Tools, Keamanan Dokumen, sumber informasi dna penyajian informasi, manajemen dokumen , konsep arsif, definisi arsip, karakteristik arsip,standar kearsipan, tujuan pengarsipan, legalita arsip, istilah-istilah dalam arsip,manajemen dokumen, pase penciptaan arsip, pase penggunaan, pase penyusutandll
2. Hari kedua: pengarsipan dan pengideksan, sistem pengarsipan, klasifikasi, peralatan pengarsipan, peralatan penyimpan, pengoperasian sistem pengarsipan, pengarsipan tersentralisasi, indeks.
3. Hari ketiga: Elektronic filling syatem , scaner, dokumen teks, dokumen tabel, dokumen image, Security, Backup and Recovery, and Copy, praktek arsip dengan elektronik/software umum, software khusus.
Wajib diikuti oleh
Semua karyawan dari berbagai departemen yang menangani pekerjaan arsip dalam berbagai bentuknya, mulai dari yang paling sederhana sampai yang paling rumit.
INSTRUKTUR TRAINING
Pelatihan ini akan dibawakan oleh trainer/ pemateri yang berpengalaman di bidangnya.
METODE TRAINING
1. Presentation
2. Discuss
3. Case Study
4. Evaluation
5. Pre-Test & Post-Test
6. Games
JADWAL TRAINING 2022
18-19 Januari 2022
22-23 Februari 2022
15-16 Maret 2022
19-20 April 2022
23-24 Mei 2022
14-15 Juni 2022
12-13 Juli 2022
23-24 Agustus 2022
13 – 14 September 2022
11-12 Oktober 2022
8 – 9 November 2022
29-30 November  2022
13-14 Desember 2022
Jadwal tersebut juga dapat disesuaikan dengan kebutuhan calon peserta
LOKASI DAN INVESTASI
Pelatihan Diotraining.com :
Yogyakarta, Hotel Dafam Malioboro (6.000.000 IDR / participant)
Jakarta, Hotel Amaris Tendean (6.500.000 IDR / participant)
Bandung, Hotel Golden Flower (6.500.000 IDR / participant)
Bali, Hotel Ibis Kuta (7.500.000 IDR / participant)
Lombok, Hotel Jayakarta (7.500.000 IDR / participant)
Investasi Pelatihan tahun 2022 ini :
Investasi pelatihan selama tiga hari tersebut menyesuaikan dengan jumlah peserta (on call). *Please feel free to contact us.
Apabila perusahaan membutuhkan paket in house training, anggaran investasi pelatihan dapat menyesuaikan dengan anggaran perusahaan.
Fasilitas Pelatihan di Diorama :
FREE Airport pickup service (Gratis Antar jemput Hotel/Bandara)
FREE Akomodasi Peserta ke tempat pelatihan .
Module / Handout
FREE Flashdisk
Sertifikat
FREE Bag or bagpackers (Tas Training)
Training Kit (Dokumentasi photo, Blocknote, ATK, etc)
2xCoffe Break & 1 Lunch, Dinner
FREE Souvenir Exclusive