PELATIHAN MANAGEMENT DEVELOPMENT PROGRAM (MDP)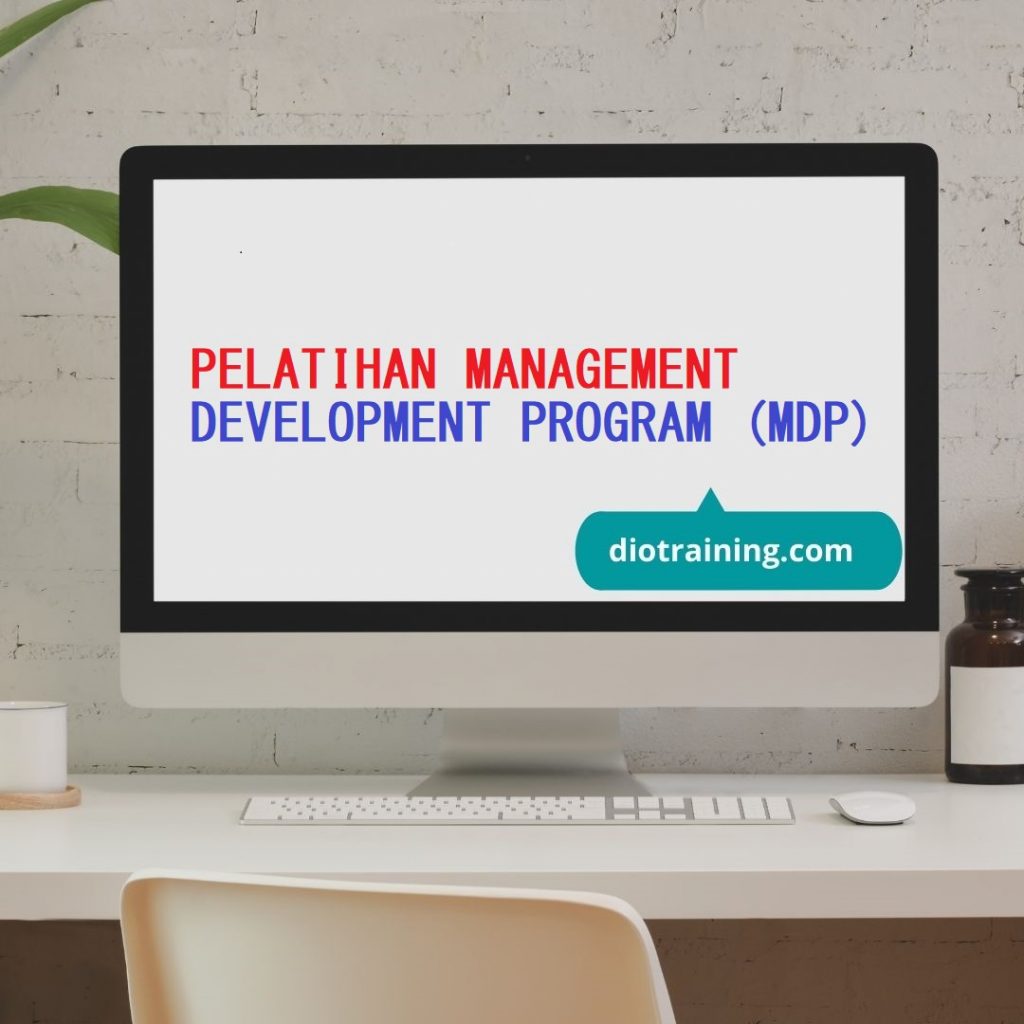 DESKRIPSI MANAGEMENT DEVELOPMENT PROGRAM (MDP)
Manager adalah merupakan aset utama dalam perusahaan untuk mencapai sasaran perusahaan. Manager adalah pemimpin unit kerja dalam perusahaan, untuk "make things happened". Manager yang memiliki kompetensi  memadai, akan dapat membawa timnya mencapai produktifitas yang tinggi dan mencapai sasaran kerjanya dengan efektif. Sebaliknya, bila dalam perusahaan terdapat manager yang tidak kompeten atau yang memiliki mental yang lemah atau moral yang buruk, maka akan membawa produktifitas timnya turun dan merupakan kerugian bagi perusahaan.
Manager harus memiliki "Kompetensi yang tinggi, Mental yang kuat dan Moral yang baik". Kompetensi dimaksud terdiri dari kompetensi Hard-Skill (Technical Skill) dan Soft Skill (People Skill). Kompetensi Hard Skill terdiri dari skill: technical functional, business dan manajerial. Sedangkan kompetensi Soft skill mencakup kompetensi Intra Personal dan Inter-Personal, yang merupakan fondasi dari Leadership. Manager harus memiliki kompetensi yang merata pada kompetensi Technical (work) yang diperlukan dalam bidang kerjanya dan kompetensi terhadap "people".  Manager juga harus memiliki skill yang cukup untuk mampu meningkatkan Mental dan Moral kerja staf nya.
Para manager pada jajaran front line, adalah sangat kritikal untuk diberikan pelatihan yang memadai dan sesuai. Manager harus memiliki pola pikir yang terstruktur, mudah dipahami, committed untuk bekerja sama, paham akan langkah yang harus dicapai, melakukan perencanaan yang baik, membangun tim spirit, komunikasi, dlsb. Bila pembekalan kompetensinya cukup, maka manager akan dapat melakukan tugasnya secara efektif, disamping mengembangkan kemampuan common sense nya. Dengan demikian maka, manager  akan mampu untuk  lebih cepat mengembangkan kompetensinya di tempat kerja.
Management Development Program adalah merupakan paket pelatihan yang terstruktur, meliputi kompetensi hard skill dan soft skill yang sangat diperlukan bagi seorang manajer. Program ini juga mengembangkan Moral dan Mental kerja sebagai manager.
TUJUAN MANAGEMENT DEVELOPMENT PROGRAM (MDP)
* Peserta akan memperoleh pemahaman yang terstruktur atas lingkup kerja manajer, sehingga dapat memahami langkah-langkah yang harus dilakukan sebagai seorang manajer atau pimpinan di unit kerja.
* Peserta akan memperoleh perspektif yang lengkap dan menyeluruh, sehingga akan mempercepat proses pengembangan diri sebagai manajer yang produktif.
* Peserta akan menjadi lebih percaya diri dalam  menghadapi tantangan di tempat kerja, khususnya dalam memimpin anggota tim nya di unit kerja.
MATERI MANAGEMENT DEVELOPMENT PROGRAM (MDP)
* Sesi 1:  Manager's Role and Responsibility
* Sesi 2:  Manager as People Manager
* Sesi 3:  The Essence of Leadership
* Sesi 4:  Developing EQ for Leadership skills
* Sesi 1:  Problem Solving
* Sesi 2:  Making Decision
* Sesi 3:  System & Strategic Thinking
* Sesi 4:  Work Assignment & Performnace Plan
* Sesi 1:  Building the team Accountability
* Sesi 2:  Shaping The Attitude
* Sesi 3:  Coaching & Counseling
* Sesi 4:  Couching & Counseling Role Play
* Sesi 1:  Employee Engagement
* Sesi 2:  Building a Business Model
* Sesi 3:  Developing Business Innovation Culture
* Sesi 4:  Managing Up (managing your manager)
Pelatihan ditujukan untuk:
Para Supervisor atau Manager
Inclusive : Leadership Profile Asessment
INSTRUKTUR TRAINING
Pelatihan ini akan dibawakan oleh trainer/ pemateri yang berpengalaman di bidangnya.
METODE TRAINING
1. Presentation
2. Discuss
3. Case Study
4. Evaluation
5. Pre-Test & Post-Test
6. Games
Jadwal Training Diorama Training Tahun 2023
Training Bulan Januari : 10-11 Januari 2023
Training Bulan Februari : 7-8 Februari 2023
Training Bulan Maret : 7-8 Maret 2023
Training Bulan April : 18-19 April 2023
Training Bulan Mei : 16-17 Mei 2023
Training Bulan Juni : 6-7 Juni 2023
Training Bulan Juli : 11-12 Juli 2023
Training Bulan Agustus : 22-23 Agustus 2023
Training Bulan September : 12-13 September 2023
Training Bulan Oktober : 10-11 Oktober 2023
Training Bulan November : 7-8 November 2023
Training Bulan Desember : 5-6 Desember 2023
*Jadwal tersebut dapat disesuaikan dengan kebutuhan calon peserta
Lokasi Pelatihan Diorama Training :
Yogyakarta, Hotel Dafam Malioboro (6.000.000 IDR / participant)
Jakarta, Hotel Amaris Tendean (6.500.000 IDR / participant)
Bandung, Hotel Golden Flower (6.500.000 IDR / participant)
Bali, Hotel Ibis Kuta (7.500.000 IDR / participant)
Lombok, Hotel Jayakarta (7.500.000 IDR / participant)
Investasi Pelatihan tahun 2023 ini :
Investasi pelatihan selama tiga hari tersebut menyesuaikan dengan jumlah peserta (on call). *Please feel free to contact us.
Apabila perusahaan membutuhkan paket in house training, anggaran investasi pelatihan dapat menyesuaikan dengan anggaran perusahaan.
Fasilitas Training di Diorama Training :
FREE Airport pickup service (Gratis Antar jemput Hotel/Bandara)
FREE Akomodasi Peserta ke tempat pelatihan .
Module / Handout
FREE Flashdisk
Sertifikat
FREE Bag or bagpackers (Tas Training)
Training Kit (Dokumentasi photo, Blocknote, ATK, etc)
2xCoffe Break & 1 Lunch, Dinner
FREE Souvenir Exclusive