PELATIHAN MAXIMIZING MS EXCEL TO CALCULATE HUMAN RESOURCES MANAGEMENT SYSTEM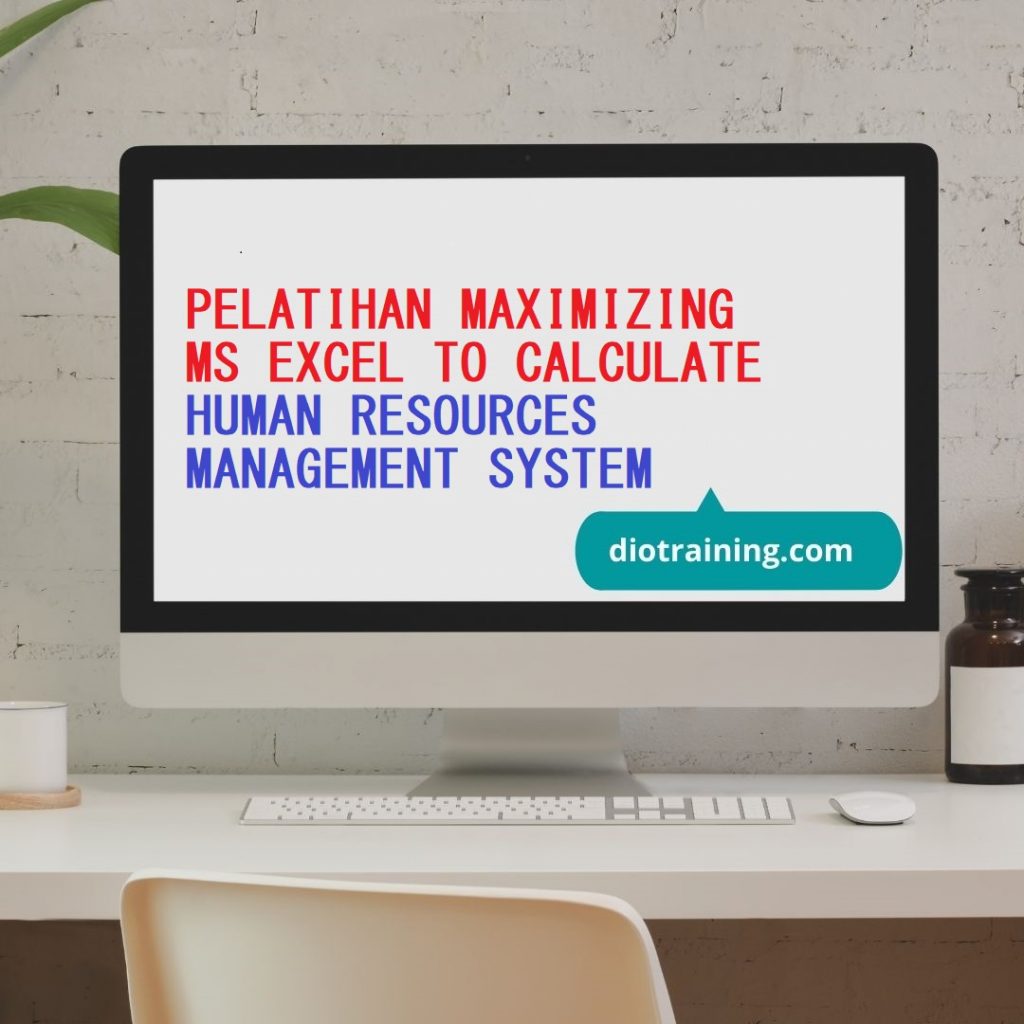 DESKRIPSI MAXIMIZING  MS EXCEL TO CALCULATE HUMAN RESOURCES MANAGEMENT SYSTEM
Berdasarkan pengalaman mengadakan training di sejumlah perusahaan, muncul banyak permintaan dari sejumlah karyawan (accounting & finance, human resources development (hrd), purchasing, production, sales, dll) akan adanya solusi yang efektif dan efisien untuk melakukan processing , analysis dan reporting data dalam jumlah yang besar (lebih dari 65.000 record ) di mana sumber datanya berupa file teks, data hasil convert aplikasi integrasi information system (seperti : SAP) atau database server lainnya dengan menggunakan program Microsoft Excel.
Informasi yang diinginkan selama ini secara umum adalah laporan analisa data tahunan mengenai sales, finance, hrd, production, dan lain-lain berdasarkan kriteria dan fungsi analisa data tertentu dengan tampilan graphic yang menarik, dinamis dan interaktif. Pengolahan data seperti itu tentunya tidak dapat hanya dikerjakan oleh Ms.Excel XP, 2002 dan 2003. Sedangkan di Excel 2007 masalah-masalah tersebut semua dapat di atasi secara cepat dan tepat. Dalam hal ini permasalahan yang terdapat pada Payroll System dengan mempermudah kerja Anda dengan tidak perlu lagi membangun aplikasi program untuk menganalisa data dan membuat report dengan bahasa progam komputer tertentu, yang membutuhkan waktu dan biaya yang tidak sedikit.
Sistem Manajemen SDM merupakan sasaran bagi para praktisi HR untuk mencoba paradigma analisa dengan menggunakan analisa kualitatif menjadi kuantitatif. Perubahan inilah yang membuat fungsi – fungsi yang terdapat dalam MS Excel di eksplorasi untuk merubahan analisa – analisa kualitatif menjadi kuantitatif. Karena dalam MS Excel sebenarnya kaya makna dari pengembangan – pengembangan formulasi untuk melakukan analisa khususnya pada bidang SDM.
TUJUAN MAXIMIZING  MS EXCEL TO CALCULATE HUMAN RESOURCES MANAGEMENT SYSTEM
Setelah mengikuti pelatihan ini peserta diharapkan mampu untuk :
Membaca dan memasukkan berbagai macam data : text file dan database yang lain yang jumlah record lebih dari 65.000 record.
Melakukan disain, summary database dan query data.
Memanfaatkan fungsi-fungsi Excel untuk berbagai macam kebutuhan analisa data termasuk fungsi analisa HR
Melakukan berbagai teknik analisis data.
Membuat laporan yang menarik, dinamis dan interaktif
MATERI MAXIMIZING  MS EXCEL TO CALCULATE HUMAN RESOURCES MANAGEMENT SYSTEM
* memahami dasar-dasar worksheet dengan memasukan data text dan value
* bekerja dengan cell dan cell data mengunakan berbagai Moving dan Copying tehnik
* melakukan kalkulasi pada data mengunakan "Function" dan "Formula"
* mengubah tampilan data pada worksheet dengan mengunakan berbagai format template yang ada di excel
* mengunakan berbagai tehnik untuk memanipulasi worksheet dalam lembar kerja
* membuat dan memodifikasi grafik
* menerapkan sejumlah halaman yang muncul untuk tujuan pencetakan
* peserta  mampu mengali, menganalisa dan mengklasifikasikan untuk tujuan menjadi informasi melalui pendekatan tertentu secara efektif dan effesien.
* Menghilangkan hambatan – hambatan data yang ditemui.
* Menjadikan Excell sebagai database
* Mengoptimalkan fungsi 3-D reference yang dimiliki excell
* Mampu bekerja dengan multiple worksheet yang saling terkait menjadi suatu system kecil
* Memanfaatkan fungsi "Grouping worksheet" yang merupakan salah satu keungulannya
* Kasus – kasus yang terkait dengan fungsi Excel Untuk HR Management System
INSTRUKTUR TRAINING
Pelatihan ini akan dibawakan oleh trainer/ pemateri yang berpengalaman di bidangnya.
METODE TRAINING
1. Presentation
2. Discuss
3. Case Study
4. Evaluation
5. Pre-Test & Post-Test
6. Games
JADWAL TRAINING 2022
18-19 Januari 2022
22-23 Februari 2022
15-16 Maret 2022
19-20 April 2022
23-24 Mei 2022
14-15 Juni 2022
12-13 Juli 2022
23-24 Agustus 2022
13 – 14 September 2022
11-12 Oktober 2022
8 – 9 November 2022
29-30 November  2022
13-14 Desember 2022
Jadwal tersebut juga dapat disesuaikan dengan kebutuhan calon peserta
LOKASI DAN INVESTASI
Pelatihan Diotraining.com :
Yogyakarta, Hotel Dafam Malioboro (6.000.000 IDR / participant)
Jakarta, Hotel Amaris Tendean (6.500.000 IDR / participant)
Bandung, Hotel Golden Flower (6.500.000 IDR / participant)
Bali, Hotel Ibis Kuta (7.500.000 IDR / participant)
Lombok, Hotel Jayakarta (7.500.000 IDR / participant)
Investasi Pelatihan tahun 2022 ini :
Investasi pelatihan selama tiga hari tersebut menyesuaikan dengan jumlah peserta (on call). *Please feel free to contact us.
Apabila perusahaan membutuhkan paket in house training, anggaran investasi pelatihan dapat menyesuaikan dengan anggaran perusahaan.
Fasilitas Pelatihan di Diorama :
FREE Airport pickup service (Gratis Antar jemput Hotel/Bandara)
FREE Akomodasi Peserta ke tempat pelatihan .
Module / Handout
FREE Flashdisk
Sertifikat
FREE Bag or bagpackers (Tas Training)
Training Kit (Dokumentasi photo, Blocknote, ATK, etc)
2xCoffe Break & 1 Lunch, Dinner
FREE Souvenir Exclusive