TRAINING PEMELIHARAAN ELECTRICAL SYSTEM
Training Maintenance Of Electrical System
Training Keselamatan Operasional Pemeliharaan Sistem Elektrikal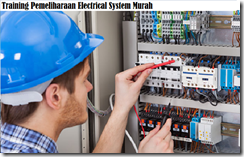 DESKRIPSI
Pelatihan Maintenance of Electrical System ini ditujukan bagi para praktisi pemeliharaan sistem elektrikal atau mereka yang terlibat atau berminat mendalami pemeliharaan sistem elektrik. Dengan semakin mahalnya harga-harga barang elektrikal maupun suku cadang, maka pemeliharaan yang rutin dan teliti guna menjaga keawetan sistem elektrikal mutlak harus dilakukan. Tindakan ini dapat memperpanjang umur pakai sistem elektrikal tersebut. Dengan demikian, pembelian baru barang-barang elektrik merupakan alternatif yang terakhir. Dengan melakukan pemeliharaan secara berkala dan terjadual, maka kerusakan sistem elektrikal dapat diketahui secara dini, sehingga kerusakan yang lebih parah dan lebih fatal dapat dihindari.
TUJUAN
Setelah mengikuti kegiatan pelatihan ini, peserta diharapkan dapat :
Memahami tentang manfaat pemeliharaan sistem elektrikal
Memahami kesiapan operasional dari seluruh sistem elektrikal
Memahami tentang keselamatan dalam operasional pemeliharaan sistem elektrikal
Memahami bagaimana mendeteksi kerusakan sedini mungkin untuk menghindari kerusakan lebih fatal
MATERI
Pedoman Umum Operasional & Pemeliharaan Sistem Electrical
Operasional & Pemeliharaan system box connecting daya listrik
Operasional & Perawatan Sistem Kelistrikan Bangunan Gedung dan Industri
Operasional & Pemeliharaan Scada Pada System Distribusi Listrik
Cahaya : Arus cahaya, Kepadatan cahaya, tingkat kuat penerangan, kuat penerangan pada bidang tegak lurus, Luminasi, perhitungan jumlah lampu, penerangan alami siang hari, ketentuan dasar langit perencanaan.
Operasional & Pemeliharaan Instalasi Listrik Tegangan Rendah dan Proteksinya
Jadwal pemeliharaan transformator tenaga
Operasional & Pemeliharaan rangkaian kontraktor control listrik.
Operasional & Peralatan Penangkal Petir dan Pemeliharaannya
Studi Kasus
METODE
Presentation
Discussion
Case Study
Evaluation
Peserta
Pelatihan ini sangat sesuai diikuti oleh staf engineer dan operator di bidang maintenance sistem elektrikal.
Jadwal Diotraining.com tahun 2021 :
12 – 14 Januari 2021
9 – 11 Februari 2021
16 – 18 Maret 2021
6 – 8 April 2021
11 – 13 Mei 2021
2 – 4 Juni 2021
6 – 8 Juli 2021
4 – 6 Agustus 2021
7 – 9 September 2021 | 5 – 7 Oktober 2021
9 – 11 November 2021 | 7 – 9 Desember 2021
–
Jadwal tersebut dapat disesuaikan dengan kebutuhan calon peserta
Lokasi Pelatihan Diotraining.com :
Yogyakarta, Hotel Dafam Malioboro (7.250.000 IDR / participant)
Jakarta, Hotel Amaris Tendean (7.750.000 IDR / participant)
Bandung, Hotel Golden Flower (7.750.000 IDR / participant)
Bali, Hotel Ibis Kuta (8.500.000 IDR / participant)
Lombok, Hotel Jayakarta (8.750.000 IDR / participant)
Investasi Pelatihan tahun 2021 ini :
Investasi pelatihan selama tiga hari tersebut menyesuaikan dengan jumlah peserta (on call). *Please feel free to contact us.
Apabila perusahaan membutuhkan paket in house training, anggaran investasi pelatihan dapat menyesuaikan dengan anggaran perusahaan.
Fasilitas Pelatihan di Diorama untuk Paket Group (Minimal 2 orang peserta dari perusahaan yang sama):
FREE Airport pickup service (Gratis Antar jemput Hotel/Bandara)
FREE Transportasi Peserta ke tempat pelatihan .
Module / Handout
FREE Flashdisk
Sertifikat
FREE Bag or bagpackers (Tas Training)
Training Kit (Dokumentasi photo, Blocknote, ATK, etc)
2xCoffe Break & 1 Lunch, Dinner
FREE Souvenir Exclusive
Jadwal Pelatihan masih dapat berubah, mohon untuk tidak booking transportasi dan akomodasi sebelum mendapat konfirmasi dari Marketing kami. Segala kerugian yang disebabkan oleh miskomunikasi jadwal tidak mendapatkan kompensasi apapun dari kami.
Technorati Tags: training reviu kertas kerja,temuan audit dan teknik penulisan laporan hasil audit yang efektif pasti jalan,training review kertas kerja pasti jalan,training teknik penulisan laporan hasil audit pasti jalan,training penyusunan laporan hasil audit pasti jalan,pelatihan reviu kertas kerja,pelatihan review kertas kerja pasti running