Pelatihan Effective Employee Survey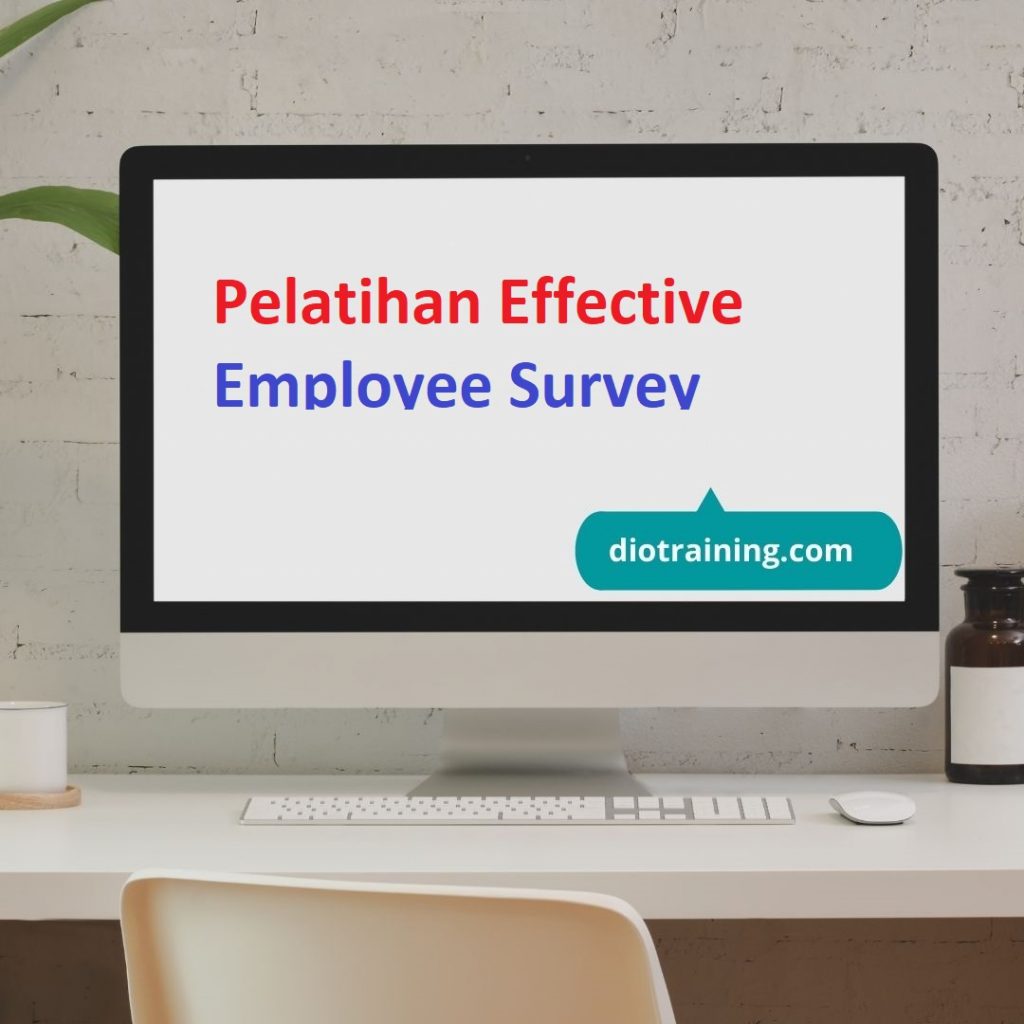 Training Tentang Effective Employee Survey: To Improve Employee & Customer Satisfaction
Description
Keberhasilan pencapaian kinerja dari organisasi, tidak lepas dari kontribusi dari pelaku dalam organisasi tersebut. Dengan kata lain, kesuksesan ataupun kegagalan atas target yang ditentukan oleh organisasi kepada karyawannya, berkaitan erat dengan tingkat kepuasan karyawannya dalam menyikapi tentang bagaimana perusahaan memperlakukan mereka dalam bekerja.
Umumnya perusahaan akan melakukan survey untuk melihat tingkat kepuasan karyawan. Sebuah survey kepuasan karyawan yang efektif akan bisa menjadi cermin atau umpan balik bagi perusahaan atas program yang telah dilaksanakan.
Survey kepuasan karyawan digunakan oleh perusahaan untuk menentukan bagaimana kepuasan karyawan mengenai kepemimpinan perusahaan, training, dan lingkungan kerja. Dalam survey ini akan disediakan system ranking untuk dinilai oleh karyawan untuk mengidikasikan seberapa kuat karyawan untuk setuju atau tidak setuju dengan setiap pernyataan yang mereka jawab.
Hasil survey kepuasan karyawan dapat membantu perusahaan dalam perencanaan strategi kedepan, mengambil keputusan untuk seleksi dan recruitment, program benefit untuk karyawan. Disamping itu, perusahaan akan merancang suatu program tertentu dalam rangka menjaga ritme kerja karyawan agar tetap dalam kondisi kondusif untuk berprestasi.
Dengan melakukan survey kepuasan karyawan maka perusahaan akan selalu dapat menyesuaikan strategi dengan kondisi yang terkini.
Objektif Progam Pelatihan Effective Employee Survey
Setelah mengikuti pelatihan ini, peserta diharapkan akan mampu :
* Memahami perlunya Survey Kepuasaan Karyawan, keuntungan untuk perusahaan dan juga untuk karyawan sendiri.
* Merancang kuesioner survey kepuasan karyawan
* Menganalisa hasil dari survey kepuasan karyawan
* Menerapkan survey kepuasan karyawan
Garis besar Program Pelatihan Effective Employee Survey :
* Esensi survey kepuasan karyawan
* Tools untuk sebuah survey
* Penyusnan kuesioner kepuasan karyawan
* Analisa hasil survey
Outline Materi Pelatihan Effective Employee Survey :
* KAITAN MISI PERUSAHAAN DAN KEPUASAN KARYAWAN
+ Kebutuhan perusahaan akan pentingnya arti kepuasan karyawan
+ Kegunaan survey kepuasan kerja bagi karyawan
* 6 TAHAPAN MENJALANKAN SURVEY KEPUASAN KARYAWAN
+ Identify need 9 – 11 November 2021 Set Goals for survey 9 – 11 November 2021 Setup Survey 9 – 11 November 2021 Administering Survey 9 – 11 November 2021 Analyzing survey result 9 – 11 November 2021 follow up survey result.
* PENYUSUNAN SURVEY KEPUASAN KARYAWAN
+ Tools : FGD , pemilihan pertanyaan, demografi, skala survey
+ Isu-isu yang yang diidentifikasi oleh Survey
+ Memilih indikator yang tepat sasaran
* PENGELOAAN SURVEY KEPUASAN KARYAWAN
+ Formulir survey
+ Pendataan responden
* ANALISA HASIL SURVEY
* LATIHAN membuat kuesioner kepuasan karyawan
* TINDAKLANJUT HASIL SURVEY (Project Plan)
+ Tips and Tricks
Peserta :
Senior Manager, Manager, Supervisor yang memiliki tanggung jawab dalam pengembangan sumber daya dan memiliki minat dalam bidang Kepuasaan Karyawan (Employee Engagement)
Metoda Program Pelatihan Effective Employee Survey:
Menggunakan latihan keterampilan (skill practice), simulasi (simulation), diskusi kelompok ( group discussion)
Trainer :
Drs. Adi Wijaksana, Psi, CH, CHT
Adi telah memiliki 20 tahun pengalaman sebagai professional di bidang HR dengan spesialisasi : creativity and innovation, character building, motivation, pengembangan system HR. Selama kurun waktu tersebut Adi terus-menerus mengembangkan metode peningkatan kapasitas personal yang dampaknya dapat dilihat secara individu maupun organisasi dimana terbangunnya sinergi. Adi memiliki latar belakang pendidikan lulusan psikologi UI dan latar belakang professional sebagai praktisi HR di perusahaan global dan nasional selama 12 tahun dan lebih dari 8 tahun sebagai konsultan HR diberbagai industri manufaktur, servis, dan perbankan seperti Nestle, Semen Gresik, BCA, Bank Mandiri, dll.
METODE TRAINING
1. Presentation
2. Discuss
3. Case Study
4. Evaluation
5. Pre-Test & Post-Test
6. Games
JADWAL TRAINING 2022
18-19 Januari 2022
22-23 Februari 2022
15-16 Maret 2022
19-20 April 2022
23-24 Mei 2022
14-15 Juni 2022
12-13 Juli 2022
23-24 Agustus 2022
13 – 14 September 2022
11-12 Oktober 2022
8 – 9 November 2022
29-30 November  2022
13-14 Desember 2022
Jadwal tersebut juga dapat disesuaikan dengan kebutuhan calon peserta
LOKASI DAN INVESTASI
Pelatihan Diotraining.com :
Yogyakarta, Hotel Dafam Malioboro (6.000.000 IDR / participant)
Jakarta, Hotel Amaris Tendean (6.500.000 IDR / participant)
Bandung, Hotel Golden Flower (6.500.000 IDR / participant)
Bali, Hotel Ibis Kuta (7.500.000 IDR / participant)
Lombok, Hotel Jayakarta (7.500.000 IDR / participant)
Investasi Pelatihan tahun 2022 ini :
Investasi pelatihan selama tiga hari tersebut menyesuaikan dengan jumlah peserta (on call). *Please feel free to contact us.
Apabila perusahaan membutuhkan paket in house training, anggaran investasi pelatihan dapat menyesuaikan dengan anggaran perusahaan.
Fasilitas Pelatihan di Diorama :
FREE Airport pickup service (Gratis Antar jemput Hotel/Bandara)
FREE Akomodasi Peserta ke tempat pelatihan .
Module / Handout
FREE Flashdisk
Sertifikat
FREE Bag or bagpackers (Tas Training)
Training Kit (Dokumentasi photo, Blocknote, ATK, etc)
2xCoffe Break & 1 Lunch, Dinner
FREE Souvenir Exclusive